Toyobo sets up new firm in Germany to market films and specialty chemical products
Aug 2, 2017

Download PDF (44KB)
Toyobo Co., Ltd. has established a new group company in Germany, Toyobo Chemicals Europe GmbH (TEU), to expand sales of films and specialty chemical products in EMEA (Europe, Middle East, and Africa) market. The new company started its operations on August 1.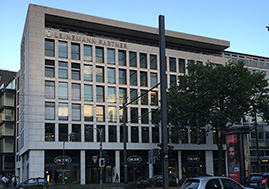 1. Background
Toyobo has sold its products in the European market through Toyobo Europe GmbH (TEG), which was established 2011. In recent years, sales of TEG's packaging films and specialty chemical products—including engineering plastics and highly functional plastics—have surged in Europe and Africa.
With its mainstay products in EMEA shifting to specialty chemical products, Toyobo decided to set up a new company that contains the word "chemicals" in its name.
TEG had also marketed Breathair®, whose fibers are arranged in a complex three-dimensional structure to be used for cushion materials, but this business operation has been transferred to PHP Fibers GmbH, a joint venture in Germany between Toyobo and Indorama Ventures Public Co. of Thailand, as announced by Toyobo on July 28.
2. Future strategies
TEU will serve as Toyobo's European base, focusing on the marketing of films and specialty chemical products to boost sales in EMEA. With the establishment of TEU, Toyobo plans to liquidate TEG in the near future.

About TEU
| | |
| --- | --- |
| Company name: | Toyobo Chemicals Europe GmbH |
| Head office: | Berliner Allee 22, 40212, Dusseldorf, Germany |
| Representative: | Masaki Taniguchi |
| Main operations | Sales of films and functional polymers, industrial materials, healthcare products and textiles for apparel |
For more information, contact:
Public Relations Group, Corporate Communication Department
Toyobo Co., Ltd