Performance for use 1: Durability and Light weight
Thermoplastic Polyester Elastomer "PELPRENE"
TOYOBO are very particular about raw material of BREATHAIR® to get higher quality. BREATHAIR® is made from an engineering elastomer "PELPRENE" that has both rubber and engineering plastic properties. "PELPRENE" is used in automotive parts that require durability and heat resistance. For more detail, click here about the introduction of "PELPRENE".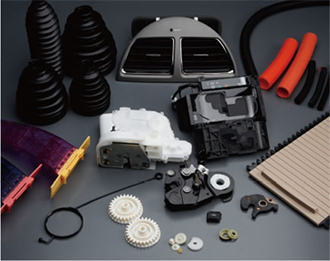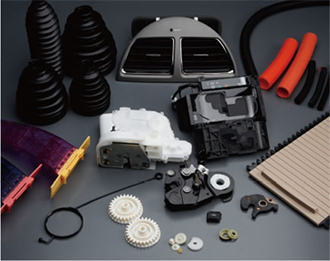 Durability
By using an engineering elastomer "PELPRENE," BREATHAIR® is superior in durability and heat resistance to polyethylene imitation and densified polyester fiber. BREATHAIR® achieves "D1-Class" which is the highest level in durability category of JIS L 4500.
Results of compression set test
Durability test in which the sample is kept compressed to 50% of its initial thickness and heated at 70°C for 22 hours.
BREATHAIR® made from PELPRENE®, which has excellent heat resistance, exhibits less change in thickness and is superior in durability compared to general polyethylene imitation.
Light Weight
BREATHAIR® has a hollow fiber type and a solid fiber type. Changing the solid fiber type to the hollow fiber type, it is possible to reduce sheet weight of BREATHAIR® while maintaining hardness.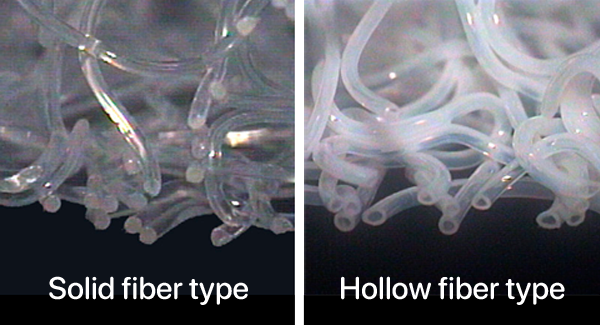 The data on this website are typical values measure by specific test methods and are not guaranteed.
You need to submit Application Form for Preparation of Items Indicating Trademark to use BREATHAIR® word marks, logos, logotypes, icons or other elements, or to create your own bespoke hangtags, packaging, web site and catalogue.
Reproduction, alteration, secondary distribution, unauthorized reprinting and unauthorized use of information (description, photographs, images, data, content, etc.) on this website is prohibited.
Please note that there may be cases to take legal action when such facts are found.