Dyneema® in use: the backstop net at the Kyocera Dome Osaka
2009.07.23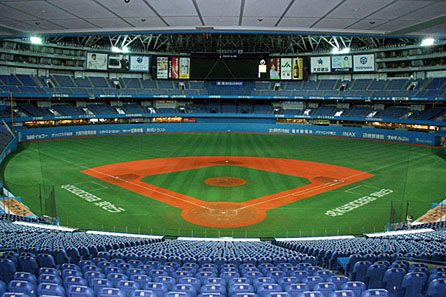 The backstop net at the Kyocera Dome Osaka is made from Dyneema® yarn.
Dyneema® is a lightweight, ultra high strength and highly elastic yarn that due to its ability to form a fine knitted fabric, can be used for a backstop net, which are usually constructed from wire netting. Not only does the spectator get an improved view of the action, thanks to the Dyneema® net there is also no oppressive feeling from having wire netting in your field of vision. The net has been fire-proofed and can be used indoors. Moreover, should there be an event that does not require the backstop net, due to its lighter weight it can be taken down and stored very easily, reducing the amount of work required.
It started with professional ballparks and the use of Dyneema® protective netting is spreading to sports facilities all over the country.
When you visit the Kyocera Dome Osaka to enjoy a baseball game, please take a look at the backstop net.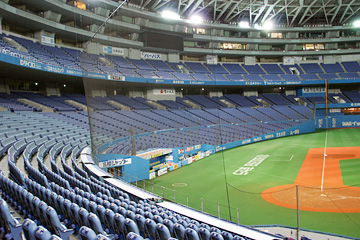 The view from the side of the backstop net