Due to its high-strength and lightweight features, Dyneema® is used for rope in a wide range of fields.

Smaller diameters are possible compared with existing fiber ropes

With a density of 0.97g/cm3 Dyneema® rope is extremely light and easy to handle.

Compared to wire rope, Dyneema® rope is easy to use due to its extremely lightweight and this makes it safer to handle.

Compared with wire rope that requires a coating of grease, Dyneema® rope is kind to the environment.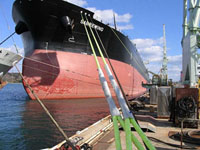 Mooring rope made with Dyneema® is used to secure ultra-large ships in the 250,000t and 300,000t class to the port such as ore carriers, crude oil tankers and LNG tankers, etc., as well as the rope used by tug boats.
[Note]
We manufacture and sell Dyneema® yarn as a raw material. Please note that we do not manufacture or sell rope.