Corporate Philosophy
Toyobo Group's Corporate Philosophy
Jun-Ri-Soku-Yu ("Adhering to reason leads to prosperity")
We have adopted Jun-Ri-Soku-Yu (順理則裕) as our basic philosophy. Here junri indicates not only "thinking and acting rationally and logically," but also expresses the idea that "reason and ethics form one's basic attitude as a human being, and ethical values must be respected." This motto was a personal maxim of our founder, the Meiji Era industrialist Eiichi Shibusawa, and has been handed down as our company's management philosophy unchanged to the present day.
Toyobo Group's Corporate Action Guideline
Under the basic recognition that "a company is a member of society, "we will aggressively fulfill its social responsibility so that it may continue to be a company that is trusted by society.
We commit to contributing to the creation of a sound and sustainable society by providing socially beneficial products and services.
Toyobo Group's Management Vision
The category leader, continuing to create new value that contributes to society in the environment, healthcare, and high-function product fields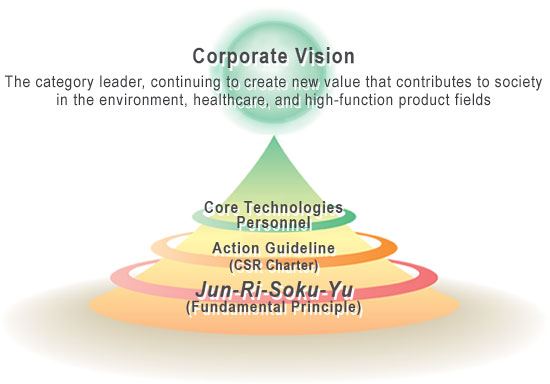 A "category leader" is a business that overwhelmingly dominates in a specific market or field as a result of a company's unique technologies and expertise.
Corporate Slogan: "Ideas & Chemistry"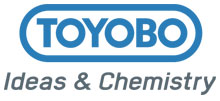 With the advent of our 130th anniversary, we are proud to present our new corporate slogan: Ideas & Chemistry. The technology that we cultivate at Toyobo contributes to the comfort of our daily lives and as such we intend to further focus our technologies on the environment and life sciences fields. Our new slogan resonates with the determination we have to grow to be a category leader, accumulating a variety of technologies that will be useful across a broad range of fields.
■Statement
Based on our corporate philosophy, expressed in Japanese as Jun-Ri-Soku-Yu (Adhering to Reason Leads to Prosperity), we are advancing toward a new stage by combining Ideas that lead to high performance with Chemistry to create new materials.