Unlimited possibility available from unique property of high strength polyethylene fiber (Dyneema®) reinforced plastic.

It expands as the temperature lowers.

It slides smoothly at RT-4K.

Material design - Hybrid combined with inorganic fiber
Control of pipe thermal expansion coefficient - FW winding angle and design of shape
Coil bobbin and spacer of various specifications


(By courtesy of Super-GM)Alternating coil:
This alternating superconductive magnet and alternating large capacity superconductor characteristic tester which uses said magnet have been developed by superconductive generation related device material engineering research union at the request of New Energy Development Organization (NEDO) as a part of New Sunshine Plan [Superconductive power applied technology development] of Agency of Industrial Science and Technology, Ministry of Economy, International Trade and Industry.

PCS for Superconducting Magnetic Energy Storage(SMES) (By courtesy of Kyushu University)

Coil training characteristics (graph): Passing an electric current through a superconductive coil, the superconductive function is lost if the current value drops below the critical current value (this is called quenching and this current value is known as the quenching current value (lg)). AC (alternating current) can often lead to quenching. It is known that AC superconductive coils with DFRP coil bobbins make quenching less likely.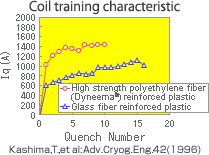 Superconductive Coil Spacer
During the development of SMES as a countermeasure for sudden dips in voltage, DFRP was adopted as the spacer for conduction cooling method pulse coils.