More than 30 Years of Experience, Flexibility, and Fine-Tuning
Toyobo can respond to customers' needs, based on its membrane technology and extensive record of accomplishments over more than 30 years of experience.
Toyobo can flexibly design and fine-tune its membranes to suit a wide range of applications.

Advantages of Toyobo's Industrial Membranes
Toyobo's industrial membranes have a hollow fiber configuration, with which compact modules can be designed for higher packing density.
In case of inside-to-outside cross-flow filtration, the inner diameter of the membrane becomes the feed flow path, which automatically secures a stable and high share rate on the surface. Therefore, hollow fiber membranes are more advantageous over cross-flow filtration.
More than 30 Years' Experience in Developing Hollow Fiber Membranes
Since the reverse osmosis (RO) membrane module was launched in 1977, membrane technologies have been applied not only for seawater desalination but also for medical applications including hemodialysis membranes for renal failure treatments.
These RO membranes and hemodialysis membranes now have leading shears in global markets due to their high performance and reliability.
Recently, applications are expanding to other fields, including surface water filtration and food and beverage processing.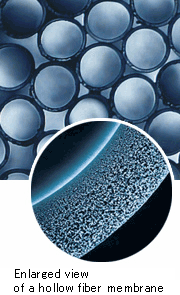 Compact Modules with Large Membrane Surface Areas
Compared with the same size modules, the effective membrane surface area in hollow fiber membrane module is several times as large as in the flat sheet membrane module. Therefore, higher processing capacity can be expected with hollow fiber membrane modules.
Comparison of the Membrane Surface Area in Same Size Modules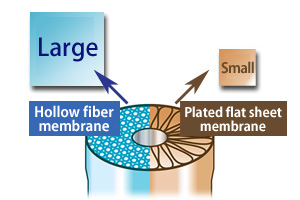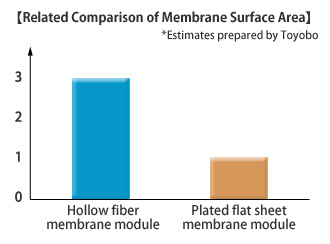 Cross-flow filtration method
There are two types of membrane filtration methods. One is "dead-end filtration" while the other is "cross-flow filtration" In dead-end filtration, all the feed is passed through the membrane. Impermeable substances gradually accumulate on the surface.
On the other hand, in cross-flow filtration, the feed is passed across the membrane surface tangentially, and some feed is recirculated, for keeping higher feed flow rates. Impermeable substances are, thereby, partially washed way and suppressed in accumulations on the surface.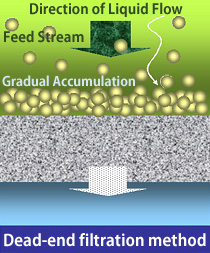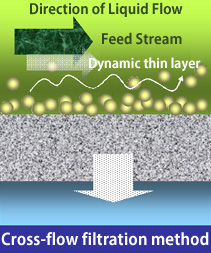 Types of Membrane Separation and Scope of Application
Membrane separation is a process that forces feed liquid through membrane micropores or spaces among molecules of membrane materials. Depending on the size of separation substances and the kind of driving forces, membrane separations are classified into "Reverse Osmosis (RO)," "Nano-Filtration (NF)," "Ultra-Filtration (UF)," and "Micro-Filtration (MF)."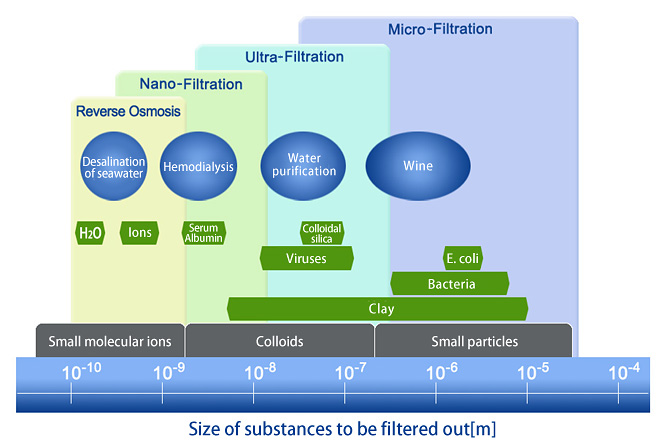 High-Quality Membranes for a Wide Range of Applications
Food and beverage
Semiconductor
Pharmaceutical
Chemicals
Process water and drinking water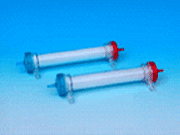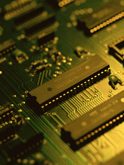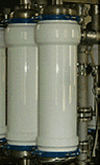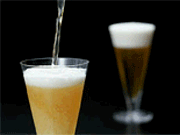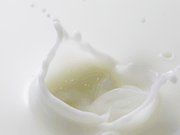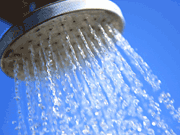 Hollow Fiber Membranes for Wine Production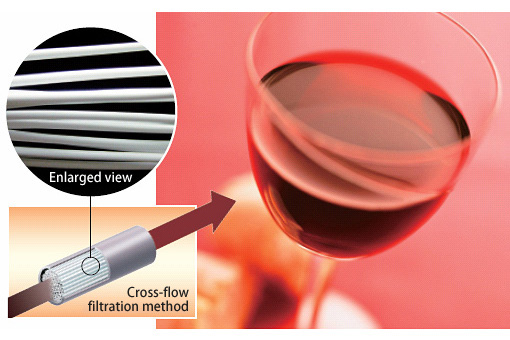 Toyobo has been expanding membrane applications for food and beverage processing. One of the applications is wine filtration. For eliminating diatomite waste disposals, membrane cross-flow filtration has been replacing traditional diatomite filtration. Toyobo's wine filtration membranes show high performance and high durability. Following joint efforts with a leading European filtration manufacturer and field tests, Toyobo's wine filtration membranes have been introduced at wineries in European and South American countries.