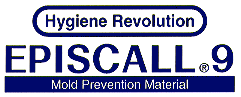 "EPISCALL9(NINE)" is a mildew resistant material,
kneaded or post-processed with a special organic compound
which is able to control the proliferation of mildew and algae on the surface of fibers.
Special Features of "EPISCALL9"
Effective in controlling a wide range of mold that inhabits the living environment.

Uses a highly safe agent for both the kneading treatment and post-processing treatment.

Maintains a great part of its effectiveness after repeated washing.

Mold Prevention Effectiveness of "EPISCALL9"

Mold Prevention
1
Effective on the 62 typical kinds of mold that inhabit general buildings.
2
Test results on 180 kinds of mold, with regard to Minimum density on the growth interception(MIC).


MIC Value
1-10ppm on 178 mold
20-25ppm on 2 mold

It is recognized to be effective on extremely low density.
(Test Method:MIL.STD.810D.
Method 508,3 3095% RH 7-28 days.
Algae(Fresh Water)Resistance : Effective on 25 kinds of algae.

Examples of Applied Articles
Curtains, Kitchenware and alike, Tentcloths, Canvas, Quilting for Futon(Coverlet) and etc.
TOYOBO Co.,Ltd. Functional Materials Development Department
E-mail:seiketsu@ho.toyobo.co.jp
Home Page URL:http://www.toyobo-global.com/
---
Back to Hygiene Revolution Top Page | Back to TOYOBO HOME Page