Feature
Our focus is on the skin's" body clock."
Modern life is stressful. When our body clock is disrupted, our skin's anti-oxidation systems, barrier functions, and regenerative capabilities degenerate, causing blotches, redness, and dull skin.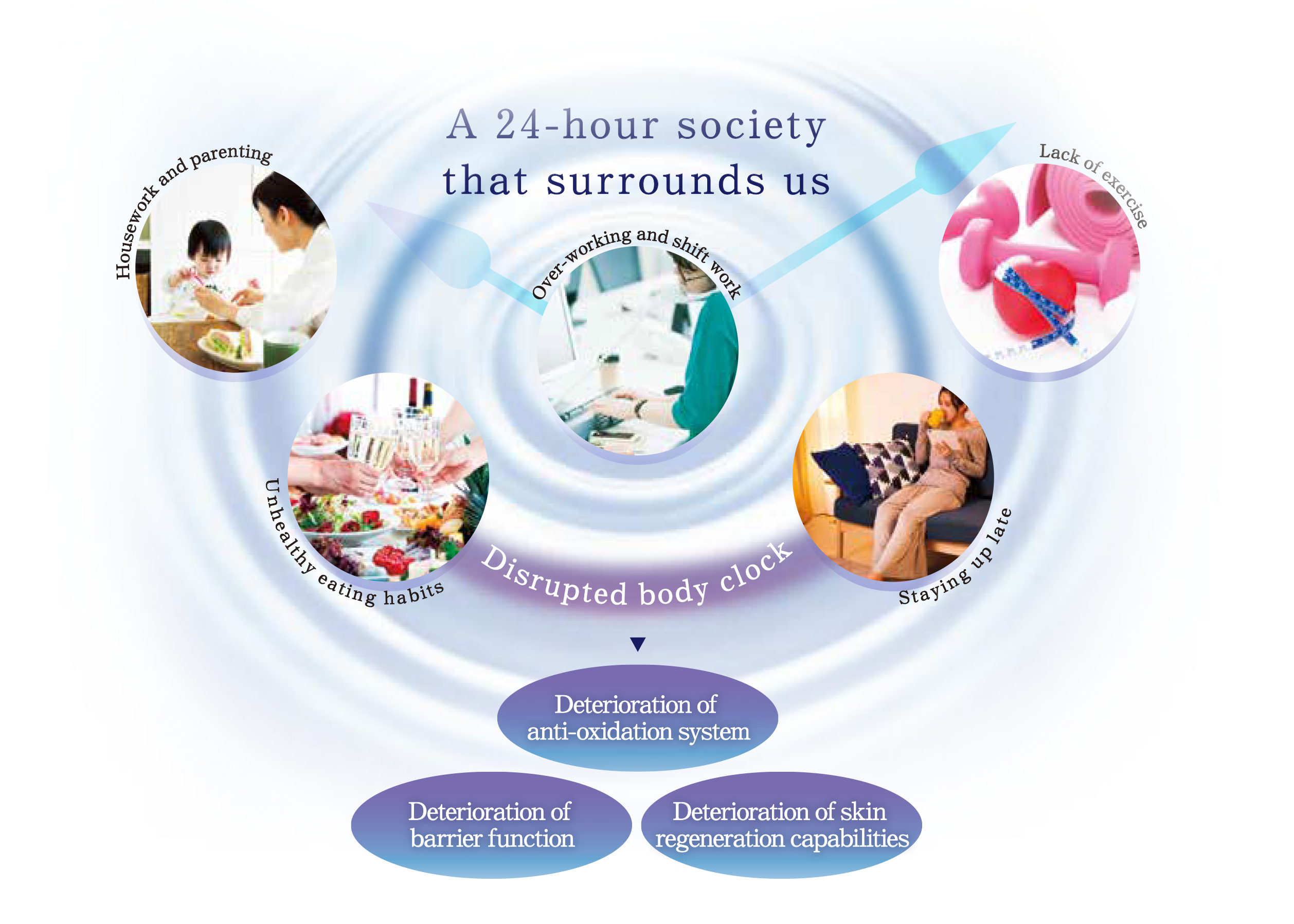 Clock genes are the key to improving bad skin.
The skin has its own biological clock which controls the timing of various skin-related gene expressions, enabling the skin to "protect" during the day and "recover" at night. We believed that activating these genes would lead to healthier skin.
Normalizing clock gene rhythms
Abnormalities arise in clock gene bmal rhythms when epidermal keratinocyte suffers from oxidative stress.
GenemClockTM supplementation showed that abnormalities in bmal rhythms can be normalized.

The effect of GenemClockTM
Reduction of skin spots / Reduction of melanin spots
Results suggested that applying GenemClockTM for 8 weeks reduces skin spots.
Application of 2% GenemClockTM lotion morning and night after washing face
3 healthy men and women in their 30s (average age of 33.6)
Application of test sample to half face twice a day.
September 28th - November 22th, 2018 (8 weeks)
Effect on sunburn
Lotion containing 1% GenemClockTM
Apply test sample to the inside of the upper arm twice a day
12 healthy men and women in their 20-30s (average age of 33.8)
May 29th - June 6th, 2019 (9 days)
Δa* value change = a* value (one day after irradiation)-a* value (before irradiation)
Inhibition of carbonylation
Advanced glycation end products (AGEs) cause dull skin with age. Although keeping a solution of BSA (protein) and glucose at 45℃ for 10 days produces glycation indicating carbonyl groups, we observed an inhibiting effect with GenemClockTM

Note: Excluding references to other documents, the data on this website is average measured results taken from measurements carried out at our facilities or outsourced facilities.