Applications
Typical applications ①
PVA polarizer protective film

Can be used as a protective film for two-upper and lower polarizers. Usually, a TAC film is used as polarizer protective film; however, in severe operating environments, moisture permeability with this material often leads to problems including uneven images and image quality degradation. Use of SRF is expected to solve these problems and make LCD panels more reliable.
Typical applications ②
Elimination of blackout for sunglasses users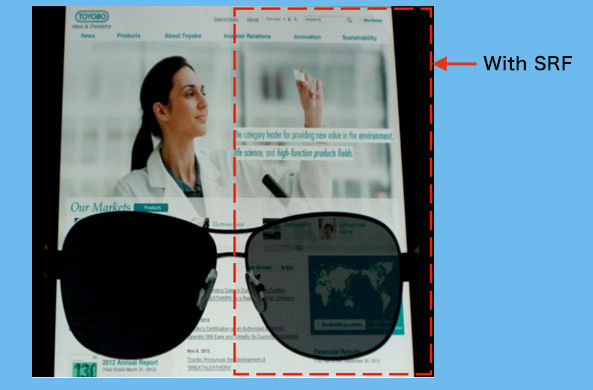 Depolarization experiment
When a polarizing plate (sunglasses) is placed over the liquid crystal display, light does not pass through and the screen appears completely dark. If the SRF is inserted diagonally, the light emitted from the liquid crystal display is covered into more natural light, so the screen becomes visible.