Innovation

Toyobo seeks to become "The category leader, continuing to create new value that contributes to society in the environment, healthcare, and high-function products fields."
Aiming for further growth,
Toyobo has prepared action plans for expanding new product development and creating new businesses.
Toyobo Core Technologies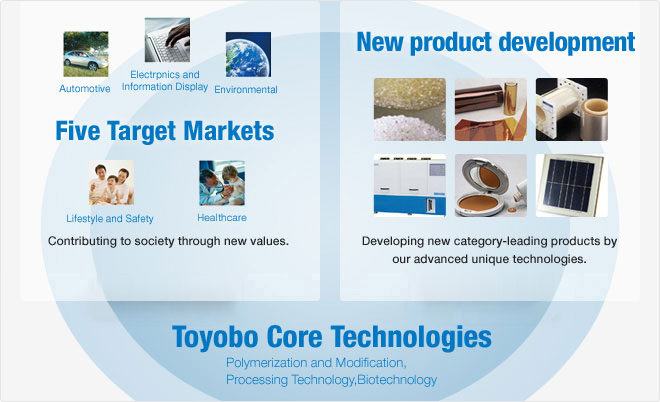 Award-Winning Technology
| Year of Award | Name of Award | Title |
| --- | --- | --- |
| 2018 | The Japan Society Polymer Processing Best Paper Award | Deformation behavior of Molded Thermoplastic Polyester Elastomer - Compressive Deformation of Molded Honeycomb Structures - |
| 2018 | Outstanding Technology Award (Japan Society for Composite Materials) | Non-linear finite element analysis for three-point bending behavior of randomly-oriented thermoplastic CFRP |
| 2017 | Technology Award of The Society of Fiber Science and Technology, Japan | Melt Spun high-performance Polyethylene Fiber「Tsunooga®」 |
Support/Contact
Contact us by Mail
please feel free to contact us at the below form.
Contact Us
Deal with personal information
We do not use users' personal information for purposes orther than the purpose of use which we present to you beforehand.