Major Business Growth Strategies
2025 Medium-Term Management Plan
We launched the 2025 Medium-Term Management Plan in April 2022. We are calling "Four years to remake and prepare" (the next five years will be the "Five years to achieve growth"). The current plan has four core initiatives: establish thorough safety, disaster prevention, and quality assurance, reorganize the business portfolio, prepare for the future, and reestablish our business foundation.
Reorganization of the business portfolio
ー Film, Life Science, and Environment and Functional Materials as businesses focusing on expansion ー
In order to take measures for business stratification, we have evaluated each business on the two axes of profitability and growth potential, and classified each business into four quadrants: new businesses to be developed, businesses focusing on expansion, businesses requiring improvement, and businesses with stable earnings.
We are aiming for the normalization of the textile, airbag fabrics, and contract manufacturing of pharmaceuticals businesses by fiscal 2026, each of which are businesses requiring improvement. In the environment and functional materials business, we anticipate significant business opportunities from the response to environmental issues and the growth of electric vehicles. We expect the environment and functional materials business to become our third pillar following the film and life science businesses, and are aiming for the further expansion and growth in the new joint venture with Mitsubishi Corporation. After this reorganization, we designated these three businesses of film, life science, and environment and functional materials as businesses focusing on expansion.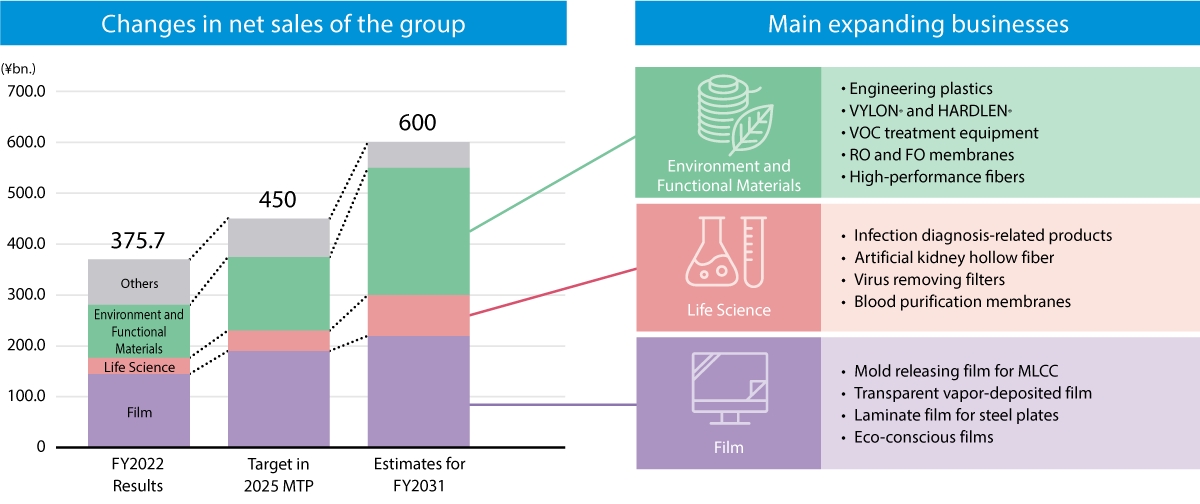 Preparations for the future
By combining Toyobo group's four core technologies with technology and know-how related to marketing and digitalization, we are promoting the creation of innovation from a long-term perspective. One example of this is sustainable food products, which we are currently working to commercialize. We are also developing innovative products and technologies that will meet the needs of the new era, including renewable polymers, acute blood purification products, raw materials for nucleic acid medicine manufacturing, and organic photovoltaics materials.
For R&D investment, we expect to allocate 3.6% to 3.8% of net sales, which is the average level in the industry. We are considering future resource allocation based on a broad overview of the entire process, including capital expenditure related to R&D. In order to accelerate innovation in all of our business activities, we are also proactively promoting the development of IT environments from various perspectives.

Mitsubishi Corporation and Toyobo top management discuss the new joint venture
Mitsubishi Corporation and Toyobo are joining forces with a new company aimed at capturing the global market growth. Kotaro Tsukamoto, Mitsubishi Corporation Group CEO and head of the Industrial Materials Group, and Toyobo CEO Ikuo Takeuchi talked about the process leading to the partnership and their vision of the new company's future.
Growth strategy by solution
We have positioned the Film, Life Science, and Environment & Functional Materials businesses as priority expansion businesses.
Please see the PDF for the FY2022 overview and FY2023 forecast for each business.