Risk Management
Management Approach
Approach to risk management
The Toyobo Group is identifying various types of risk that could pose a threat across the entire range of our business activities, and are managing risk appropriately according to the characteristics of each risk. In an emergency, we immediately set up a task force under the instruction of the relevant corporate officer, and bring the crisis under control through a swift response. By putting these systems in place and conducting the initiatives, we work hard to earn the trust of our customers, the local community, and our shareholders and other stakeholders.
Business risks
The main risks recognized that could have a material impact on the Toyobo Group's operating results and financial position are as listed below. The list does not include all the risks related to the Toyobo Group.
Forward-looking statements were determined by the Group as of March 31, 2020.
<Incurred or highly probable risks>
(1) Occurrence of disasters, accidents, and infections
(2) Further worsening of political and economic situations
<Medium- to long-term risks>
(3) Purchase of raw materials
(4) Product defects
(5) Securing of human resources
(6) Climate change
(7) Environmental burden
(8) Information security
(9) Laws, regulations and compliance
(10) Overseas business activities
(11) Litigation
<Financial risks>
(12) Large forex movement
(13) Large rise in interest rates
(14) Sharp drop in share prices
(15) Impairment loss of fixed assets
Risk management structure
Toyobo Co., Ltd. established a Risk Management Committee chaired by its chief executive officer on April 1, 2021, to unitarily manage risks facing the entire Toyobo Group.
The committee is engaged in risk management (identification, analysis and evaluation of and response to risks). It also formulates risk management policies for the entire Toyobo Group to ensure that any event or situation that could negatively impact the Group is avoided, quickly detected or prevented from recurring. It establishes and oversees systems that effectively, sustainably and appropriately responds to events that could jeopardize the Group's performance. We have also established the Corporate Planning Committee and Financial Control Committee under the Board of Corporate Executive Officers and Controlling Supervisors. Specialist committee members selected from each department deliberate on proposals for new projects or important investment and borrowing, and control business risk from a multi-faceted perspective.
* The CSR Committee was renamed the Sustainability Committee in April 2020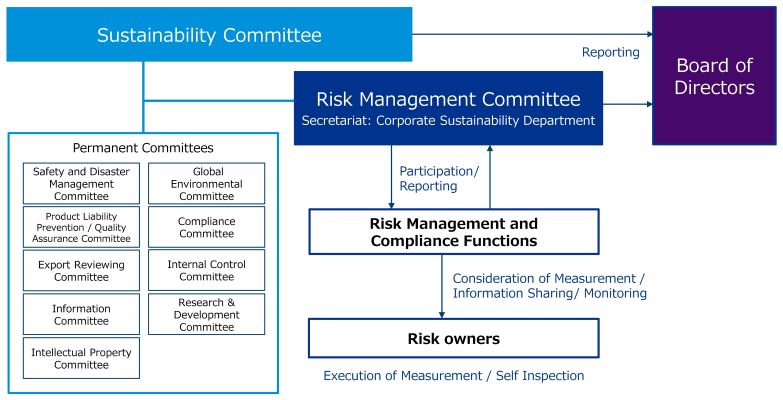 Data Security, Privacy
Materiality
Related ESG:
Data security, privacy
Approach to data security and privacy
Amid the accelerating digitalization of society and increasingly important significance of information, the key to corporate survival will lie in continuing to create value that contributes to society and the environment by leveraging the necessary information to promote development of products and technologies.
On the other hand, inappropriate handling of information causes significant damage and impact. This includes loss of sales opportunities due to leakage of confidential information and information system outages, and legal and social sanctions as well as loss of corporate brand prestige due to leakage of personal and customer information.
The Toyobo Group drew up the "Information Security Policy" to ensure the Group's correct and safe handling of information and sustainable growth as well as its continuation as a trusted company and strives to appropriately manage and utilize all information assets.
<Information Security Policy (theme excerpts only)>
Organizational measures
Employee-focused measures
Information asset management
Handling of personal information
Access restrictions and authentication
Physical measures
Use of IT tools
Introduction and operation of IT infrastructure
Outsourced management
Incident response
Structure
In fiscal 2019, the Toyobo Group set up a Cyber Security Committee, and most technical and specialist measures were implemented by fiscal 2020. In fiscal 2021, we will continue to improve employee awareness and strengthen our response to incidents, while also training internal experts.
Toyobo Group Information Security Management Structure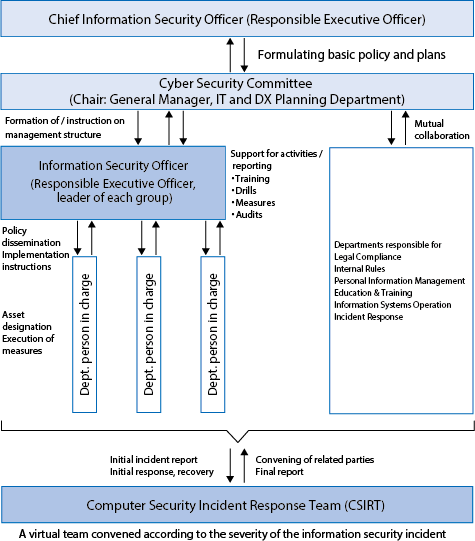 Targets and KPI
<Targets>
The Toyobo Group establishes a structure to ensure cyber security as well as deepening employee understanding of information security and thoroughly ensuring protection of information.
<KPI and Results>
Initiatives
KPI
Targets (FY2021)
Results (FY2020)

Ensure cyber security
Protect confidential corporate information, personal information, and customer information

No. of times information security education provided*1

15 times per year

17 times

No. of incidents (information leaks, service outages, etc.)*1

0 per year

2

Implementation of information security measures*2

Disclosure of promotion contents

―
*1 Scope is TOYOBO CO., LTD., TOYOBO STC CO., LTD., and Toyobo Information System Create Co., Ltd.
*2 Scope is consolidated subsidiaries (determined while monitoring situation)
Specific measures aimed at consolidated subsidiaries
・Application of Information Security Policy
・Roll out of measures to strengthen OA/FA
Initiatives
Response to European Union's General Data Protection Regulation
With regard to the European Union's General Data Protection Regulation (GDPR), we have instructed our Group companies in the EU (in Germany, Spain and Slovakia) to formulate standards and implement training.
Digital strategy
The development of IT is accelerating the evolution of the digital society. Responding to this change, the Toyobo Group is developing an IT system infrastructure that encompasses the entire value chain, and we are transforming our way of business, making full use of digital technologies. As well as improving business efficiency, we aim to enhance the value we provide to society and our customers.
The Toyobo Group has promoted digitalization by actively incorporating IT in our operations. This includes streamlining sales activities using a variety of IT tools, enhancing manufacturing controls with the aid of IT, and more efficiently managing intellectual property through the use of AI.
In April 2020, we established a dedicated Digital Strategy Department to promote such activities on a company-wide basis. In accordance with our road map to 2024, we will strengthen the Group's internal IT system infrastructure and push forward with digital transformation.
Key Digitalization Measures from now on
Field
Measures
Marketing/Sales

MA (marketing automation)
Company-wide rollout of SFA (sales force automation)

R&D/IP Management

Introduction of Materials Informatics (materials development using AI)
Enhancement of intellectual property management using AI

Manufacturing/Quality Assurance

Company-wide rollout of smart factories
Enhancement of quality controls and quality assurance

Supply Chain Management

Building a next-generation procurement system
Demand forecasting using AI
Business Continuity Plan (BCP)
BCP approach and policy
The Toyobo Group has drawn up a BCP focused on combining both "fulfillment of our responsibility to supply products as a manufacturer" and "coexistence with the global environment and society," and we make continual improvements. The BCP clarifies the chronological sequence of the roles and functions of each department from when a crisis occurs, through to its resolution. It also contains specific details of preparations during normal times.
Structure
At Toyobo, the nine sub-committees* established under the auspices of the Sustainability Committee headed by the President as chair identify and verify the risk factors relevant to each sub-committee. In an emergency situation, we immediately set up a task force under the instruction of the relevant corporate officer, and bring the crisis under control through a swift response.
Going forward, we are studying the function of risk management in particular among the functions of the Sustainability Committee in order to develop and establish a risk management structure that manages and responds to risk and will put in place a structure that keeps damage to a minimum in any situation, thereby facilitating business continuity.
* On December 1, 2020, eight sub-committees were reorganized into nine sub-committees.
Initiatives
Response to COVID-19
In our response to infectious diseases, the Toyobo Group's top priority is the safety and wellbeing of our employees and their families, with the primary goal of protecting both society and the Company, which we believe leads to business continuity.
Due to the recent COVID-19 pandemic, there have been some concerns about supply and delays in logistics. However, we have swiftly collected supply chain information and promoted measures such as utilization of alternative products and routes to keep damage to a minimum. COVID-19 has sent shock waves through society, and we are now moving towards a "new normal" in the era of living with COVID-19 and after COVID-19. The Toyobo Group will increase crisis resilience and strengthen business continuity through the activities of the Sustainability Committee and the sub-committees under its auspices.
<Ensuring employee safety>
Encouraged home-based working and staggered working hours
Following the government's emergency declaration, kept the ratio of employees attending the office to under 20%, and gradually relaxed this after the state of emergency was lifted, with employee safety the top priority
Implemented robust infection prevention and control measures
<Maintaining continuity of plants and production activities>
Operation under BCP procedures
Flexible inventory and production adjustments
<Finance>
Securing cash on hand
Cash-generating activities: Overcome Coronavirus 100
Response to natural disasters, etc.
In recent years, various areas of Japan have experienced significant damage from earthquakes, typhoons and sudden localized rainstorms. We have gained knowledge in the process of responding to these events, and aim to realize even more stable business continuity.
Each of our main business sites have formulated a BCP, which is reviewed at irregular intervals. We recognize that a pressing issue is a companywide BCP review in light of the recent increasing complexity and diversification of risks.
In terms of our emergency response, we have established an emergency response process in "Risk Management and Disaster Prevention, etc.," a companywide regulation, as well as setting out the systems for verifying damage and communication and the people with overall command, and structures and roles for carrying out recovery work. We have also established work procedures for recovery and the order of priority for recovery work after a disaster. In addition, we have introduced a safety confirmation system for employees and their families.
Buildings at our plants and business sites comply with the Act on Promotion of Seismic Retrofitting of Buildings. We also check hazard maps for the locations of our production plants, and each business site has formulated response procedures for the disaster risks (flooding, landslides, etc.). As part of our BCP, we strive to identify and manage risk throughout the supply chain. For procurement, we are looking to procure raw materials from multiple countries and regions, and for logistics, we are establishing alternative transportation means and routes in collaboration with logistics operators.