Eco-Conscious Products
Basic approach
Under the "TOYOBO Group Fundamental Policy on the Global Environment," the Toyobo group promotes the development of technologies friendly to both people and the environment. At every stage, from product development through to design, manufacture, sale, disposal, and collection, we are forecasting, evaluating, and reducing their impact on the environment, and working towards its protection.
Mechanism for certification of eco-conscious products
Since 1998, the Toyobo group has operated the "Eco-Review System" as a system for evaluating the environmental impact of our products.
This system evaluates the following aspects at every stage in the product life cycle: preventing climate change, reduction of chemical substance use, resource conservation, waste reduction, and other environmental contributions. Products that meet these standards are certified as ECO-PARTNER SYSTEM® products. Since the Eco-Review is carried out at every product life cycle — from R&D to commercialization — issues that require improvement from an environmental protection perspective are identified and improved at an early R&D stage prior to the subsequent review. As products and technologies are developed, they are improved to reduce their environmental impact and contribute to the environment.
Eco-Review Evaluation Items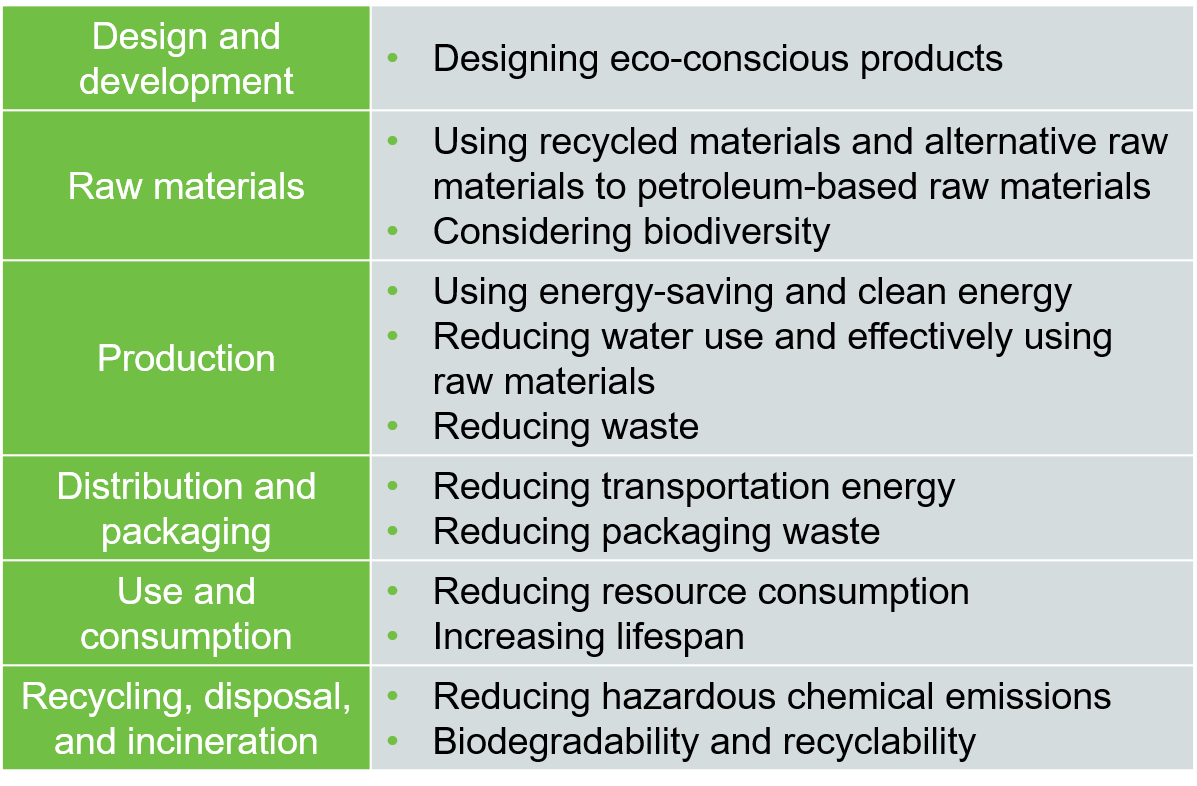 Review and Certification Process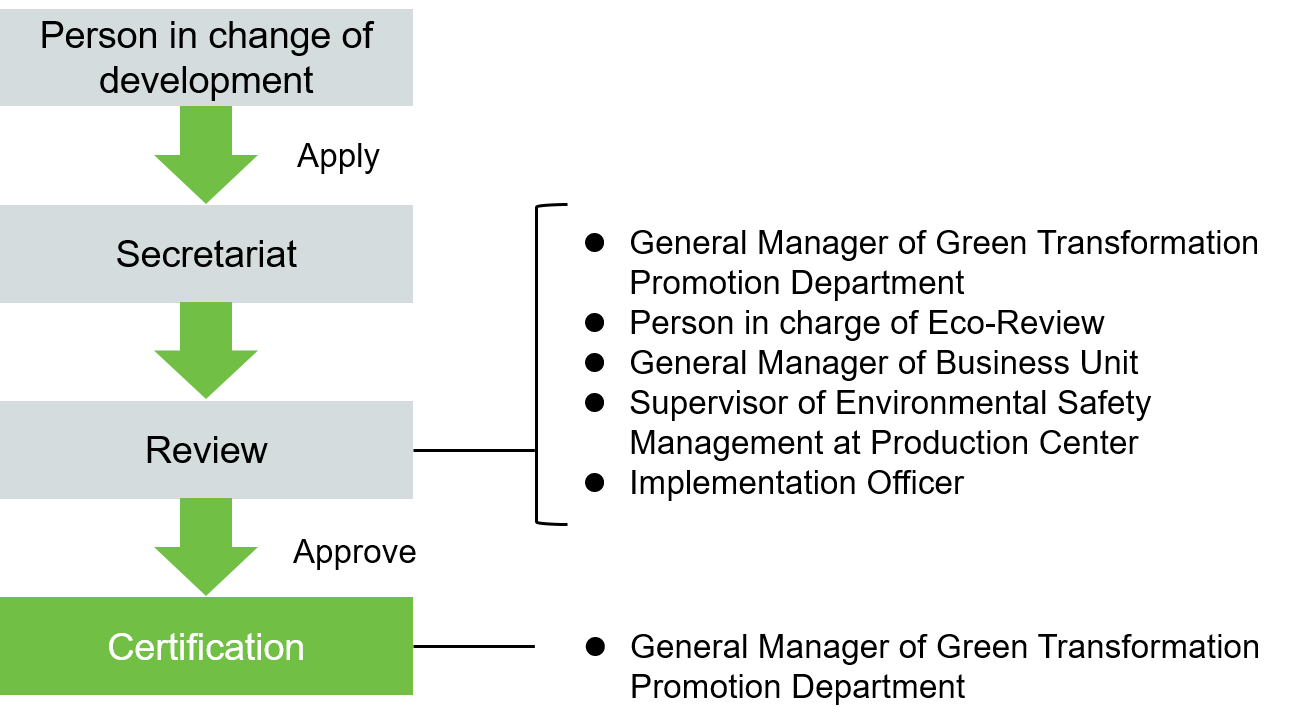 ECO-PARTNER SYSTEM®
Products that meet or exceed certain standards in the Eco-Review System are designated as "ECO-PARTNER SYSTEM®" products which are friendly to people and the global environment with reduced environmental impact.
Evaluation standards for the ECO-PARTNER SYSTEM® comprise five categories, including items such as "resource conservation."
The life cycle of products are divided into six stages from raw materials through to disposal, and the environmental impact at each stage is evaluated and certified.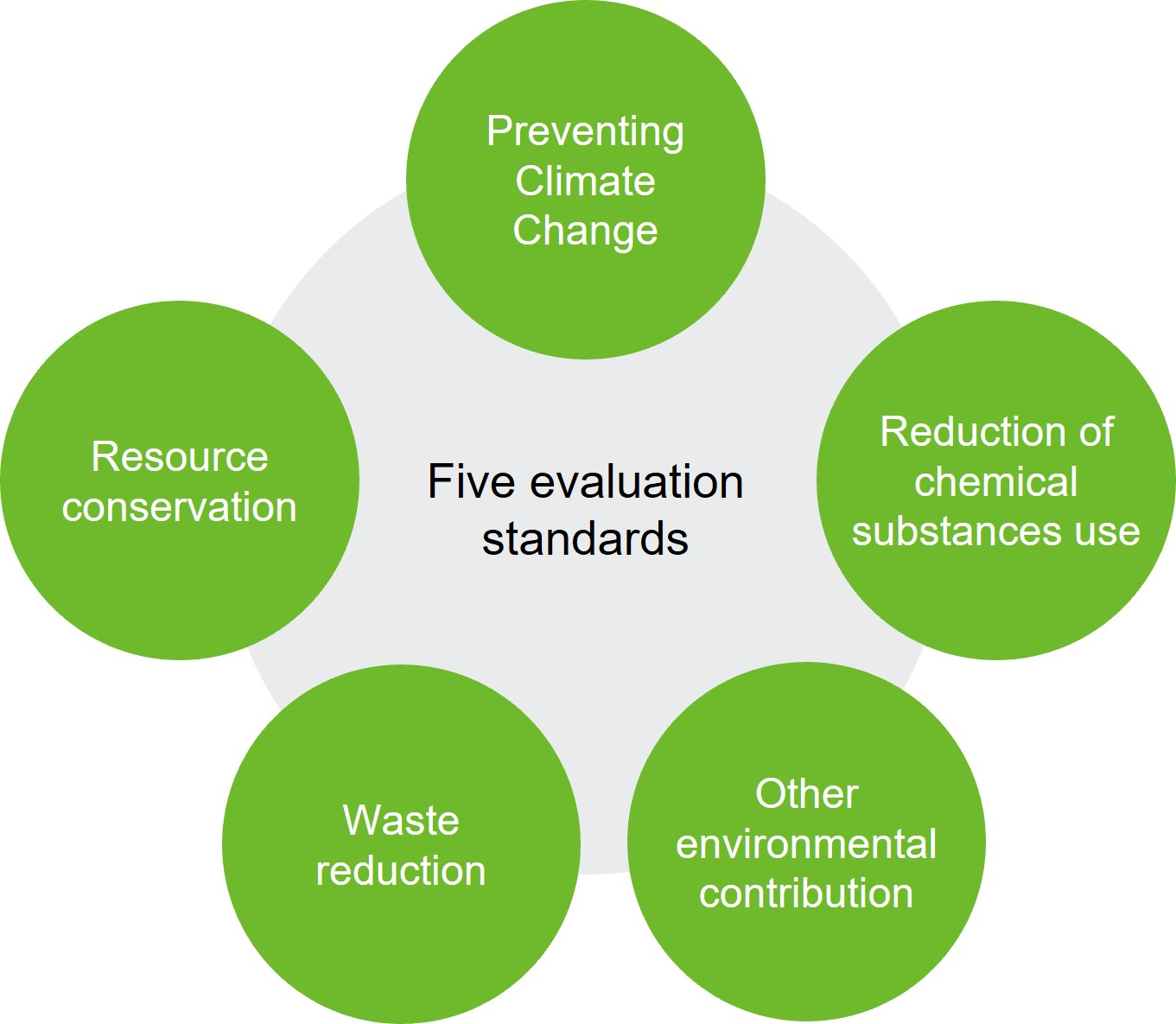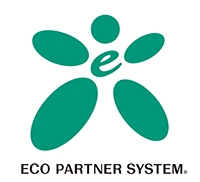 Targets and results
In fiscal 2022, we raised the sales ratio target for "ECO-PARTNER SYSTEM®" products and set a new target of 40% of total sales by fiscal 2031. We have also set a long-term target of 60% by fiscal 2051.
In fiscal 2022, sales of ECO-PARTNER SYSTEM® products accounted for 33.8% of the company's total sales. Going forward, we will continue to create eco-conscious products.
In addition, we are considering expanding the scope of application of the certification system to include group companies, and have begun to identify issues in order to calculate the sales ratio held by ECO-PARTNER SYSTEM® products for the entire group.
| Initiatives | Targets (FY2031) | Results (FY2022) |
| --- | --- | --- |
| Sales ratio held by ECO-PARTNER SYSTEM® products (TOYOBO CO., LTD. only) | 40% | 33.8% |
Sales by Evaluation Standard of ECO-PARTNER SYSTEM® Products
Five evaluation standards
Preventing climate change

¥45.7

billion
Resource conservation

¥28.4

billion
Waste reduction

¥49.3

billion
Reduction of chemical substance use

¥44.0

billion
Other environmental contributions

¥29.1

billion
Note: Net sales in the figure include duplicates because they are determined based on multiple criteria.
Major ECO-PARTNER SYSTEM® Products
Corresponding field/market
Usage
Materials used
Climate change measures
Film of recycled PET resin
RESHINE®
Three-dimensional cushion material
BREATHAIR®
Antipollution measures
Liquid water-holding agent
ESPECK®
Solvent recovery apparatus
K-FILTER®
Bag filters for thermal power plants
PROCON®
Photosensitive water-wash nylon resin relief printing plate
Printight®
Transparent vapor-deposited film
ECOSYAR®
Solving water resource problems
Reverse osmosis membranes for seawater desalination
HOLLOSEP®
Water purification UF membrane modules
DURASEP®
Recycling systems (recycling and resource reduction)
Modifier for recycled PET
VYLON® RF series
Recycled nylon resin for airbag scraps
ECOKURELEAF®
Recycled PET textile products
ECHORCLUB®
PET-based synthetic paper
Crisper®
Spun yarn using unused cotton
ECOT®
Recycled nonwoven fabrics
e-VOLANS®
Other (environmentally friendly products)
Ultra-high-strength polyethylene fiber
IZANAS®