Compliance
Materiality
Related ESG:
Compliance
Management approach
Policy and approach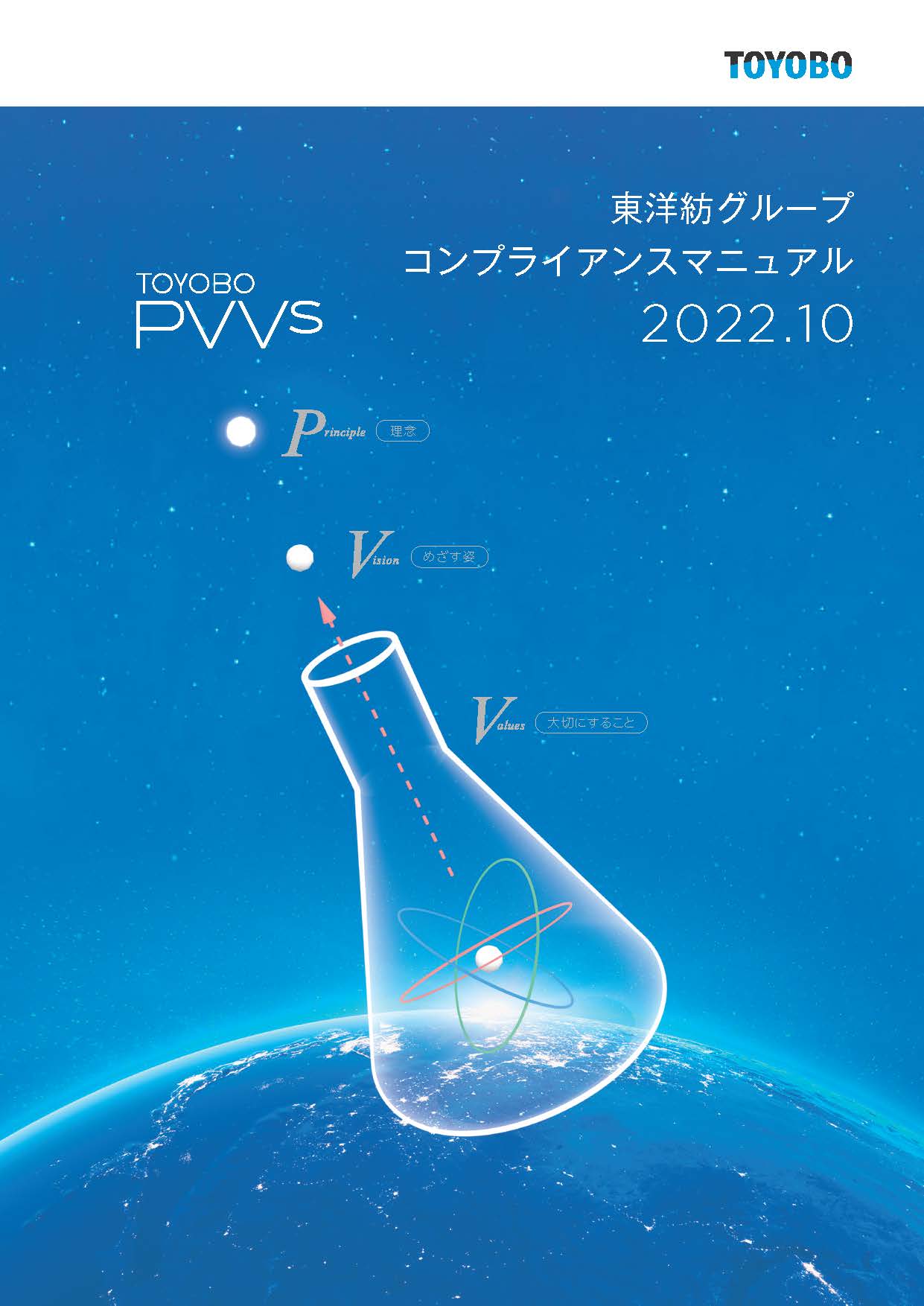 Based upon our corporate philosophy of Jun-Ri-Soku-Yu (adhering to reason leads to prosperity), at the core of Toyobo Group's compliance activities is the idea of "Do what must be done" and "Don't do what must not be done."
Furthermore, based on the fundamental principles stated in the TOYOBO Group Charter of Corporate Behavior, the Group has summarized the rules that employees must follow in the TOYOBO Group Compliance Manual in a specific and easy-to-understand manner and works to promote understanding and widespread awareness of the rules among Group employees.
<TOYOBO Group Compliance Manual / TOYOBO Group Employee Conduct Standards (theme excerpts only)> (19th edition, November 1, 2020)
Handling of company secrets
Handling of personal information
Engaging in fair transactions
Appropriate transactions with subcontractors
Responsible procurement and logistics
Rules on security trade control (export management)
Management of export/import cargo and prevention of undeclared exports and imports
Handling of gifts and entertainment (prevention of bribery)
Handling of political donations, etc.
Intellectual property
Proper accounting
Conclusion of contracts
Rules on credit management
Timely and appropriate information disclosure
Prohibition of insider trading
Respect for human rights
Ensuring quality and safety
Provision of information on products and services
Appropriate handling of quality data, etc.
Rules on research and development activities
Customer service
Respect for diversity in the workplace
Prevention of harassment
Safety and health
Appropriate working hours management
Business activities taking the global environment into consideration
Promotion of social contribution
Process safety and disaster prevention
Duty of care on overseas assignments and business trips
Response to anti-social forces, etc.
Ensuring cybersecurity
Social rules
Relevant Policies and Guidelines, etc.
Promotion structure
A Compliance Committee is comprised of members from the Board of Managing Executive Officers and Controlling Supervisors. The goal is to promote Group-wide compliance from a management perspective. A Compliance Promotion Committee has also been established as a sub-committee, which considers specific initiatives, and the Legal and Compliance Department promotes compliance throughout the Group as a whole.
In fiscal 2021, the Compliance Committee convened twice, and the Compliance Promotion Committee convened four times. Working with the theme of "considering compliance together with the people and the workplace," this worked toward enhancing the effectiveness of education, training, and preventive measures.
Compliance Promotion Cycle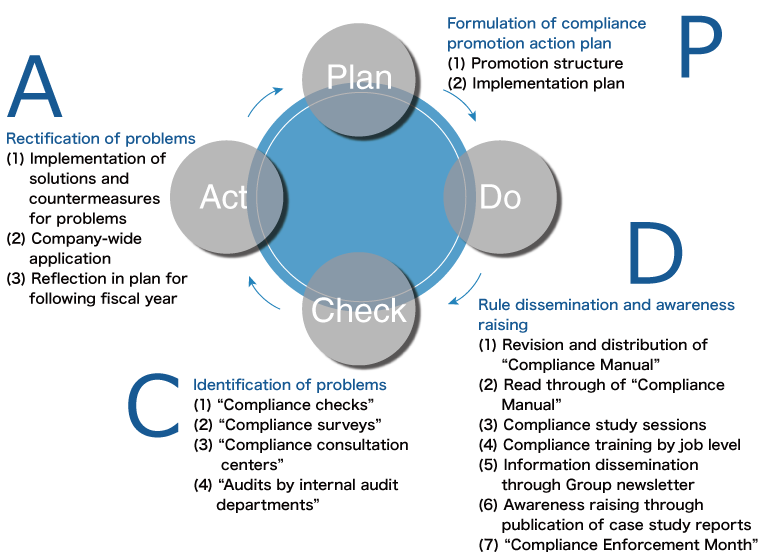 Compliance consultation desks
Toyobo provides an internal reporting service and internal/external compliance consultation desks for all Group employees. This receives reports and gives consultations regarding workplace violations of laws and regulations or fraudulent acts, acts that violate anticompetition laws, corruption including bribery and embezzlement, and bullying or harassment, and works toward early detection of these problems together with rectifying these and preventing their recurrence. So that employees can use the consultation desks with peace of mind, we guarantee protection of privacy, including the names of people who seek consultations, and that there will be no disadvantage for employees who consult or report.
Topics for consultation
(1) Legal violations and violations of internal regulations and rules
(2) Acts that violate the Compliance Manual "Corporate Code of Conduct"
(3) Workplace harassment
(4) Other conduct suspected of being illegal or dishonest, etc.
Number of Consultations for Compliance Consultation Desks (including internal reporting service)
| FY2017 | FY2018 | FY2019 | FY2020 | FY2021 |
| --- | --- | --- | --- | --- |
| 20 | 15 | 32 | 35 | 37 |
Details of Consultations
| Details of consultaions | Incidents |
| --- | --- |
| Abuse of authority (including percieved or actual) | 10 |
| Related to COVID-19 | 8 |
| Violation of the internal rules | 6 |
| Confirming internal rules, etc. | 4 |
| Personal relationships & communication | 4 |
| Sexual harassment | 1 |
| Others | 4 |
Targets and KPI
<Targets>
Each and every employee complies with laws, regulations, and rules and acts transparently and appropriately, fostering an ethical corporate environment and culture.
<KPI and Results>
Initiatives
KPI
Targets
Results (FY2021)

Increase in awareness of compliance

Improvement in compliance questionnaire responses
No. of compliance study sessions for managers and various other trainings held

Whether company emphasizes compliance
Awareness of "Compliance Mini Study"

Disclose results

I feel that way, or I somewhat feel that way 88% (down 5%)
(down 8%)

11 times (1,209 participants) + video delivered to all employees, various other trainings 13 times

Awareness and use of compliance consultation desks

Improvement in compliance questionnaire responses
Consultation desks support

Awareness of compliance consultation desks
Ease of use of compliance consultation desks

Disclose results

37 cases

Legal compliance and reports of violations

No. of serious legal violations

0 violations per year

2 violations*
* "Partial Deficiency in Environmental Monitoring in Contract Manufacturing Business of Pharmaceuticals" and "Misconduct Involving Toyobo's PBT Resin "PLANAC"
Initiatives in fiscal 2021
In fiscal 2021, 37 incidents were brought to their attention. Of these, there were 21 requests for investigation or approaches to the workplace, and 16 with consultations or questions, with no specific action requested. Many of these matters were related to suspicions of abuse of authority or to do with COVID-19. Depending on the details of these consultations, in the event problems are identified we recommend corrective measures or disciplinary action, and we also provide the complainant with advice and answers to questions.
Revision and dissemination of compliance manual
To promote understanding of compliance by all employees and make the rules well known, based on the principles declared in the "TOYOBO Group Charter of Corporate Behavior", we have created the "TOYOBO Group Compliance Manual" that explains the rules that the employees should follow in a concrete and easy-to-understand manner.
This compliance manual (Japanese and English versions) is revised to the latest version and distributed every year during the Compliance Enforcement Month in October. At each overseas site, we have created a local version with the customization and other changes. In each workplace, we have employees read through the manual together to familiarize the group employees with the charter of corporate behavior.
The items in the compliance manual include anti-corruption, safety and hygiene, and proper working hours management.
Anti-corruption initiatives
Toyobo Group positions the prevention of corruption in all forms such as bribery as a priority issue for compliance. In particular with regard to bribery, in addition to Toyobo policies and regulations, we have also decided upon guidelines that detail specific rules such as judgments and monetary standards when giving gifts and entertainment.
We ensure that these are well understood by outlining details in the compliance manual and providing explanations in meetings and trainings. Additionally, in order to build fair and healthy relationships with business partners, we have put in place rules for when accepting gifts and entertainment. These include declining to accept money or its equivalent, or gifts and entertainment that exceed socially accepted norms, and the introduction of a reporting system for when these are received.
In fiscal 2021, there were no violations of the law and administrative disposition regarding corrupt activities, employee dismissal, fines, and surcharges.
Compliance education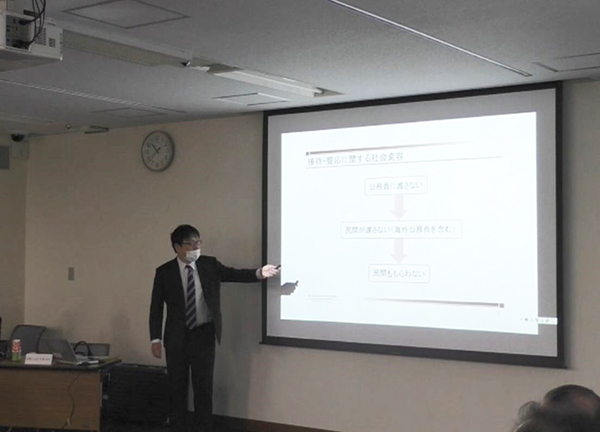 We use a variety of measures such as study sessions and issuing reports in order to increase overall awareness of compliance, and carry out compliance education by job level and occupations as a part of training for new employees, sales staff and expats. In fiscal 2021, we started study sessions by headquarters as a part of considering compliance together with the workplace.
Hosting seminars
In fiscal 2021, we held 11 study sessions targeting management-level personnel from all Toyobo business sites including headquarters, branches, production centers, and at 38 affiliated companies. We also held this remotely as a COVID-19 measure.
With members of the Compliance Department and IT Department acting as lecturers, 1,209 employees participated, and covered topics such as management's role in preventing misconduct, preventing harassment, and cyber security.
We have also created a video of the study sessions edited for general employees, and distributed this to Group companies.
Issuing case study reports
A "Compliance Mini Study," which educates employees about cases of violation in a case study format, is issued monthly, and heads-up reports are issued irregularly based on cases that occurred within Toyobo Group.
Carrying out surveys
During Compliance Enforcement Month held in October every year, we hold an anonymous questionnaire. This includes a survey on employee awareness of compliance including of ethics, safety, quality, confidential corporate information, harassment, the organizational culture, and use of the consultation desks. Through this, we confirm the status of compliance risks in the workplace.
In fiscal 2021, we received 5,094 responses from employees, and results of the questionnaire are disclosed to all employees. Details on individual problems and issues are shared with related departments in a form that does not identify the respondent—this proves useful in improving the situation and preventing problems.