Biodiversity
Approaches
Our lives are supported by innumerable chemicals. Textiles, packaging/containers, and pharmaceutical products are just some of the things that are essential to daily life. However, various ecosystems are endangered when the raw chemical substances generated as a byproduct of manufacturing are released into the air, water or the soil. The Toyobo Group's "Fundamental Policy on the Global Environment" calls for the Group to actively protect the environment in the society and community, and to support/participate in activities to preserve biodiversity, as a good citizen. In doing this, we strive to minimize the impact of our business activities on ecosystems.
Initiatives
Contributing through business processes and products
The Toyobo Group utilizes a variety of environmental protection technologies to remove harmful chemical substances from water and gases emitted at our offices and factories. We also strive to improve our manufacturing processes so as to minimize their impact. In addition, we have installed monitoring systems within our business processes to ensure that no harmful chemical substances are released accidentally.
With our eyes fixed firmly on the future, we are working hard to help protect the natural environment throughout the supply chain. This includes developing technologies that allow renewable resources to be used as raw materials when manufacturing various types of products, and biodegradable plastics that return to nature after use.
We will continue to provide products and solutions that remove harmful substances from the water and air, thereby contributing to the conservation of the global environment and ecosystems.
Participation in cleanup activities to preserve the biodiversity of Lake Biwa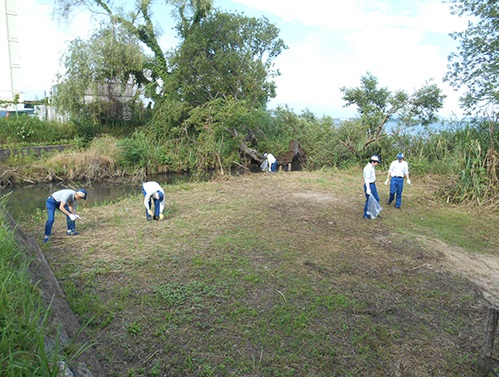 Our Research Center, situated on the shores of Lake Biwa in Otsu City, Shiga Prefecture supports the "Otsu Citizen Cleanup of Lake Biwa ," and every July, over 600 staff, more than half of the Center's staff participate in environmental conservation activities such as mowing grass along the lake shore and other areas, and picking up trash. This activity is sponsored by a citizens group called the "Lake Biwa Beautification Headquarters " and has been carried out for nearly 40 years aimed at conserving Lake Biwa, home to rich and diverse wildlife and a water resource for people. The Research Center has participated in these activities for around 20 years.