Biodiversity
Approaches
Our lives are supported by innumerable chemicals. Textiles, packaging/containers, and pharmaceutical products are just some of the things that are essential to daily life. However, various ecosystems are endangered when the raw chemical substances generated as a byproduct of manufacturing are released into the air, water or the soil. The Toyobo Group's "Fundamental Policy on the Global Environment" calls for the Group to actively protect the environment in the society and community, and to support/participate in activities to preserve biodiversity, as a good citizen. In doing this, we strive to minimize the impact of our business activities on ecosystems. We are working on environmental conservation activities such as local cleanup activities at each site. To strengthen the efforts for biodiversity conservation, we formulated the "Action Guidelines for Biodiversity Conservation", respecting "Declaration of Biodiversity, Guide to Action Policy" issued by Keidanren (Japan Business Federation), and "Guidelines for Private Sector Engagement in Biodiversity" formulated by the Ministry of the Environment.
Action Guidelines for Biodiversity Conservation
We recognize that biodiversity is an essential part of a sustainable society. As a group which continues to create the solutions needed by people and the earth, understanding the impact of our business activities on conservation of biodiversity, we will endeavor to conserve the three types of biodiversity (genetic, species, and ecosystem diversity) through various activities.
We will work to understand how the Group's business activities depend on and affect biodiversity, and endeavor to avoid or minimize negative impacts.
We will strive to give consideration to biodiversity conservation throughout the entire value chain.
We will contribute to the conservation by promoting development of Biodiversity-conscious products and technology.
We will support and promote conservation activities through the employee's participation, and cooperation and collaboration with various stakeholders including local communities and NGOs.
We will comply with domestic and overseas agreements on biodiversity.
Activities based on the action guidelines
We will establish the following activities as activities based on the action guidelines for biodiversity conservation, and we will set the quantitative targets and check the results in the future.
Dissemination of the CSR Procurement Guidelines and promotion of White Logistic
Increase of environmental conscious products
Social contribution activities at each site
Management of chemical substances and genetically modified organisms
Toyobo Group's business activities and its involvement in biodiversity
The relationships between Toyobo Group's activities and biodiversity are organized as shown in the figure below.
In addition, at all domestic and overseas production sites of our group, by using IBAT*1, we will conduct surveys to determine whether there are any rare species or natural environments such as the World Natural Heritage sites, IUCN*2 Protected Area Management Categories I-VI, and the Ramsar Convention that should be conserved within 1 km around the site, and we have picked up the following bases.
※1 Abbreviation of "Integrated Biodiversity Assessment Tool" Refers to a database of the world's protected areas in which the United Nations Environment Programme (UNEP) and other organizations participate.
※2 Abbreviation of "International Union for Conservation of Nature" Refers to an international nature conservation network consisting of national, governmental and non-governmental agencies.
※3 Official name is "Convention on Wetlands of International Importance Especially as Waterfowl Habitat". It aims to conserve wetlands, which are an important habitat for a variety of organisms and a valuable resource for human life, through international cooperation and promote the wise use.
Relationship between Business Activities and Biodiversity [Risks and Opportunities]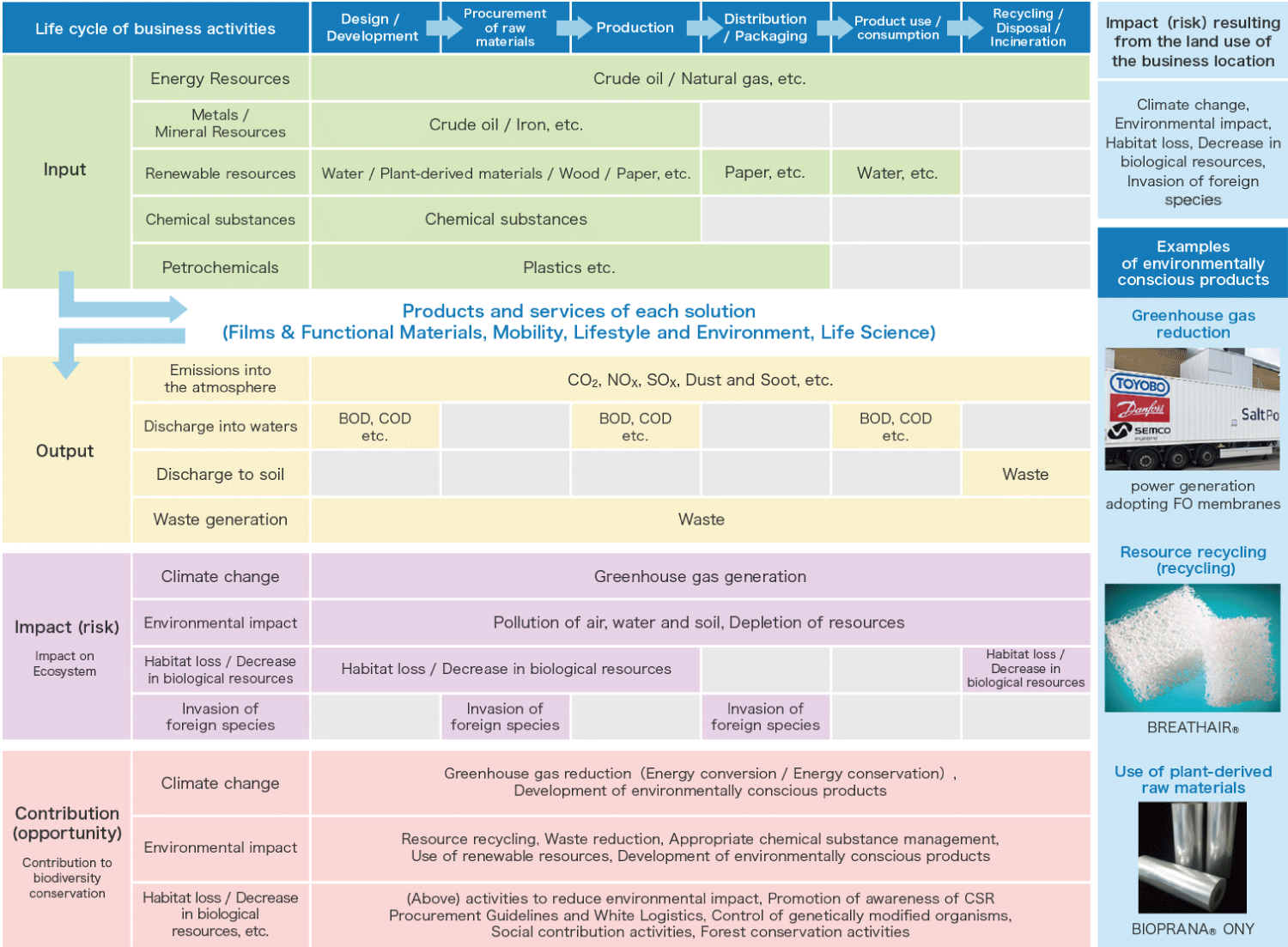 Made with reference to the "Map of Relationships between Corporations and Biodiversity" published by the Japan Business Initiative for Biodiversity.
Sites with a Natural Environment to be Conserved
Site name
IBAT assessment result
Explanation
Toyobo Tsuruga Research and Production Center (Tsuruga, Fukui)
Species and habitat management areas
Natural Habitat Conservation Areas, National Wildlife Protection Areas
Toyobo Iwakuni Production Center
TOYO CLOTH CO., LTD Iwakuni Plant
(Iwakuni, Yamaguchi)
Protected landscape areas
Resource conservation areas
Part of a national park or quasi-national park
Areas to be protected for the sustainable use of natural resources
ToyoboTakasago Plant
(Takasago, Hyogo)
Resource conservation areas
Areas to be protected for the sustainable use of natural resources
Toyobo Research Center
(Otsu, Shiga)
Species and habitat management areas
Natural Habitat Conservation Areas, National Wildlife Protection Areas
TOYO CLOTH CO., LTD Tarui Plant (Sennan, Osaka)
Resource conservation areas
Areas to be protected for the sustainable use of natural resources
JAPAN EXLAN COMPANY., Ltd.
TOYOBO PHOTO CHEMICALS CO., LTD. (Okayama, Okayama)
Resource conservation areas
Areas to be protected for the sustainable use of natural resources
* Toyobo Tsuruga Research and Production Center, and Takasago plant: Areas to be protected are located more than 1km (but less than 2km) from the site, but are included in the scope of this activity
Initiatives
To minimize the negative impact on biodiversity, we are proceeding following activities.
Contributing through business processes and products
The Toyobo Group utilizes a variety of environmental protection technologies to remove harmful chemical substances from water and gases emitted at our offices and factories. We also strive to improve our manufacturing processes so as to minimize their impact. In addition, we have installed monitoring systems within our business processes to ensure that no harmful chemical substances are released accidentally.
With our eyes fixed firmly on the future, we are working hard to help protect the natural environment throughout the supply chain. This includes developing technologies that allow renewable resources to be used as raw materials when manufacturing various types of products, and biodegradable plastics that return to nature after use.
Forest conservation activities at "Toyobo Future Forest" in Wakayama prefecture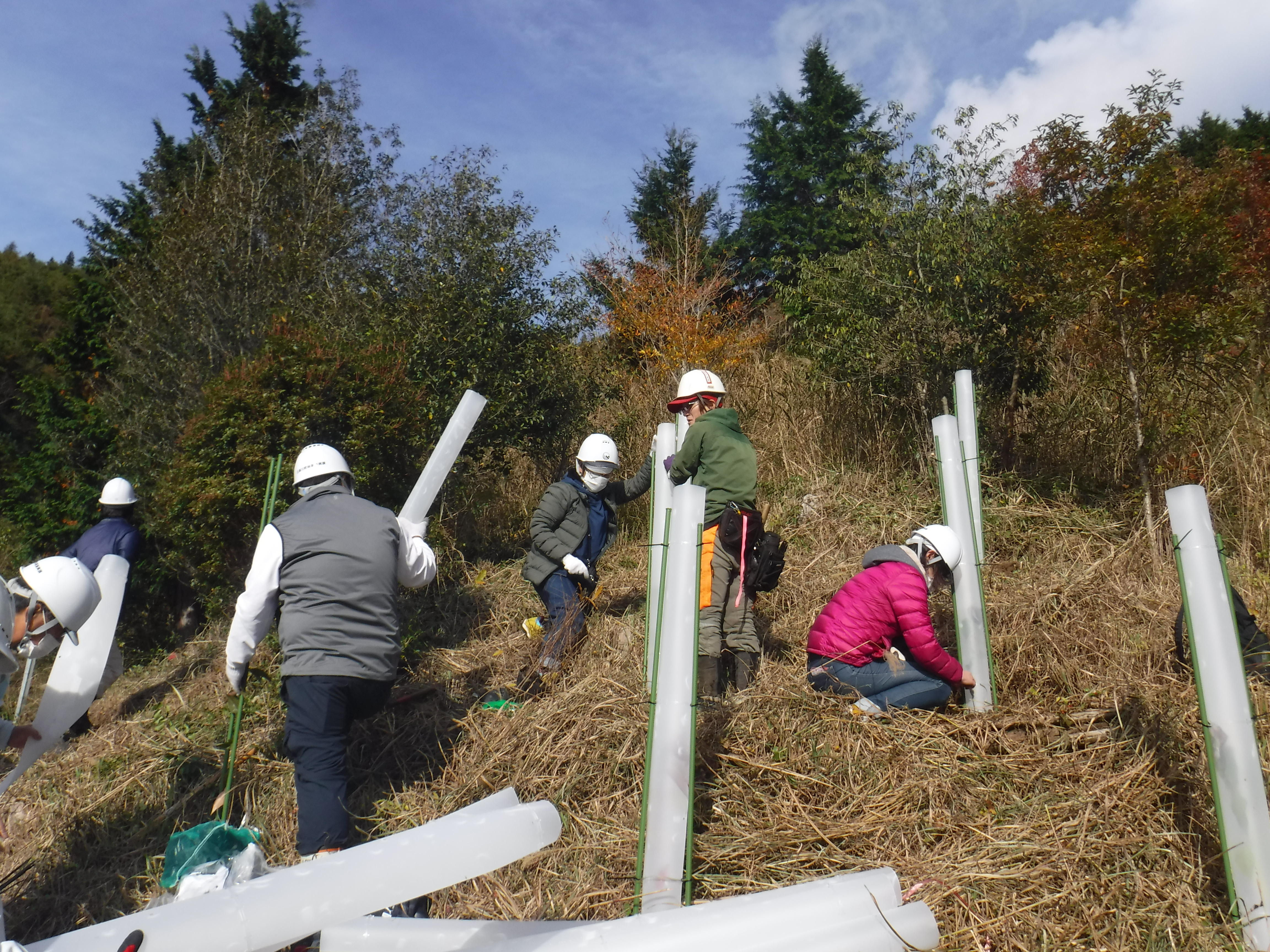 Forest has multifaceted functions such as conservation of biodiversity and the global environment. We have participated in the "Corporate Forest" organized by Wakayama prefecture and are working on Forest Conservation Activities in a mountain forest in central Wakayama prefecture. Since its inception in 2006, in cooperation with the local Hidaka town and the forest association of Kichuu (or central Wakayama prefecture), we have been working on tree planting and weeding, etc. In Novmember 2021, we supplementally planted broadleaf trees such as wild cherry, sawtooth oak, and maple.
Wild deers live in this area of the forest and sometimes eat the seedlings of the trees. For the coexistence of deers and trees, the area around the "Future Forest" is enclosed with nets which use our material, IZANAS® to prevent animals from entering.
Through forest conservation activities in Wakayama prefecture, we will contribute to issues such as biodiversity and climate change.
Participation in cleanup activities to preserve the biodiversity of Lake Biwa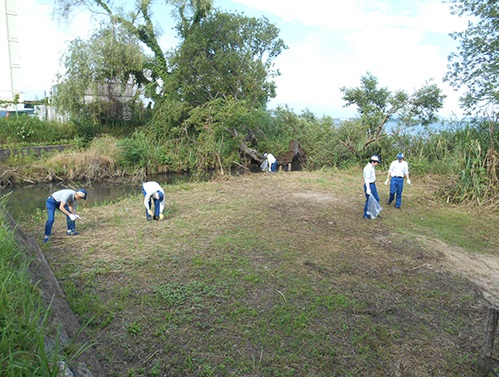 At our Research Center, situated on the shores of Lake Biwa in Otsu City, Shiga Prefecture, every year, over 600 staff, more than half of all Center's staff, participate in the environmental conservation activities such as mowing grass and picking up litter in the area, including the lakeshore. This activity has been ongoing for about 20 years, intending to preserve the environment of Lake Biwa, rivers, and its surrounding area, which is a habitat for many precious creatures and a water resource for people. In 2020, we suspended employee activities due to the influence of the new coronavirus. However, in 2021 we plan to conduct activities with consideration for infection control, such as limiting the number of participants.