Our Value Creation Story
Approach to Value Creation
Realizing long-term growth by continually providing value-added solutions.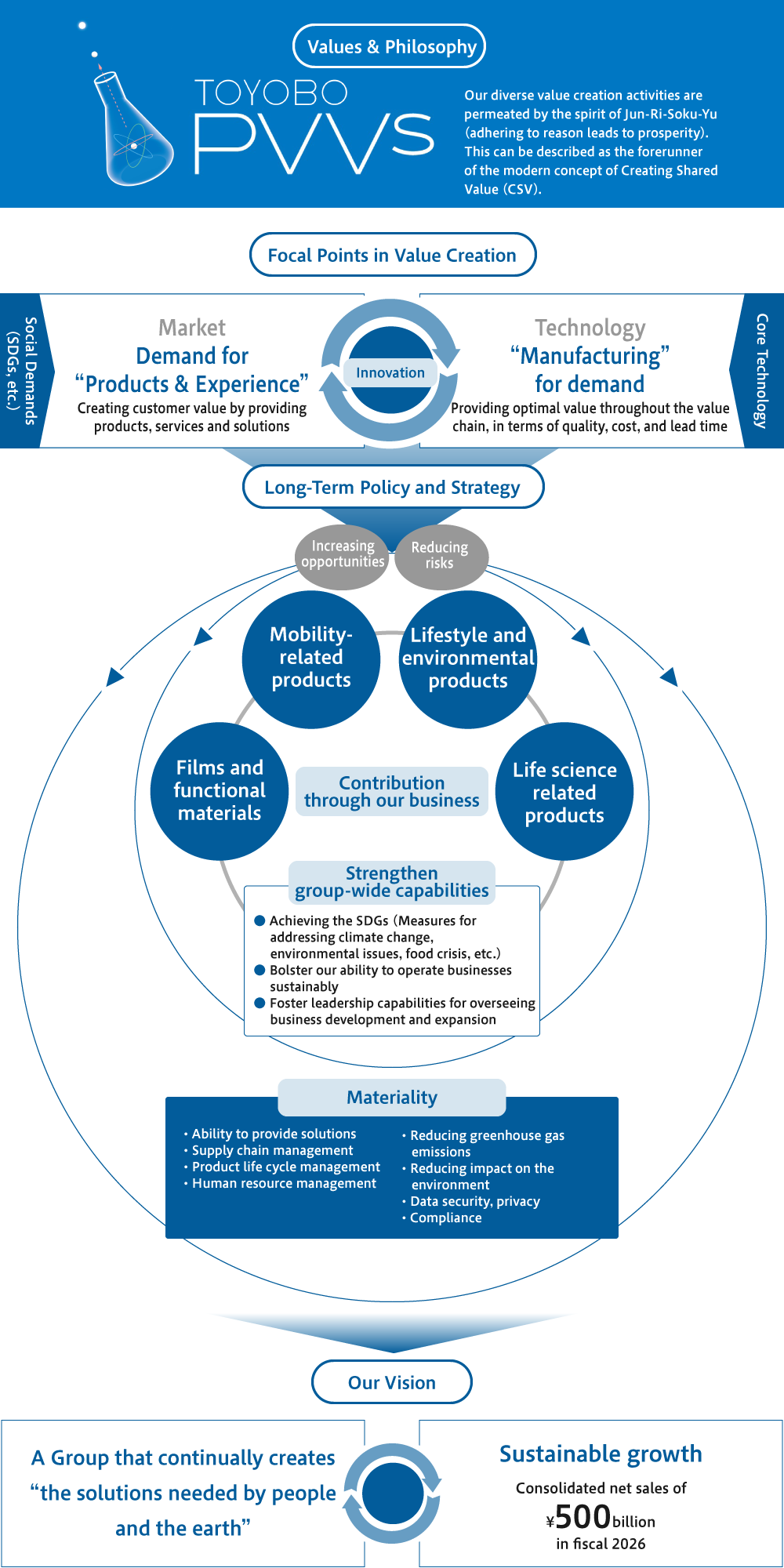 Matching stakeholder demands to our management resources
The demands of society and markets have become increasingly diverse and sophisticated in recent years, as can be seen with the Sustainable Development Goals (SDGs). The Toyobo Group has built up a wide range of management resources over many years, and we have especially worked on refining our technology. Selecting the technologies that can address external demands, and extending them through further innovation is our starting point for the Toyobo Group's value creation.
Practicing CSV in four Solutions fields
From fiscal 2021, the Toyobo Group has reorganized its operations into four fields where we can create value to share with society: these are our Solutions divisions. Each division aims to increase the Company's growth opportunities by providing products and services that help resolve issues, and also to control and mitigate risk while taking ESG issues into consideration. We are also strengthening cross-divisional coordination to support the activities of these four divisions.
Identifying material issues
In fiscal 2021, we identified our material issues, which are both important for our stakeholders and have a significant impact for the Company. We also determined "safety, disaster prevention, quality," "corporate governance," and "respect for human rights" as the management base (the prerequisites to the material issues.) We will continue to address materiality while communicating proactively with our stakeholders.
Drawing up a long-term growth scenario using backcasting
Toyobo Group's stated aim is to continually create "the solutions needed by people and the earth." We have also established net sales targets for fiscal 2026. We are currently considering our long-term growth scenario to 2030 using backcasting, a method of calculating what we need to do now in order to achieve our future vision and targets.