Organization
Company-wide innovation system through collaboration between corporate research and divisional research
In order to create and provide solutions, we operate R&D separately in the Corporate R&D Department and the Divisional R&D Departments to increase R&D efficiency and speed up commercialization.
Corporate R&D Department
In addition to core technology research aimed at acquiring basic and advanced technologies for the future and project research to accelerate commercialization, there is also a company-wide research infrastructure section that supports all research and development. Technologies such as analytical technology, simulation (CAE), digital transformation (DX), and materials informatics (MI) support the creation of next-generation technologies, new products, and new businesses. We also have the ability to actively contact domestic and international companies, universities, and research institutions to quickly investigate and evaluate new and next-generation technologies.
Divisional R&D Departments
As each division operates production, sales, and development in an integrated manner, these departments conduct research and development that is directly linked to each division in order to rapidly develop products in the market. In addition, this division is strengthening cooperation between different business fields and with the Corporate R&D Department to rapidly respond to diversifying customer needs through integration and restructuring of core technologies.
Coordination of company-wide innovation (Innovation Strategy Department)
This department is responsible for the management, planning, and promotion of research and development from the perspective of company-wide management, and promotes the integration of research and development and business development. Promising themes generated by the Corporate R&D Department are designated as R&D projects, and this department actively supports their commercialization.
It also makes effective and efficient use of its R&D resources, participating in national projects, open innovation with affiliated companies in addition to universities and outside the company, and aggressive investment through venture capital.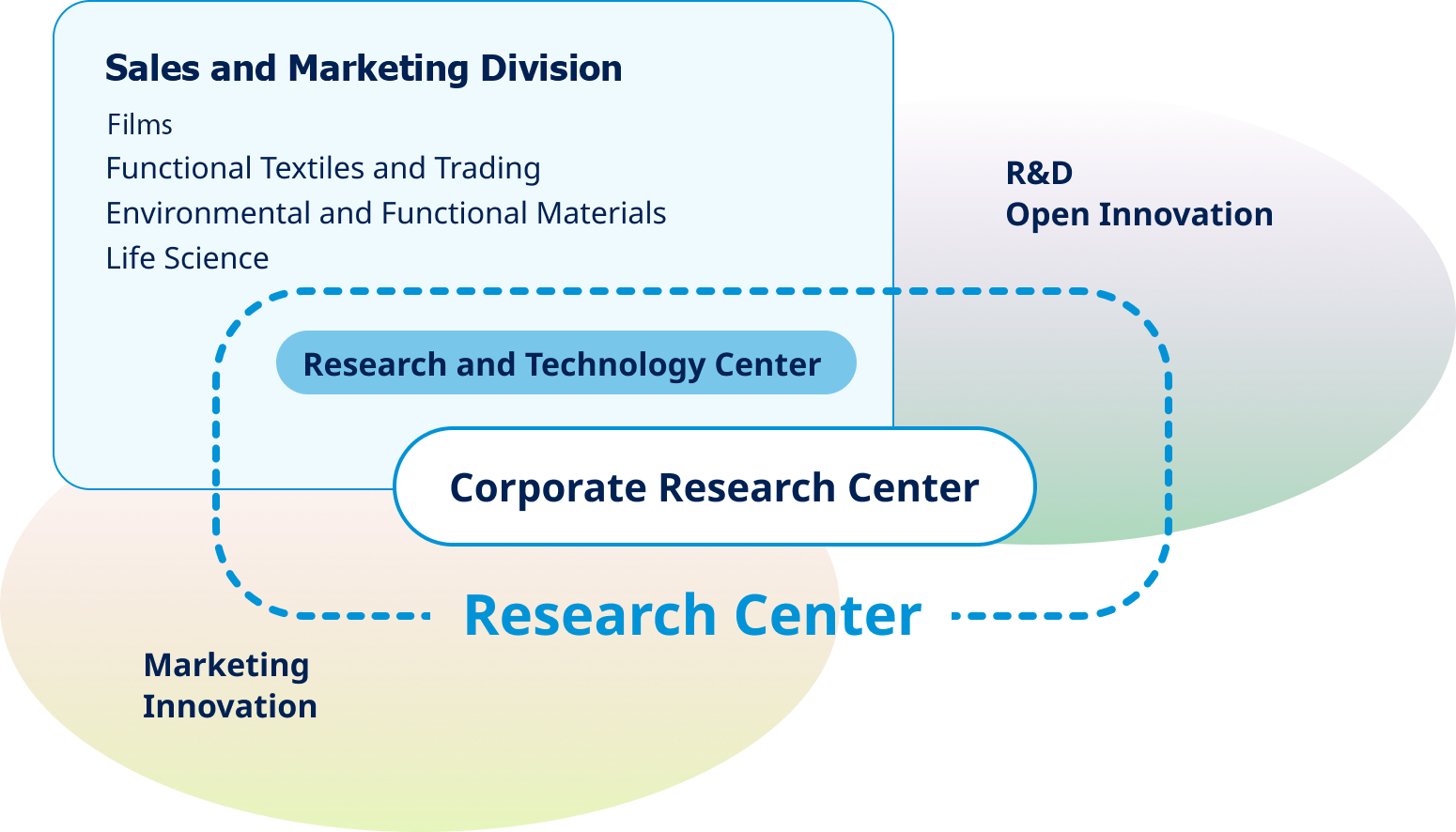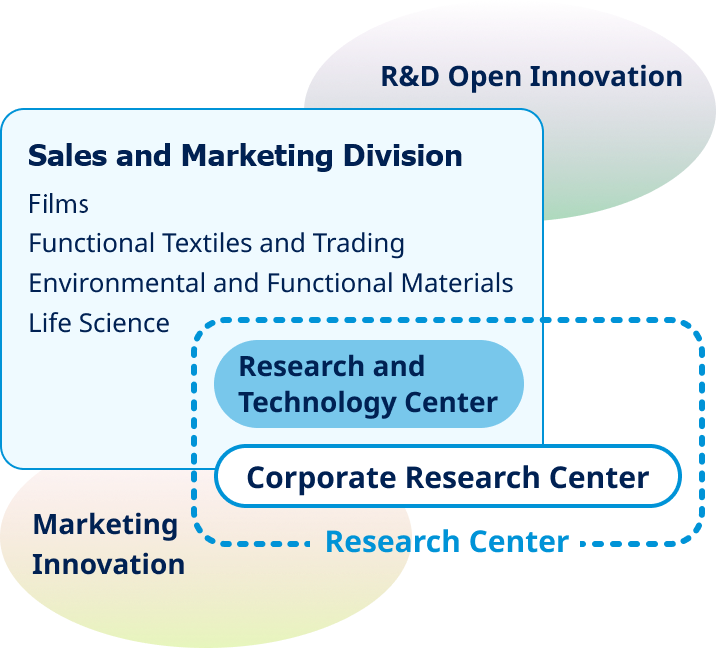 Creating the future by integrating/restructuring corporate and business research [Research Center]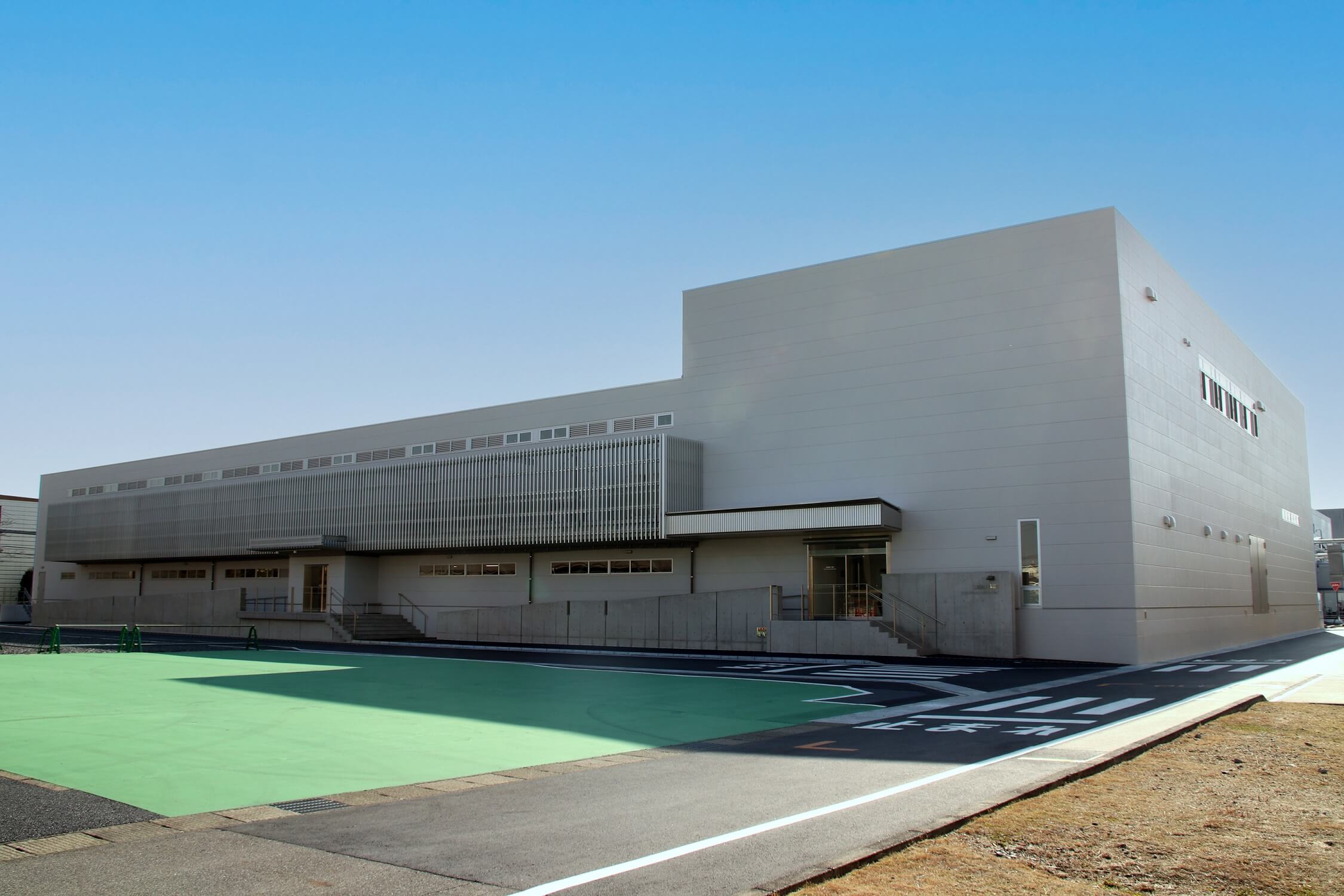 Pilot plant building for the practical application of new products and technologies (completed in January 2023)
The institute will be renovated to accelerate the creation of innovation.
1931, the Research Center (Otsu City, Shiga Prefecture) started its journey by researching fibers. Since then, for over 90 years, it has expanded its research areas to include film, biotechnology, and high-performance products, while responding to the needs of the times. At present, it serves as a company-wide research and development base and is a complex facility with a production department.
Approximately 900 employees work at the Research Center, where the R&D department is working to develop new products and technologies by strengthening and fusing/restructuring fundamental technologies, and promoting the creation of innovative technologies, products, and solutions that can contribute to solving social issues. In particular, the Corporate R&D Department, which is responsible for basic research, has been clarifying the relationship between research themes and the 17 goals of the SDGs from the planning stage, and is looking ahead to 2030 and beyond to create an environment that facilitates diverse ideas and accelerates innovation through systems and facilities that encourage young talent, career personnel, multinational personnel, and women.
Analytical Research Center: Supports company-wide research and development with advanced analysis technology
It utilizes a wide range of analytical techniques such as electron microscopy (TEM, SEM), X-ray diffraction and synchrotron radiation analysis, nuclear magnetic resonance analysis (NMR), and various separation analyses (LC/MS, GC/MS). By making full use of these technologies, we contribute greatly to research and development by clarifying performance mechanisms, analyzing the causes of problems, and investigating trends at other companies and in the market.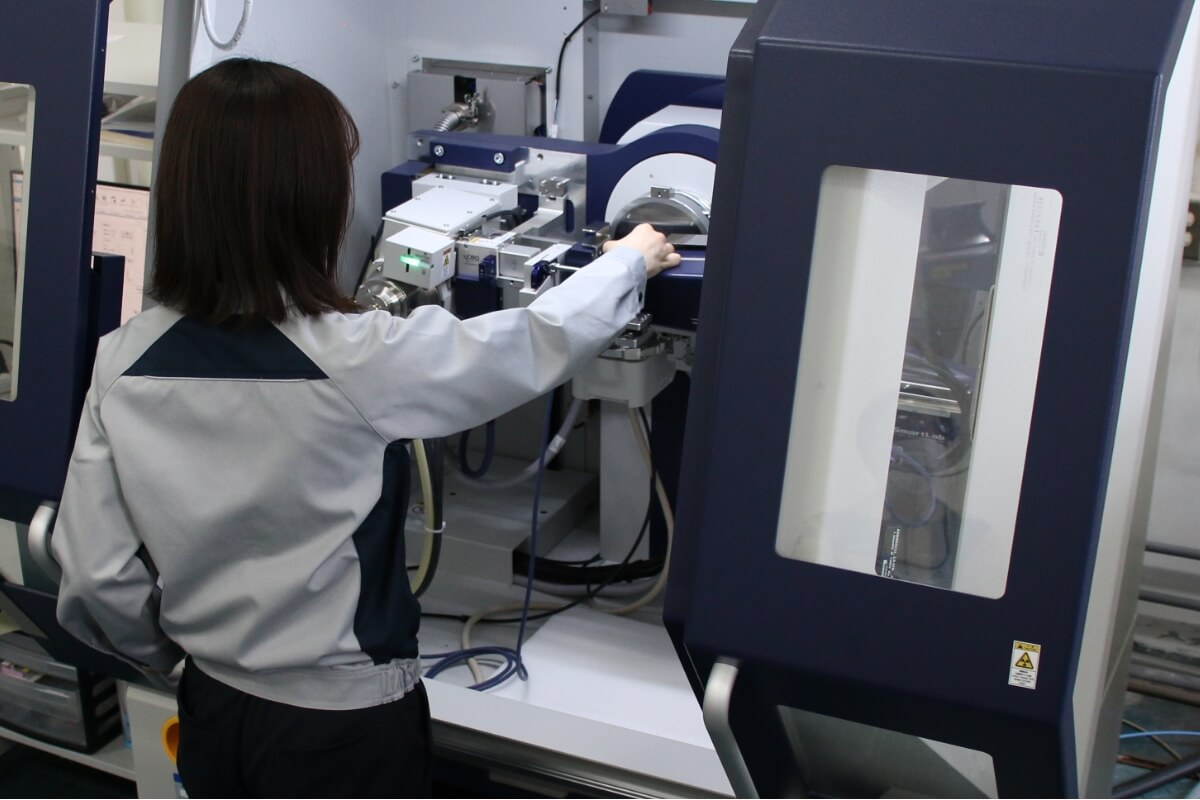 Computational Research Center : An organization responsible for the promotion of computer simulation technologies and the development of highly specialized human resources
Computer simulation technologies support Toyobo's highly knowledge-intensive manufacturing and technologies. Starting with the application of spinning simulation to the development of synthetic fibers, TOYOBO has been using computer simulation technology to solve problems in a wide range of fields, including medicine, food, resource development, energy, and environmental issues. Computer simulation requires specialized research and technological development in the respective fields to realize and utilize complex systems on computers with advanced algorithms and mathematical models. Computational Research Center will continue to strengthen the development and utilization of human resources with broad perspectives and expertise across new materials and business fields.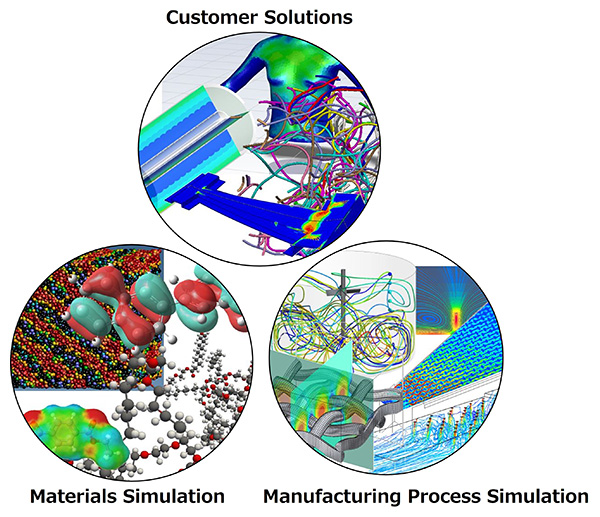 <Examples of development>
Materials simulation : We use molecular simulation technologies and original mathematical models to accelerate and streamline the process of designing novel materials.
Manufacturing process simulation : We use computer simulation to support decision-making for improving and optimizing production process quality, reducing environmental impact, and capital investment.
Customer solutions : We combine materials simulation and manufacturing process simulation to provide optimal solutions to resolve our customers' issues.
Support for the Toyobo Group : We support the business of the TOYOBO Group as the infrastructure division by employing mathematical analysis including computer simulation.
IT and DX Planning Office: Leads to Materials Informatics (MI)
The IT and DX Planning Office has been established within the Research Center, with the aim of transforming the research and development processes of major products and businesses in order to create an MI optimized for the Toyobo group. While building a database that will allow us to accumulate experimental data from all key laboratories and analyze the data on an ongoing basis, it also aims to create a situation where all researchers can use MI at a basic level as an experimental tool, and is working to standardize the techniques required for analysis and train analytical personnel.
<Examples>
Improved performance of next-generation seawater desalination membranes
Functional expression mechanism analysis and composition optimization design in conductive adhesives and copolymerized polyesters