Materiality
Identifying Material Issues
Achieving our vision
In recent years, the expectations placed on companies, in terms of becoming carbon-neutral and contributing towards the realization of a circular economy, have grown. Enterprises need to address a wide range of issues, such as human rights, working conditions, and the impact of climate change.
In fiscal 2021, responding to the demands and expectations of our stakeholders, the Toyobo Group identified CSV- and ESG-related material issues in eight items, to realize our vision of being a Group that continually "creates the solutions needed by people and the earth." We have also positioned three items for which society's expectations are particularly high as Management Base (Basic preconditions to materiality). These items represent the foundations of the Toyobo Group's business activity.
We will also regularly review the material issues through communication and engagement with our stakeholders.
Identified Material Issues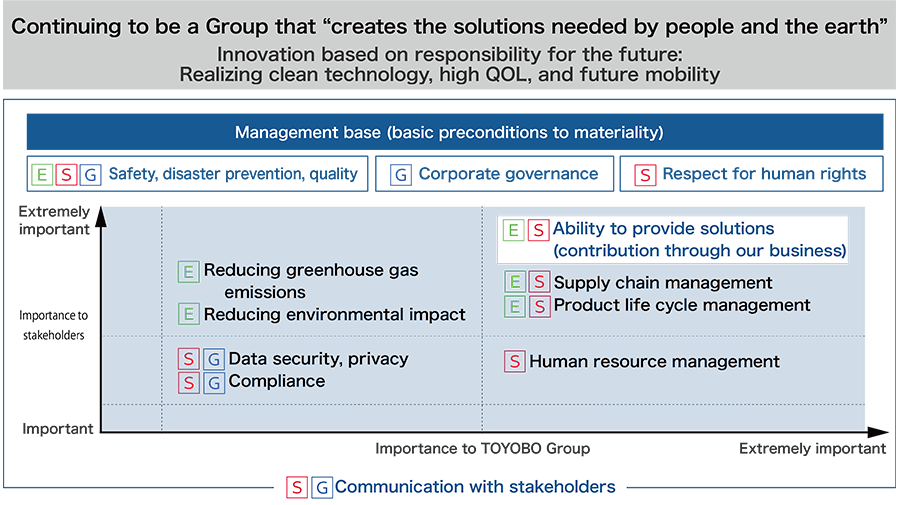 Find more information about materiality
Targets and KPIs
In conjunction with the identification of material issues, we established new KPIs in November 2020 in order to promote initiatives. These are reported below, including those which are currently under consideration.
Identifying materiality based on social impact
When identifying materiality, we selected candidate social issues with reference to external initiatives and 12 international guidelines, including the GRI Standards.
We then clarified the positive and negative impact of these social issues through internal surveys and interviews. The Board of Directors made the final determination on materiality, taking into account the views of external parties such as institutional investors.
Our materiality is organized along the two axes of "materiality for stakeholders" and "materiality for the Group."
Appointing responsible company officers and setting targets (KPIs)
In November 2020, we appointed company officers to be responsible for each materiality item, and we also drew up the relevant targets (KPIs), so as to further enhance progress management in this area.
Regarding the targets (KPIs) for Ability to provide solutions and for Product life cycle management, we will be discussing and deciding on these in concert with strategy formulation for the company's next medium-term management plan, implementation of which is scheduled to begin in fiscal 2023.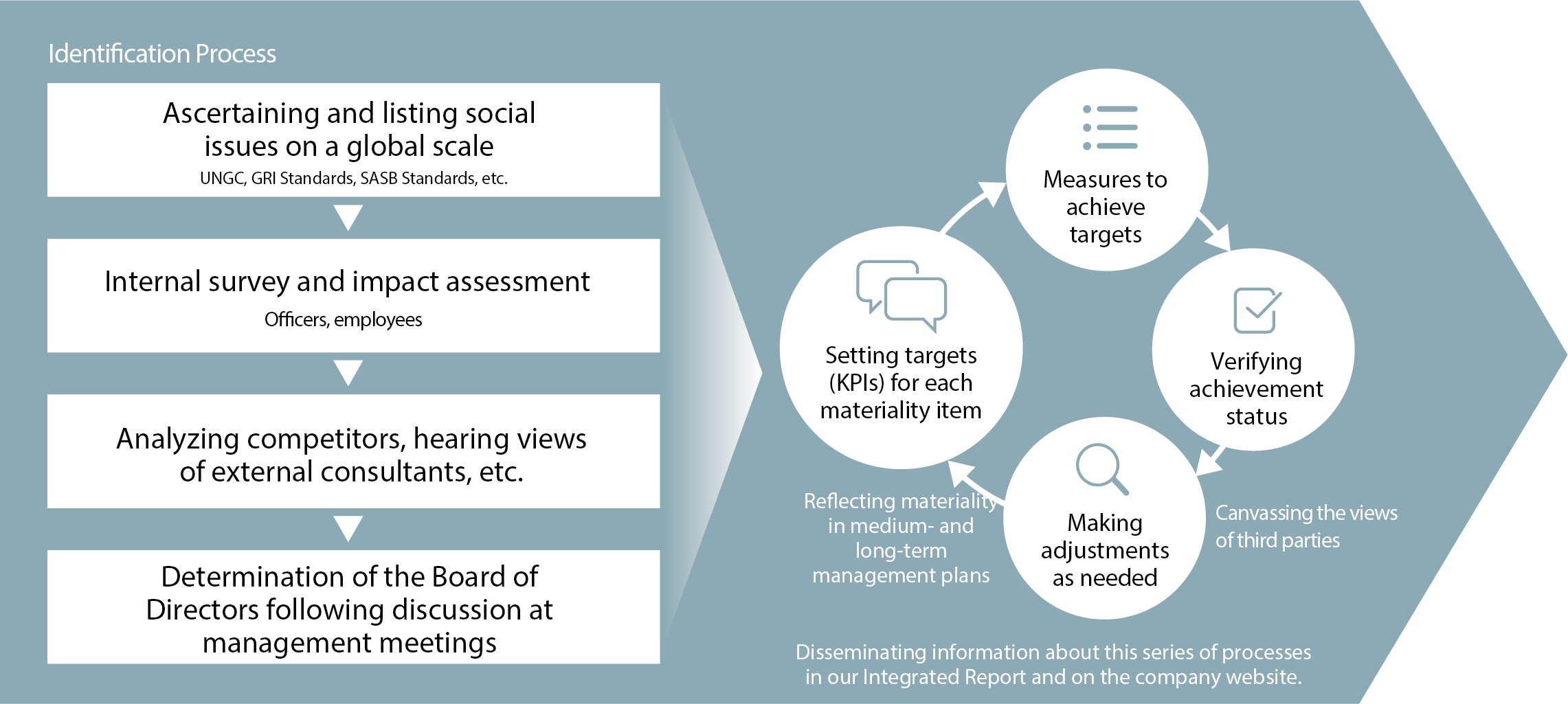 Relationship between Materiality and the SDGs
In June 2020, we mapped the relationships between the Toyobo Group's identified management base (basic preconditions to materiality) and the material issues, and the relevant SDGs and ESG.
Going forward, we will further deepen the connectedness of business activities with the SDGs during the review process for the material issues to be conducted through communication with stakeholders and obtaining the opinions of outside experts.

| Related ESG | Management base (basic preconditions to materiality) | Related SDGs |
| --- | --- | --- |
| | Safety, disaster prevention, quality | |
| | Corporate governance | |
| | Respect for human rights | |
| Related ESG | Materiality | Related SDGs |
| --- | --- | --- |
| | Ability to provide solutions (contribution through our business) | |
| | Supply chain management | |
| | Product life cycle management | |
| | Reducing greenhouse gas emissions | |
| | Reducing environmental impact | |
| | Human resource management | |
| | Data security, privacy | |
| | Compliance | |
| | | |
| --- | --- | --- |
| | Communication with stakeholders | |