Materiality
Identifying Material Issues
Achieving our vision
Companies must help resolve a wide range of issues facing society, from environmental issues such as climate change and plastic waste, to human rights and labor issues.
In fiscal 2021, responding to the demands and expectations of our stakeholders, the Toyobo Group identified CSV- and ESG-related material issues in eight items, to realize our vision of being a Group that continually "creates the solutions needed by people and the earth." We set out three areas that are the basis of the Toyobo Group's corporate activities and for which there is great social demand as the management base (basic preconditions to materiality). In addition, we will proactively disseminate information on initiatives on the basic preconditions to materiality and materiality as stakeholder communication as well as striving to deepen our communication with all stakeholders.
Identified Material Issues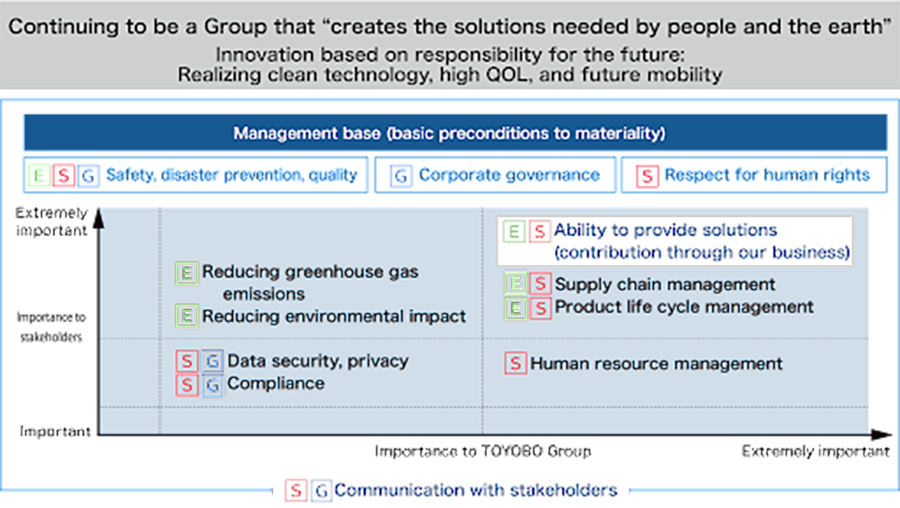 Targets and KPIs
In conjunction with the identification of material issues, we established new KPIs in November 2020 in order to promote initiatives. These are reported below, including those which are currently under consideration.
Identification process
To identify these material issues, firstly we drew up a list of proposed issues reflecting 12 international guidelines including external initiatives and the GRI Standards. From this list, we clarified the positive and negative impacts of each issue through internal surveys and interviews, to select the appropriate material issues.
We then made adjustments, reflecting the views of institutional investors and other external parties, and organized the eight proposed material issues along two lines: importance to stakeholders and importance to the Toyobo Group. Ultimately, the Board of Directors meeting held on May 22, 2020 determined these as the Group's material issues.
Identification Process

Reflecting materiality in management plans
As well as configuring targets (KPIs) for each of the identified material issues, we are drawing up specific measures to achieve these targets and will manage progress.
At the same time, we will reflect the material issues in our future medium- and long-term management plans.
We will also regularly review the material issues through communication and engagement with our stakeholders.
Key Future Initiatives

Relationship between Materiality and the SDGs
In June 2020, we mapped the relationships between the Toyobo Group's identified management base (basic preconditions to materiality) and the material issues, and the relevant SDGs and ESG.
Going forward, we will further deepen the connectedness of business activities with the SDGs during the review process for the material issues to be conducted through communication with stakeholders and obtaining the opinions of outside experts.

| Related ESG | Management base (basic preconditions to materiality) | Related SDGs |
| --- | --- | --- |
| | Safety, disaster prevention, quality | |
| | Corporate governance | |
| | Respect for human rights | |
| Related ESG | Materiality | Related SDGs |
| --- | --- | --- |
| | Ability to provide solutions (contribution through our business) | |
| | Supply chain management | |
| | Product life cycle management | |
| | Reducing greenhouse gas emissions | |
| | Reducing environmental impact | |
| | Human resource management | |
| | Data security, privacy | |
| | Compliance | |
| | | |
| --- | --- | --- |
| | Communication with stakeholders | |