Preventing Contamination and Waste Reduction
Materiality
Related ESG:
Reducing environmental impact
Waste reduction
Initiatives
At Group manufacturing sites, we are working to minimize the amount of waste sent to landfill by reducing to the extent possible waste products produced by our production activities. Given this, we are working to reduce, reuse, and recycle waste, aiming for 15% reduction in the amount of waste emission (compared to FY2016) and annual final disposal rate (landfill rate)* of under 1%.
We achieved this target in fiscal 2021, with a final disposal rate of 0.2% continuing our success in achieving targets since fiscal 2015. We will continue making efforts to further reduce the final disposal rate by reducing waste quantities through reviews of our sorting and disposal methods as well as moving to resource recovery.
Toyobo takes a systematic approach to appropriate disposal of polychlorinated biphenyl (PCB) waste. The disposal rate up to end of fiscal 2021 was 94% (unit volume basis). With regard to electric facilities containing low-concentration PCBs, which we currently use, we are implementing updated plans so as to meet the statutory disposal deadlines.
Toyobo Group has long taken a proactive approach to leveraging recycling to reduce waste, such as using recycled resin made from PET bottles as the raw material for chemical synthetic fiber and film products. Reuse of recycled raw materials in films is at 800 tonnes per annum, with recycling of non-conforming products also proceeding. For example, we collect the fabric offcuts that are produced during airbag manufacturing and recycle them into highly heat-resistant resin. We also reuse certain packaging film offcuts as the raw material for engineering plastics.
* Amount of landfill waste as percentage of total waste
Management of chemical substances
The Toyobo Group endeavors to manage chemical substances appropriately throughout the product lifecycle (research, development, design, manufacturing, sales, use, and disposal), in order to help conserve the global environment, disaster prevention, ensure workers' health and safety, and ensure product safety.
Chemical substance management structure
For appropriate management of chemical substances, the Toyobo Group has established a management system at each office. Each solutions division supervises the activities of the offices and group companies under their jurisdiction.
In addition, we have created a "TOYOBO Chemical Substance Management Classification" in compliance with laws and regulations—both international and domestic—as well as client requests. This classifies the chemical substances we handle into five levels, and the management procedures are specified for each level or "rank". Use of substances in rank A and B is permitted only when the risks are thoroughly assessed, mitigation measures are taken, and the risk is deemed tolerable. We are continuously making efforts to reduce the overall usage volume of rank A and B substances by optimizing and replacing these substances.
Chemical Substance Management Structure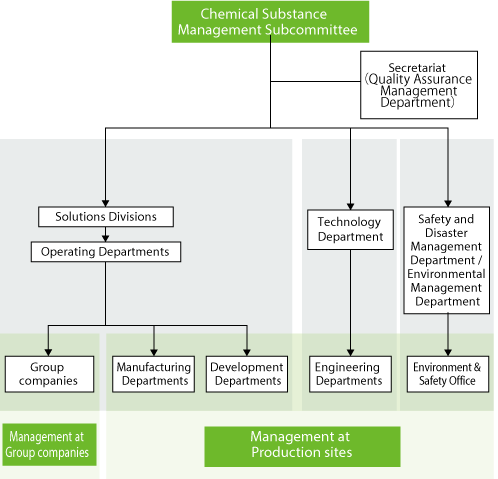 TOYOBO Chemical Substance Management Classification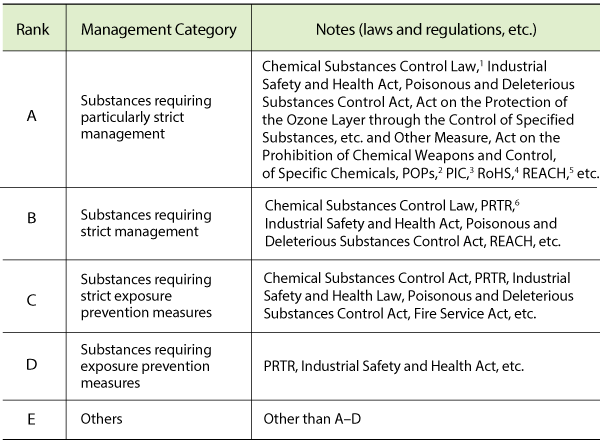 1 Chemical Subtances Control Act: Act an the Evaluation of Chemical Subtances and Regulation of Their Manufacture, etc.
2 POPs (treaty): Prevention and Reduction of Persistent Organic Pollutants
3 PIC (treaty):The Prior Informed Consent Regulation (trade)
4 PRTR: Pollutant Release and transfer Register
Chemical substance management activities
Recent years have seen requirements to manage chemical substances within the supply chain. These requirements also apply to Japan following the Act on the Evaluation of Chemical Substances and Regulation of Their Manufacture, etc. (Chemical Substances Control Act), as well as other regulations relating to the chemical substances management. Additionally, the Globally Harmonized System of Classification and Labeling of Chemicals (GHS) has been adopted by the United Nations.
In view of this situation, Toyobo has introduced a chemical substance management system covering procurement to manufacturing and sales. This is to realize green procurement while providing accurate and prompt support to our customers. We employ this system to investigate the use of regulated substances and carry out surveys regarding content in products. The system also supports suppliers in creating safety data sheets (SDS) for chemical substances.
Given the global expansion of the Toyobo Group's operations, we are creating a database of chemical substance-related laws and regulations in Asia, Europe, and North and South America. Furthermore, in order to identify and mitigate chemical substance handling risk, we have established rules concerning matters including the replacement/reduction of hazardous chemical substances, proper maintenance of the workplace and environments, and the management of chemical substances in products.
Reduction of hazardous substance emissions
In order to reduce the amount of hazardous chemical substances emitted, the Toyobo Group assesses and reports the release and transfer volumes of chemical substances subject to the Pollutant Release and Transfer Register Act (PRTR Act) for each office, and then analyzes the overall results which are published every year in an effort to reduce our own emissions and quantities transferred.
We are working to reduce emissions by improving and updating manufacturing facilities and equipment, improving operating conditions, installing equipment to remove the substances in question, and substituting raw and auxiliary materials, and hope to meet our fiscal 2031 target by setting reduction targets of 60% for emissions to air and 80% for emissions to water compared to fiscal 2015.
Release and Transfer Volumes of PRTR Substances
(tonnes)
| FY | Transfer volume | Emissions to air | Emissions to public sewage system | Emissions to soil | Landfill volume |
| --- | --- | --- | --- | --- | --- |
| 2018 | 1,174 | 154 | 20 | 0 | 0 |
| 2019 | 1,085 | 103 | 12 | 0 | 0 |
| 2020 | 1,169 | 95 | 19 | 0 | 0 |
| 2021 | 1,336 | 86 | 21 | 0 | 0 |
Coverage: TOYOBO CO., LTD. and affiliated companies in Japan
Atmospheric
NOx and SOx emissions
(tonnes)
| FY | NOx | SOx |
| --- | --- | --- |
| 2018 | 969 | 988 |
| 2019 | 883 | 1,018 |
| 2020 | 922 | 959 |
| 2021 | 1,251 | 968 |
Coverage: TOYOBO CO., LTD. and affiliated companies in Japan
Fluorocarbons emissions
(t-CO2)
| FY | Fluorocarbons emissions |
| --- | --- |
| 2018 | 239 |
| 2019 | 460 |
| 2020 | 733 |
| 2021 | 452 |
Coverage: TOYOBO CO., LTD.