Sustainability Management
Our officer's commitment
Practicing sustainability management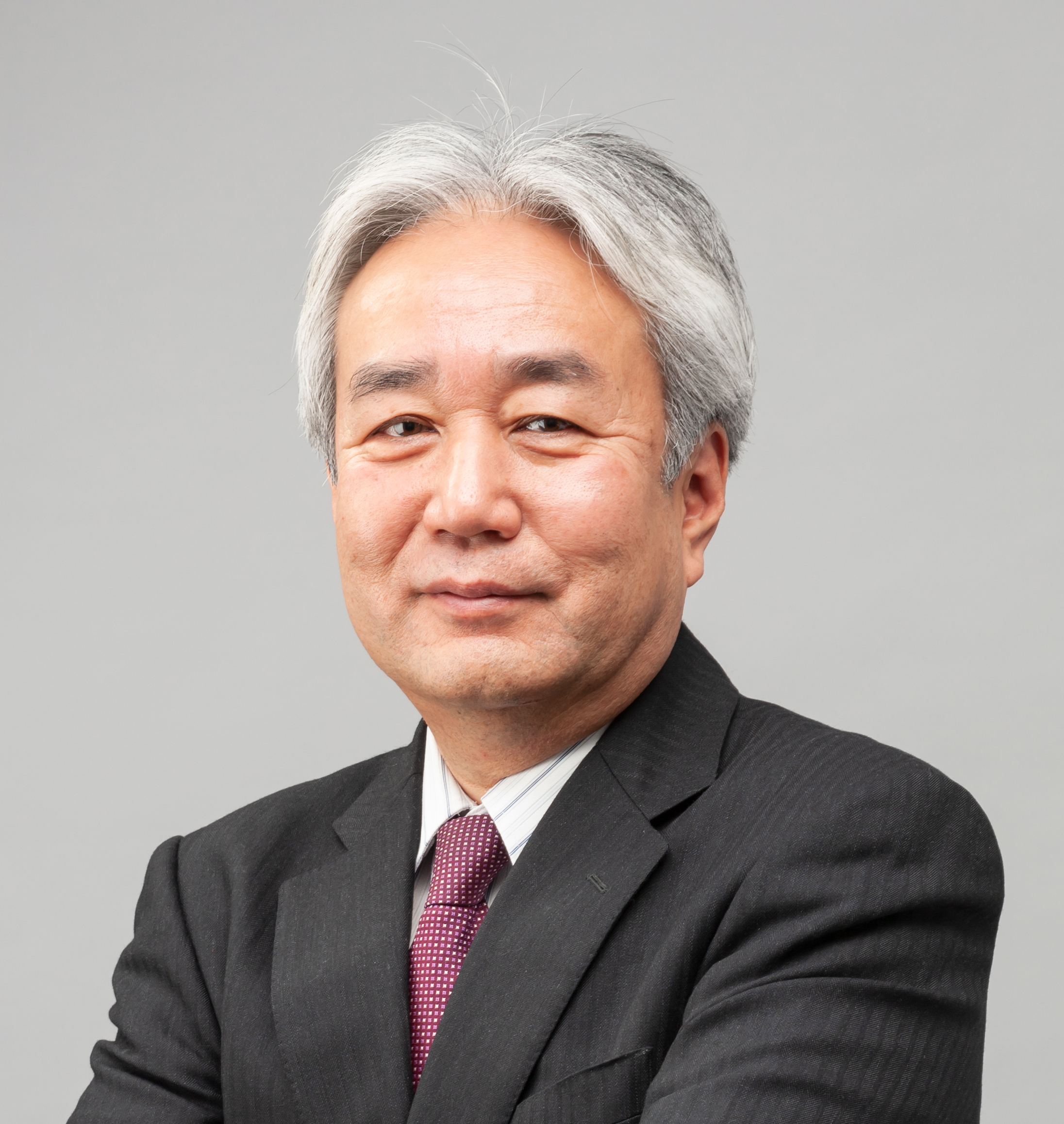 Nobuya Fujiwara
Managing Excutive Officer
Head of Corporate
Sustainability Division
People around the world understand the terms and messages related to sustainability, and the importance of carbon neutral, a circular economy, and other concepts is widely recognized. Recently, a new idea has risen to the forefront: nature positive.
Nature is a broad concept covering both animate and inanimate objects, and the word evokes a strong sense wanting to restore the nature that people have lost.
From ancient times, people who have considered humans as part of nature and thought of people and animals along with non-living things like water and mountains all as part of nature can easily grasp the message of "nature positive."
Our corporate philosophy of Jun-Ri-Soku-Yu means adhering to reason leads to prosperity. In this phrase, reason has a broad meaning, which also means law of nature. The nature positive message can also be said to align with our philosophy, in the sense that it represents following the law of nature.
Carbon neutral, circular economy, and nature positive are all very closely related, and any initiatives for them must be based on scientific evidence.
We announced our Sustainable Vision 2030 (long-term vision) in May 2022 . Following our long-term vision, we are promoting a science-based innovation approach to realizing sustainable management for our ultimate customers —people and the planet.
The long-term vision defines five areas where the Toyobo group will focus on solving problems and clearly sets the direction for the group to move forward. One of those five areas is "employees well-being and human rights in the supply chain." We will develop an environment where employees can fulfill their potential and continue to grow as workers, and use engagement surveys to continue improving the worksites. We will also broaden our CSR in procurement activities and throughout the supply chain.
As an effort to contribute to a decarbonized society, we formulated a plan to reduce GHG emissions with the goal of achieving carbon neutrality in fiscal 2051. We recently increased the reduction target amount for fiscal. We are making steady progress toward achieving our target using an internal carbon pricing system and TCFD scenario analysis while we are also preparing to earn SBT certification.
Nature positive initiatives to create "good conditions of water areas, atmosphere and soils and biodiversity" include our efforts to provide water, atmosphere, and soil solutions, reduce food loss and waste, and create sustainable food products.
These activities contribute to resolving social issues and create a competitive advantage for the company. Applying the Toyobo group's many solutions to solve social issues and contributing to attaining the SDGs are directly connected to the purpose of our existence. Our long-term vision is to create new value in two ways —by helping realize a prosperous society where people can live with peace of mind (social value) and by enhancing our corporate value. We will share with stakeholders via various media our progress following our vision to create new value.
Conceptual Framework-Sustainability, CSV and ESG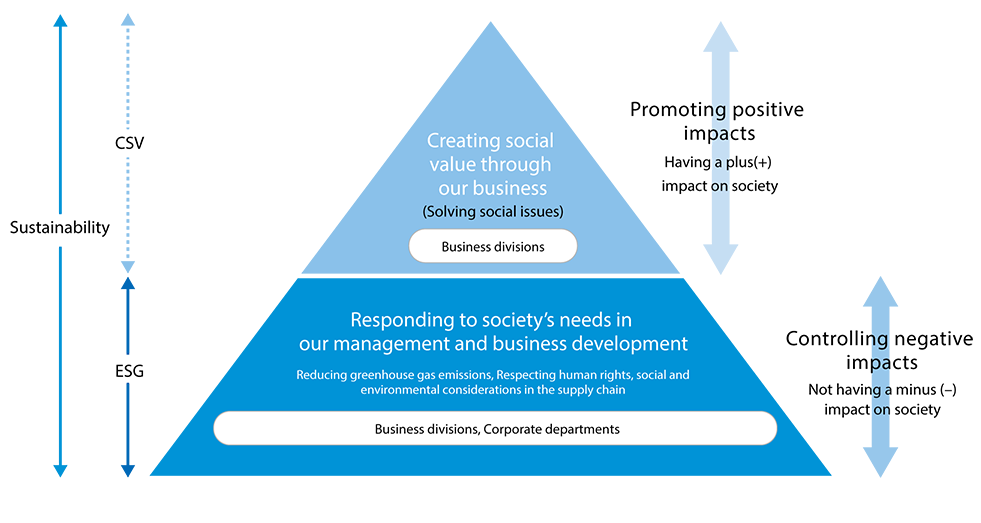 Policy and approach
Policy:
Management focused on social sustainability
Social sustainability is the foundation for our corporate sustainability
Sustainability to establish a solid management base: Management base axis (ESG)
Sustainability to fortify competitiveness and drive growth: Business axis (CSV)
Approach:
Since being founded in 1882 as Japan's first large-scale spinning mill company in the private sector, the Toyobo group has addressed a range of issues as a good member of society through the supply of clothing fibers. We have also expanded and grown with the times and contributed to solving social issues with a focus on the environment in our aim to realize better lives for people around the world.
In 2019, we redefined our corporate philosophy Jun-Ri-Soku-Yu (adhering to reason leads to prosperity). After many discussions based on it, we enhanced our corporate philosophy system TOYOBO PVVs. Through this discussion process, we were convinced that the essence of the Toyobo group's activities to date lies in making a contribution to ensuring the sustainability of people and the earth.
We announced our Sustainable Vision 2030 (long-term vision) in May 2022.
Contributing to the realization of a sustainable society is the embodiment of the Toyobo group's vision "We will continue to create the solutions needed by people and the earth with materials and science." This expresses the Toyobo group's approach to sustainability.
At the same time, it is important to continually enhancing corporate value. The Toyobo group's contribution to realizing a sustainable society generates profits leading to enhancement of the group's corporate value. This enhancement of corporate value leads in turn to the next level of realization of a sustainable society through growth in the group's business. Maintaining this positive spiral is what the Toyobo group regards as sustainability.
To meet the expectations of stakeholders, the Toyobo group will further enhance its dissemination of information as well as taking active initiatives so that all employees feel personally involved in sustainability in order to promote companywide activities as a united force.
Sustainability management structure
The group has established a Sustainability Committee (chaired by the President), which meets on a quarterly basis to confirm the progress made in implementing sustainability activities and to discuss new issues that need to be addressed. In fiscal 2022, we discussed several themes, including: (1) GHG emission reduction scenarios as part of efforts toward carbon neutrality; and (2) measures and KPI settings based on the results and analysis of employee engagement surveys as part of work-style reforms. We have also established a Risk Management Committee under the Sustainability Committee to enhance our sustainability risk management.
Nine committees* which handle more specialized, individual themes have been established below the Sustainability Committee and work in collaboration with it.
The officer with responsibility for sustainability is the Managing Executive Officer who is Head of Corporate Sustainability Division. In April 2020, the Corporate Sustainability Department was established as the organization responsible for formulating and promoting various specific measures, disseminating them externally and facilitating external dialogue. In April 2021, it was put under the direct supervision of the President, and in April 2022, the Corporate Sustainability Division was established.
Nine committees: Safety and Disaster Management Committee, Global Environment Committee, Product Liability Prevention/Quality Assurance Committee, Compliance Committee, Export Reviewing Committee, Internal Control Committee, Information Committee, Research & Development Committee, and Intellectual Property Committee… as of December 1, 2020, the eight committees will be reorganized into nine committees
Sustainability Promotion Structure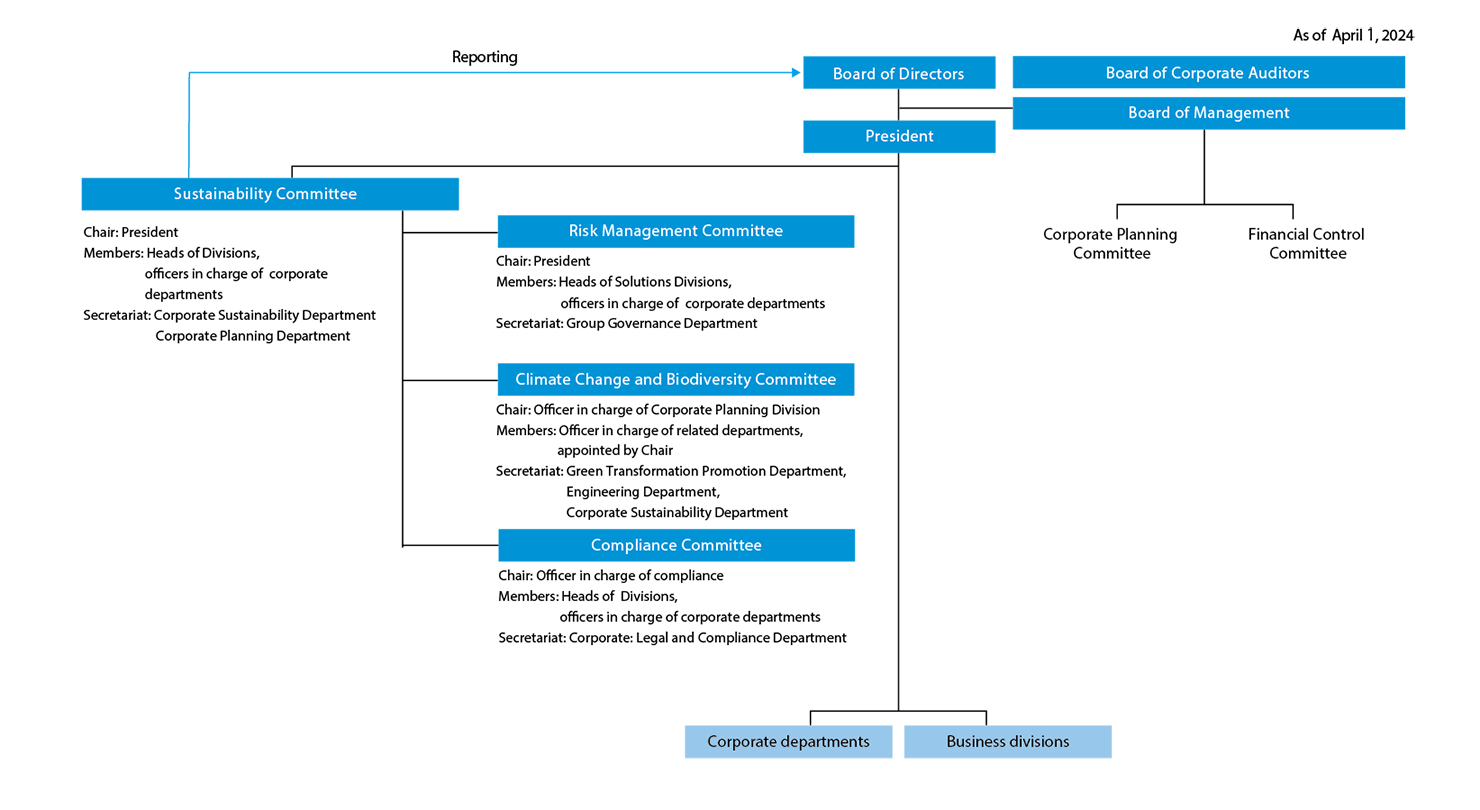 Our sustainability activities
Since its founding, the group has practiced the idea of growing its own business by contributing to the prosperity of society through a forerunner of today's CSV concept, based on the corporate philosophy of Jun-Ri-Soku-Yu (adhering to reason leads to prosperity), which was one of the mottos of our founder, Eiichi Shibusawa.
Since fiscal 2021, we have been fully promoting activities aimed at sustainability management. We have set strategies and milestones, particularly focused on our carbon neutral and circular economy initiatives.
Period
Initiatives and their purpose
Jan. 2020
Signed the UN Global Compact and joined the Global Compact Network Japan.
Announced our support for the TCFD recommendations.
Apr. 2020
Established the Corporate Sustainability Department. Incorporated ESG elements into management and strategy to enhance information dissemination to stakeholders.
Apr. 2020
Established the Sustainability Committee, chaired by the President (renamed the CSR Committee).
Apr. 2021
Placed Corporate Sustainability Department under the direct supervision of the President.
Apr. 2021
Established the Risk Management Committee, chaired by the President.
Apr. 2021
Established a structure to promote the realization of carbon neutrality. Established the Carbon Neutral Strategies Council and the Carbon Neutral Strategies Cross-Functional Team.
Apr. 2022
Established the Corporate Sustainability Division.
Participation in initiatives
UN Global Compact (UNGC)
In January 2020, TOYOBO CO., LTD. became a signatory to the UN Global Compact (UNGC), and also joined Global Compact Network Japan, which comprises Japanese companies and organizations that are UNGC signatories. As a responsible corporate citizen, this reflects our endorsement of the goal to resolve global issues and realize sustainable growth. We also gather information through our participation in the subcommittees of Global Compact Network Japan, utilizing this in our day-to-day activities. From fiscal 2021, we are participating in the following subcommittees: ESG, Supply Chain, Environmental Management, Kansai-based regional subcommittee, Reporting Research. Toyobo will abide by the ten principles of UNGC and strengthen measures to realize a sustainable society.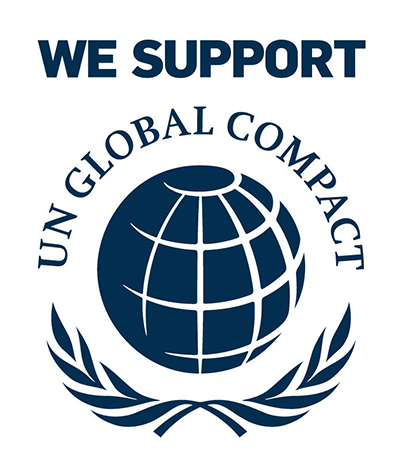 The Ten Principles of UNGC
Human Rights
Principle 1:
Businesses should support and respect the protection of internationally proclaimed human rights; and
Principle 2:
make sure that they are not complicit in human rights abuses.
Labour
Principle 3:
Businesses should uphold the freedom of association and the effective recognition of the right to collective bargaining;
Principle 4:
the elimination of all forms of forced and compulsory labour;
Principle 5:
the effective abolition of child labour; and
Principle 6:
the elimination of discrimination in respect of employment and occupation.
Environment
Principle 7:
Businesses should support a precautionary approach to environmental challenges;
Principle 8:
undertake initiatives to promote greater environmental responsibility; and
Principle 9:
encourage the development and diffusion of environmentally friendly technologies.
Anti-Corruption
Principle 10:
Businesses should work against corruption in all its forms, including extortion and bribery.
Task Force on Climate-related Financial Disclosures (TCFD)
Recognizing the scale of the impact of climate change on our group and stakeholders, we have identified a "decarbonized society and circular society" as one of our materialities. In January 2020, we announced our support for the recommendations made by the Task Force on Climate-related Financial Disclosures (TCFD), and have been working on initiatives and disclosures that follow them.
In FY2022, we analyzed how climate change would impact our business based on two scenarios for our core film business, which is expected to be relatively largely impacted.