Message from the President
On September 27th, 2020, a fire broke out at Toyobo's Inuyama Plant, resulting in the loss of two employees and one injury. On behalf of Toyobo's Board of Directors and employees, I pray for those who have lost their precious lives, and pledge to take thorough preventive measures and develop a solid organizational culture that ensures such an accident will never happen again.
Providing solutions required by people and the earth, we will contribute to the realization of sustainable society.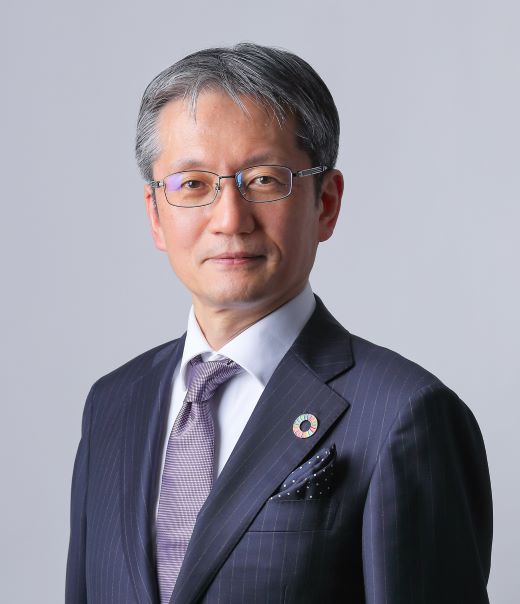 President & Representative Director
TOYOBO CO., LTD.
As I assume the post of president in April 2021, I pledge that Toyobo will continue to pursue sustainable management. The goal of Toyobo's management, as our corporate principle indicates, is to put into practice "Jun-Ri-Soku-Yu," a term that means adhering to reason leads to prosperity. Adhering to reason here means to help make society more sustainable by providing solutions needed by people and the earth. The Toyobo Group aims to attain sustainable growth by delivering such solutions.
While I am confident and excited about the Toyobo Group's future, it is certainly true that we are now facing a very challenging situation. The management deeply regrets a plant fire and inappropriate quality cases with certain products that were detected in fiscal 2020. Both these incidents could harm our credibility as a manufacturer. Restoring public trust in Toyobo Group will be a top priority in fiscal 2022.
Response to COVID-19 pandemic
I pray for the souls of COVID-19 victims and offer my sincere condolences to their families.
The COVID-19 pandemic has brought about fundamental changes in economic activities and people's behavior. Toyobo is maintaining production by prioritizing the safety and wellbeing of our employees and ensuring that every possible measure is taken to prevent the spread of the virus. We are supporting the medical field by providing PCR test kits and nonwoven cloth for masks. Also, we have made adjustment to stably supply products, including films for food packaging, to meet the growing demand of more people staying at home.
Staying true to our corporate philosophy framework
In 2018, Toyobo reorganized its corporate philosophy system to accentuate Jun-Ri-Soku-Yu, a personal motto of our founder Eiichi Shibusawa. This system, called PVVs, encapsulates Jun-Ri-Soku-Yu (our principle), the ideal corporate form we aspire to achieve (our vision), what we cherish (our values) and the nine commitments we uphold as a company (the Toyobo spirit).
When we were reorganizing our PVVs, I participated in discussion as a member of management team. I initially proposed the phrase "Do not fear change, but enjoy it" to summarize our corporate values. However, it was rightly pointed out that not only should we enjoy change, we should also "create change" to be a successful company. This notion of creating change has since been woven into our values.
It is rather pointless to merely memorize the words that make up Toyobo's corporate philosophy system. I would like for each employee to understand and embrace the core meaning of our corporate philosophy and use this as the guideline for their daily actions and decision making.
Aiming for sustainable growth of society and Toyobo in 2030
To envision Toyobo's future in 2050, I am currently thinking about our company in 2030. In a nutshell, I expect Toyobo to have realized sustainable growth for the company and the society by then. Toyobo's ideal state will rest on three central pillars.
First, Toyobo will contribute to solving social issues through our business activities, and come up with "the solutions needed by people and the planet" – a goal the Group wants to attain.
Second, the company will grow sustainably. To achieve this, Toyobo must develop a growth path based on a solid foundation. To make the company durable and sustainable, the company should strengthen its corporate governance, such as internal audits and compliance, and reform its organizational culture. Specifically, I want to create a workplace where employees are encouraged to express their own views more freely.
Third, the company must ensure that each one of the employees are the central players in each workplace. I want Toyobo to be a company at which employees work with passion and pride, and feel their efforts are properly rewarded.
I believe these three factors are indispensable if Toyobo wishes to attain its goals in 2030.
In January 2020, the Toyobo Group signed the U.N. Global Compact – a global movement to mobilize sustainable companies and stakeholders – and endorsed proposals by the Task Force on Climate-related Financial Disclosure. Toyobo will conduct corporate activities based on 10 principles in the four areas of human rights, labor, environment and anti-corruption, and utilize its cutting-edge technologies to contribute to the global SDGs (sustainable development goals).
Examining the significance of "materiality" issues and reviewing it as necessary
To remain a Group that "creates the solutions needed by people and the earth," we identified eight materiality issues from the perspective of sustainability in fiscal 2020. We have steadily made progress on issues that can be quantitatively measured, such as reducing greenhouse gas emissions, but we have yet to establish specific key performance indicators (KPIs) for some issues. A single-minded pursuit of KPIs, however, risks losing sight of the broader picture. I believe it is necessary to carefully consider, understand and deepen the significance of each materiality issue.
Holistically looking at the product life cycle
Under our corporate philosophy system, the Group aspires to "continue to create the solutions needed by people and the earth with materials and science." During the course of daily corporate activities, we tend to think only about the customers we meet and contact directly. But we also must closely consider the entire supply chain and solve problems by holistically looking at the product life cycle – what happens to our products after customers start using them. In other words, we must examine how we can contribute to customers who bought our products. Thinking about issues by putting ourselves in the shoes of all stakeholders in the value chain and our customers, or end users, will culminate in attaining greater sustainability.
Tackling plastic film problems
Polymer materials – such as films, fibers and engineering plastics – account for more than 80 percent of the Group's operating profits. We are focusing more than ever on reducing the negative environmental impacts of these products. We promptly address plastics-related agenda as part of our commitment to reduce carbon dioxide emissions, establish a circular economy and mitigate negative impacts on the ecosystem. These measures include using biomass and recycled materials as well as reducing use of materials derived from crude oil.
For example, films for food packaging can prolong the best-by date, thus helping reduce food wastage. We will develop thinner films to cut packaging volume and boost use of biomass and recycled materials, thereby strengthening and expanding our efforts toward realizing a circular economy.
Contributing to society by "welcoming, enjoying and creating change"
Placing the Group's stakeholders in one over the other is an impossible task. We treasure, respect, and appreciate each and every stakeholder. But if I had to choose, I think our employees would come first, and then our clients, the communities, and stockholders. Toyobo can build excellent relations with clients and community only if our employees appropriately respond to clients' opinions as a valued member of the community. Our workplaces are central to making a company that remains trusted by the society. To "welcome, enjoy and create change," every employee must grow and be passionate about their job, which will in turn help the company prosper and be useful to society. We will build a better future by harnessing Toyobo's expertise and cutting-edge technologies to solve many social issues and make society more sustainable.