Message from the President
~ Aiming to be a sustainable company that contributes to the sustainability of society ~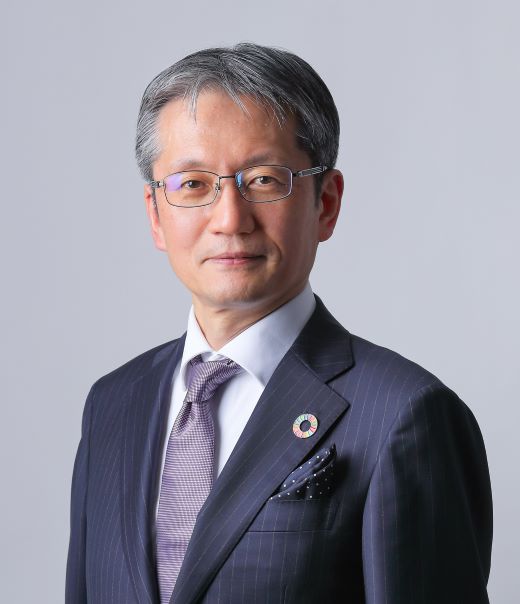 To Our Stakeholders,
Our company celebrated 140 years of business in May 2022. I would like to express my sincere gratitude to all of our stakeholders for their understanding and support over the years since our founding.
With our corporate philosophy of "Jun-Ri-Soku-Yu" (adhering to reason leads to prosperity) as its starting point, our Group's vision is to become a group that continues to create the solutions needed by people and the planet with our materials and science. In May 2022, we formulated our Sustainable Vision 2030, which aims to achieve sustainable growth. This sustainable growth means that we contribute to the sustainability of the planet and society through our products, services and technologies, and thereby achieve sustainable growth for ourselves.
In the recent global situation, geopolitical tensions triggered by Russia's invasion of Ukraine, the prolonged impact of COVID-19, and the intensification and increase in the frequency of natural disasters due to climate change, have all brought the sustainability of society into further question. In addition, there is a growing demand for greenhouse gas reduction and various initiatives to achieve carbon neutrality are accelerating around the world, while there is an urgent need to respect human rights in order to eliminate human rights violations such as forced labor and child labor.
To date, our group has taken numerous challenges and strived to provide products and services that respond to changes in the social environment surrounding us with the understanding and support of our stakeholders. Now, at this time, I am strongly convinced that our mission is to address these pressing issues and contribute through our business to the realization of a sustainable society, that is, a "prosperous" society where people can live with peace of mind, and that it is my mission to lead this endeavor, which will lead to a sustainable increase in the corporate value of our group.
Our group will enter a new turning point in April 2023 with the launch of Toyobo MC Corporation, a joint venture with Mitsubishi Corporation. The cutting-edge technologies and products that Toyobo has cultivated over the years and Mitsubishi Corporation's network of operations in Japan and overseas. We will carve out a new future through business innovation brought about by the "integration and fusion" of different cultures and strengths.
In order to continue to be a corporate group that is required by people and the planet, the Toyobo Group will not be afraid to change, will enjoy change and will create change.
We look forward to your continued support and encouragement.
April 1, 2023
President and Representative Director, CEO & Co-COO

A message from the president is also posted here.