Message from the President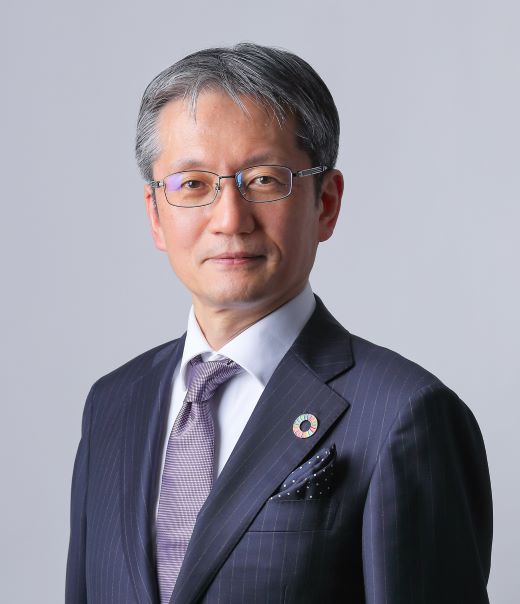 In 2022 we celebrated our 140th anniversary. We would like to thank our customers, business partners, local communities, and many others for their continued support.
We took this occasion to renew our corporate logo for the first time in 60 years. The curved line running across the letter mark at the center indicates the Earth's outline, or the horizon, which reflects the company's aim to create solutions needed by people and the Earth. This is exactly what we are aiming for under our corporate philosophy of "Jun-Ri-Soku-Yu" (Adhering to reason leads to prosperity).
Change toward sustainable growth
In addition to corporate logo renewal, we also launched our Sustainable Vision 2030. Sustainable Vision 2030 projects changes in the future business environment and shows the ideal state we seek based on our corporate philosophy, as well as our sustainability indices and action plans. We want to be a sustainable company that helps promote sustainability, while changing our corporate culture to one oriented toward sustainable growth.
The Toyobo Group aims to continue to create the solutions needed by people and the earth with our materials and science. This Vision is composed of three elements. Firstly, to contribute to solving social issues through business operations. Secondly, to attain sustainable growth and lastly, People First: it is each employee at workplace who accomplishes the above. Creating safe working environment where employees can work with pride and satisfaction is essential for Toyobo Group's further development.
We will contribute to solving social issues through our products and technologies for "Spiraling up" to a prosperous society where people can live with peace of mind and enhancement of corporate value.
Beyond Horizons - Let's go beyond and further forward
The tagline under the corporate logo reads "Beyond Horizons".
It transcends not only geographical boundaries but also temporal ones. We are responsible not only for what we can see today but also for what lies ahead. We aim to be a sustainable company that continues to contribute to healthier earth for our future. The plural "Horizons" indicates the determination of each of us to move forward beyond our own limitations and boundaries and to take on the challenges of a changing world.
Welcome change. Enjoy change. Create change.
Now a new transformation starts.

President & Representative Director
TOYOBO CO., LTD.