Quality
Materiality
Related ESG:
Safety, disaster prevention, quality
Management approach
Approach to quality
In order to gain the trust and ensure the satisfaction of customers through high quality products and services that are safe, environmentally friendly, and in compliance with laws and regulations, the Group has formulated and advances activities under the TOYOBO Group Basic Policy on Quality Assurance (QA) and the TOYOBO Group Basic Policy on Product Safety. We have strived to construct an appropriate management system, conduct quality inspections following appropriate procedures, and handle data appropriately in order to ensure the quality and safety of the products and services we provide.
However, there were quality fraud incidents in our engineering plastics business. We will take these issues seriously, completely review our daily processes and management standards, and rebuild our manufacturing system to regain the trust of our customers and other stakeholders.
<TOYOBO Group Basic Policy on Quality Assurance>
Quality Assurance Principle
We will gain the trust and ensure the satisfaction of consumers and customers by always taking our customer's standpoint and ensuring each individual employee prioritizes quality as we develop and supply products and services that are safe, environmentally friendly, take into account the protection of information, and benefit society.
Policy for Quality Assurance Activities

Toyobo Group anticipates the changing needs of customers and society to realize manufacturing that offers quality and safety that enables us to share our joy with customers
Toyobo Group complies with relevant laws, regulations, and standards concerning products and we voluntarily set our own standards and conform to these.
Toyobo Quality practices quality assurance throughout a product's lifecycle and throughout our supply chain
<TOYOBO Group Basic Policy on Product Safety>
Safe Product Principle
We will make an even greater contribution to society by supplying even safer products using technologies that are considerate of people and the environment with the aim of creating a prosperous society for the 21st century.
Policy for Product Safety Activities

The Toyobo Group provides highly safe and reliable products and services that meet the changing needs and expectations of society, customers, and consumers.
In order to ensure product safety, the Toyobo Group naturally complies with all relevant laws, regulations, and standards. We also voluntarily set safety standards that are higher than required and conform to these.
The Toyobo Group plans safety that naturally takes into account the future application of a product and a degree of mistaken use that can be rationally predicted.
The Toyobo Group plans the safety of a product throughout its entire lifecycle, from development, design, manufacturing, sale, and usage through to disposal.
The Toyobo Group works to enhance the awareness of product safety of all its employees and participates in information provision, education, and awareness raising activities for stakeholders.
Structure
Toyobo Group has established the PL/QA Committee as a permanent committee that oversees product liability (PL) and quality assurance (QA). The chair of the committee is the Controlling Supervisor Director of the Production Technology Innovation and Quality Assurance Division, which comprises persons in charge from each business and persons in charge (executives) from the corporate staff. Ordinary committee meetings are held twice a year in principle, and the promotion committee comprising general managers is held six times a year. The committee met eight times in fiscal 2021.
We have established the new Quality Assurance Division on April 1, 2021 as one of the measures to prevent recurrences of this inappropriate conduct. We will ensure the independence of the Quality Assurance Division, which was previously in each business division (Solutions Division), and strengthen its control over the business divisions. In addition, the Quality Assurance Department will be given the authority to guide and suspend the businesses, development and production of the Company and affiliated companies regarding product safety and quality assurance of the Toyobo Group, and will continue to redouble its efforts to restore trust, such as by working to reconstruct an appropriate quality management system and strengthen governance.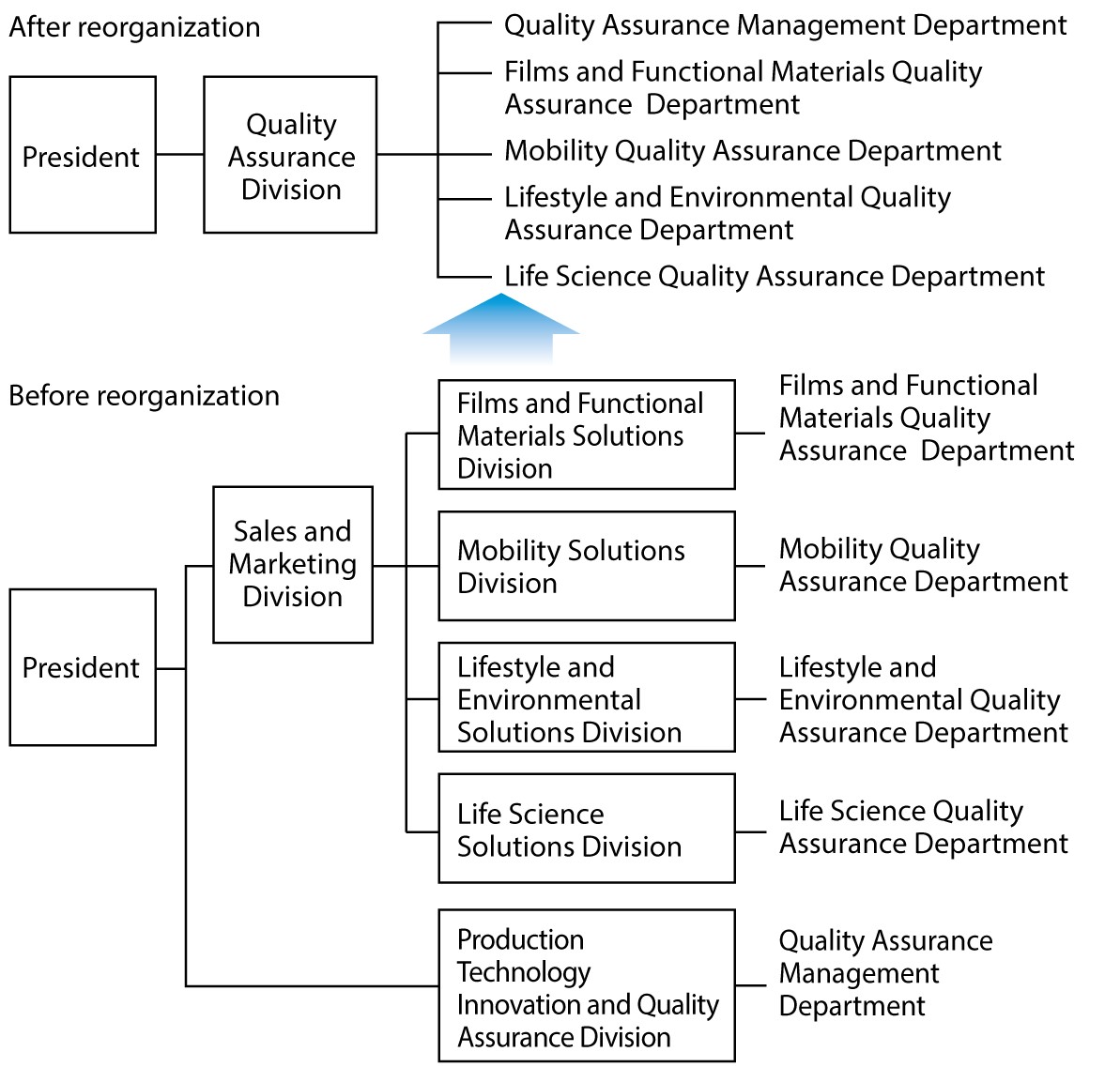 Target and KPI
Target
We will increase customer satisfaction by practicing quality management throughout our entire supply chain, including upstream areas, and ensuring quality that can be trusted.
KPI and Results
| Initiatives | KPI | Targets | Result (FY2021) |
| --- | --- | --- | --- |
| 1. Realize stable supply, contribute to solutions for customer issues, fulfill customer needs | No. of incidents related to products* | | |
| 2. Ensure product safety and quality | Implemented status of products safety and quality assurance training | | |
*Incidents related to products: Defined according to internal standards based on the defintion stipulated by the Ministry of Economy, Trade and Industry
Initiatives
QA activities
Employees have shared access to the Quality Assurance Manual, which describes the basic approach and code of conduct for all employees when implementing Toyobo Group's development, production and sales activities, and use it as the basic philosophy for TOYOBO Group manufacturing. In addition, the Quality Assurance Guidelines provide the basis for developing a system that guarantees quality. In January 2021, we reviewed our Quality Assurance Guidelines to enhance the effectiveness of our assurance and management systems.
Moreover, a QA system is established for each product and service so that quality and product safety can always be guaranteed at each stage. Additionally, checks are repeatedly carried out by business supervisors, related internal and external parties, and experts, to ensure that no incidents occur in the market.
Overview of QA Activities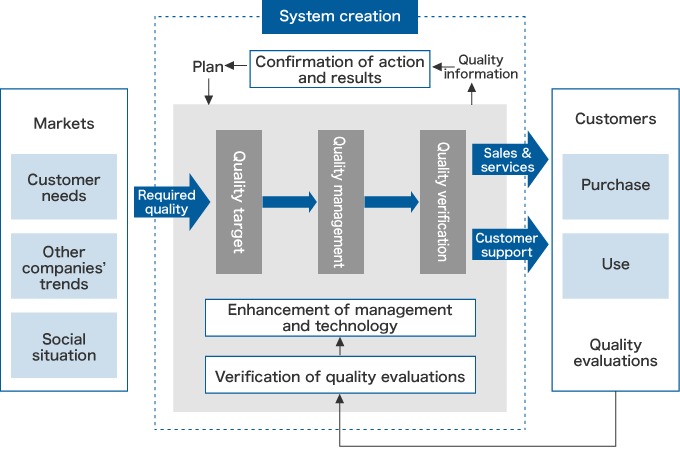 Product safety promotion activities
For each department and group company, we conduct PL/QA assessments carried out by third parties or quality assurance personnel from different departments to verify and improve Product Safety (PS) activities. Moreover, we have established criteria for assessing PS and PL risks, and based on these criteria, we carry out inspections at each stage, from product development to sales. By addressing risks in advance, we work to mitigate risks pertaining to customers and employees.
We have prepared tools to help create Safety Data Sheet (SDS) and provide the sheet to our customers when necessary.
All possible measures are taken to ensure product safety, and training drills are also conducted regularly every year at all business divisions based on PL incident scenarios. Product safety remains a crucial theme throughout the whole of the Group, and we will continue to mitigate risk as much as possible to fulfill our social responsibility.
PL Response System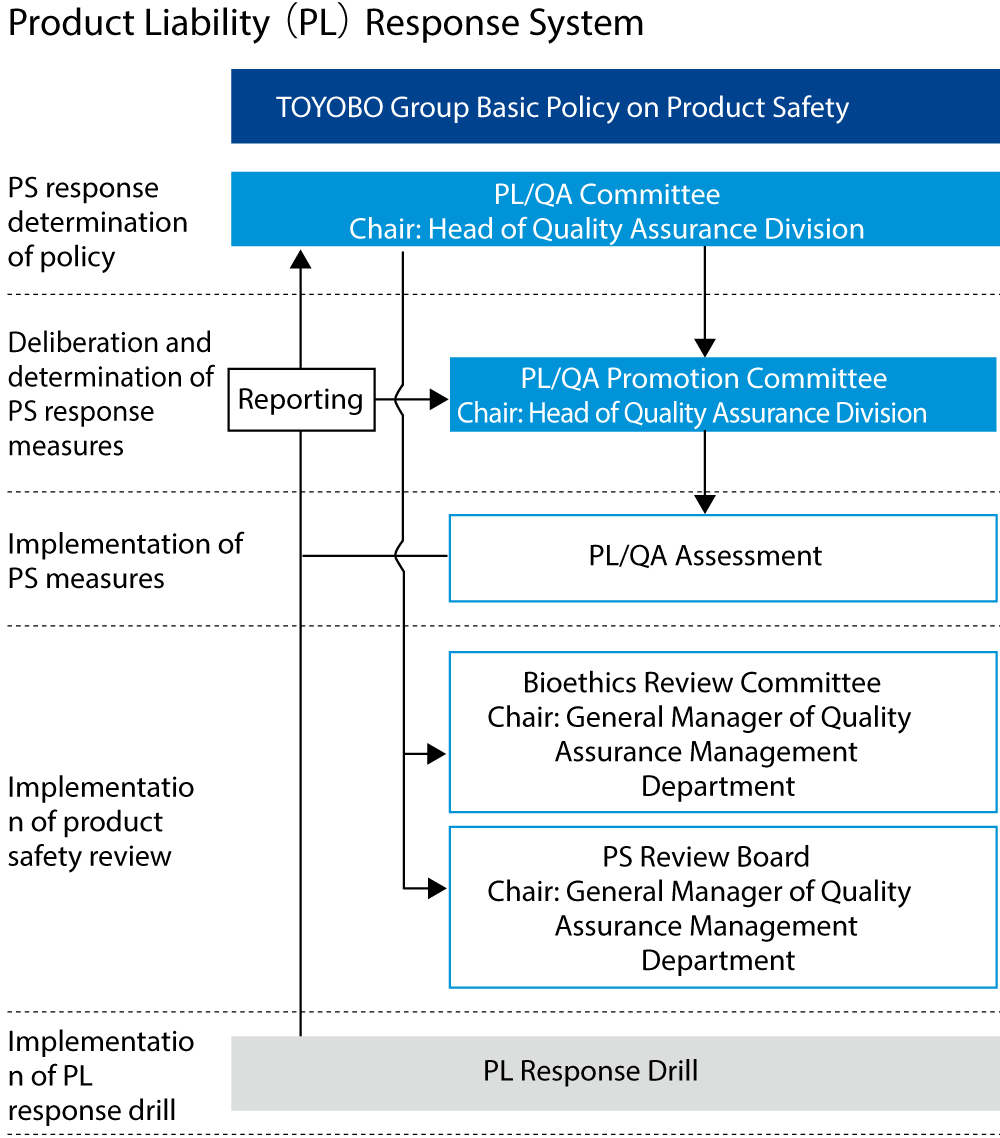 ISO 9001 Certification Status
Response to the quality misconduct incident
Steps to prevent incidents of quality misconduct
Following the incidents discovered in fiscal 2021, Toyobo is aiming to prevent and eliminate any potential for quality-related misconduct by changing its culture, systems, and awareness related to quality with the aim of conducting manufacturing that fulfills its promise to provide safety and security from the customer's perspective.
Toyobo is planning to implement several changes to fulfill our promise to customers. We are forming the new three lines of defense structure, which includes the Quality Assurance Division directly headed by the Company president, and strengthening the check system when transferring business. In addition, we will fortify the internal auditing function and compliance training systems, promote the use of the internal reporting and employee rotation systems, and strengthen the quality management system by engaging outside experts to participate in special projects centering on quality topics.
Investigation and response to the incident
Toyobo established a case committee to review the "PLANAC" and other engineering plastics involved in the quality incident, which was composed of outside directors and auditors to ensure the investigation's fairness and independence from the Company's executive bodies. In addition, the Company engaged lawyers without any affiliation with the Company to conduct an investigation.
The results of the investigation into the causes of the incidents and recommendations for measures to prevent recurrence produced are shown in the following chart. The Company is diligently implementing measures following the recommendations.
Quality Incidents Investigation Findings (causes and prevention measures)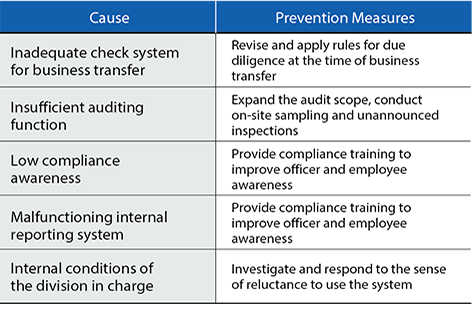 Specific Measures to Prevent Incidents of Quality Misconduct