Local Communities
Management Approach
Policy and approach
The Toyobo Group believes that our business activities can only be carried out with the understanding of local communities. We have positioned the building and maintaining relationships of trust with local communities as fundamental to our business activities. And in addition to disclosing necessary information to members of these communities, we focus on actively participating in regional activities and maintaining close communication.
As a member of society, we think we can support the building of a better society by providing value to regional communities and we work to encourage science and technology, conserve environments, and promote communication with local communities. We think that fulfilling our responsibilities as a good corporate citizen and investing in the future is part of practicing our corporate philosophy: Jun-Ri-Soku-Yu (adhering to reason leads to prosperity) corporate philosophy.
Additionally, at each business site, we recruit local personnel in order to vitalize the surrounding area.
Related policies:
Structure
Based on the policies above, each business location works to communicate with its surrounding area.
Cultivating Future Generations
Approach to cultivating future generations
In the TOYOBO Group Charter of Corporate Behavior, we declare that "we will actively participate in society and contribute to its development ." Therefore, it is important that we cultivate human resources who can take on the task of developing society into the future. To achieve this, we are supporting sports and encouraging science and technology through initiatives such as providing research subsidies through the Toyobo Biotechnology Foundation. We also offer internships to give students an image of what it is like to work through actual workplace experiences.
Initiatives
Supporting Science and Technology
The Toyobo Group is contributing to the development of science and technology by supporting young researchers through our foundation. We are also contributing to the development of technology, industry, and society by participating in industry-academic-government collaboration.
A Foundation that Contributes to the Biotechnology Field by Supporting Young Researchers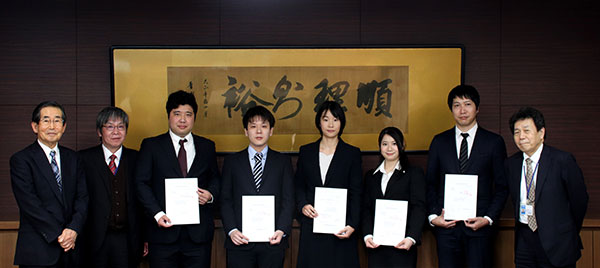 Advancing science and technology is important for Japan to develop socially and economically into the future. The Toyobo Group began to focus on the biotechnology and life science fields when these fields were still new to Japan. In order to encourage scientific research in the biotechnology field and to contribute to society through the results of this research, in May 1982 we celebrated the 100th anniversary of the Company by establishing the Toyobo Biotechnology Foundation (hereafter "the Foundation") and since then, we have been holding study groups and symposiums and providing research subsidies. Since the establishment of the Foundation to the present day, its efforts have been supported by academics working on the front lines of this field, many of whom have served as directors and advisors. In recent years, the biotechnology and life science fields have grown compared to when the Foundation was established, so we are concentrating activities on supporting the young researchers who will take responsibility for the future of these fields.
The subsidies granted by the Foundation are notable in that they do not stipulate what the funds should be used for. This is because we want to provide comprehensive support for young researchers who are venturing overseas for the first time. From the reports provided by the researchers we sponsor, we can see that they are vigorously engaging in their research activities.
In FY2020, five people were granted research subsidies amounting to a total of 32 million yen and these were presented at a ceremony at Toyobo's Head Office on February 19, 2020. As of the current fiscal year, we have granted long-term research subsidies to a cumulative total of 206 researchers. Recipients are active on the front lines of the biotechnology and education fields and some of them want to contribute to the cultivation of the next generation of researchers by serving as directors and advisors of the Foundation.
Support for initiatives such as the Shiga Tech Planter R&D startup support program and the Shiga Junior Research Grant next generation cultivation project through the Shiga-based Growth Business Identification and Cultivation Consortium
The Shiga-based Growth Business Identification and Cultivation Consortium (hereafter "the Consortium") is an industry-academic-government collaborative organization that aims to encourage industry in Shiga and revitalize the region by creating a framework for generating a succession of industries that leverage the prefecture's strengths and help them grow. As the Toyobo Group has a Research Center and the Otsu Pharmaceuticals Plant in Shiga prefecture, we support the aims of the consortium and we have been a partner company of Shiga Tech Planter, an R&D startup support program for cultivating the next generation of researchers, engineers, and entrepreneurs, and the Shiga Tech Plan Gran Prix , a business plan contest run by the program, since the start. The Consortium also aims to cultivate the leaders who will create the next generation of industry and in addition to being a partner company since the first round of Shiga Junior Research Grants, grants that support the research activities of junior high and high school students in the prefecture, the Toyobo Group employees also serve as judges at events showcasing this research.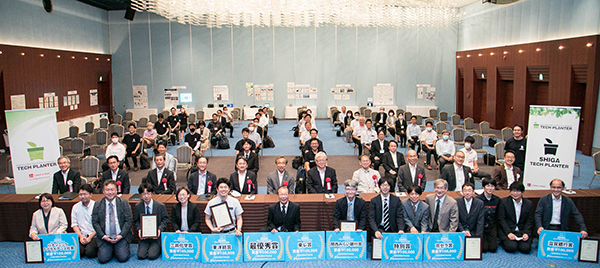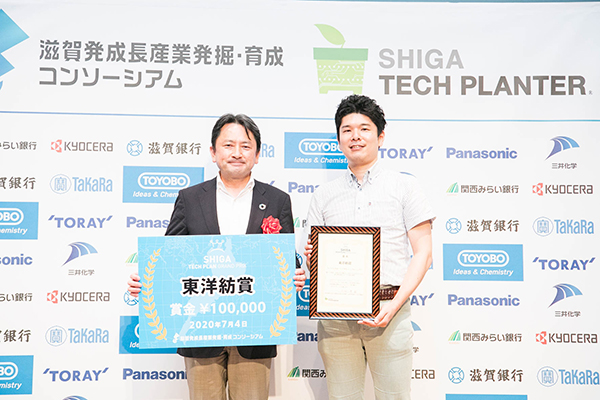 * Masks were removed to take this photo
Supporting sports
The Toyobo Group is supporting young people who want to compete globally through the following initiative.
Becoming gold sponsor of FC Basara Mainz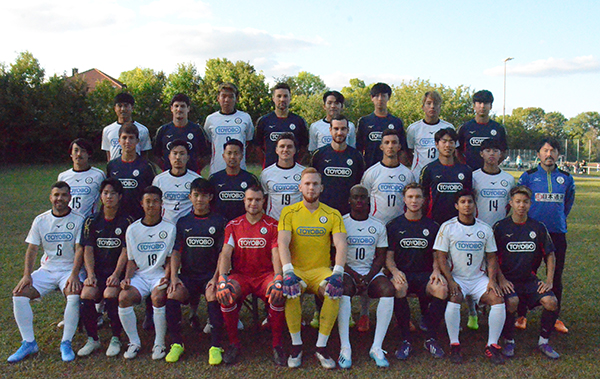 In September 2019, the Toyobo Group has become a gold sponsor of FC Basara Mainz, a team playing in the sixth level of the German soccer league. The club was founded in 2014, and one of the founders of the club, a professional soccer player Shinji Okazaki (currently playing for Huesca in Spain's La Liga) who has also been involved in the Toyobo Group's advertising and PR activities, with the aim of "creating a place where Japanese players can grow as people through German soccer." The team is working to encourage sports in a way that benefits the local area through initiatives such as holding origami classes that use Olyester Origami®, a material developed by Toyobo.
Social Contribution Activities
Social contribution activities approach and policies
As a materials manufacturer, the Toyobo Group provides a variety of information so that local communities can live with peace of mind and we carry out educational and awareness raising activities for these communities. As a good corporate citizen, we also carry out activities that support the creation of flourishing towns and cities, so that we can develop together with the local community.
We provide information through our website and other channels so that people can learn about the Group's approach and business.
We communicate with local communities by actively participating in community activities and providing opportunities for them to learn about the Group, and the lessons learned from these initiatives are reflected in our business activities.
Initiatives
Each year, all our business locations actively participate in cultural events aimed at vitalizing their local region and carry out initiatives such as site tours that help local community members and employees' families get to know the Group better. In FY2020, we carried out the following activities.
Exhibiting at the Tsuruga Environmental Fair (Tsuruga Research and Production Center)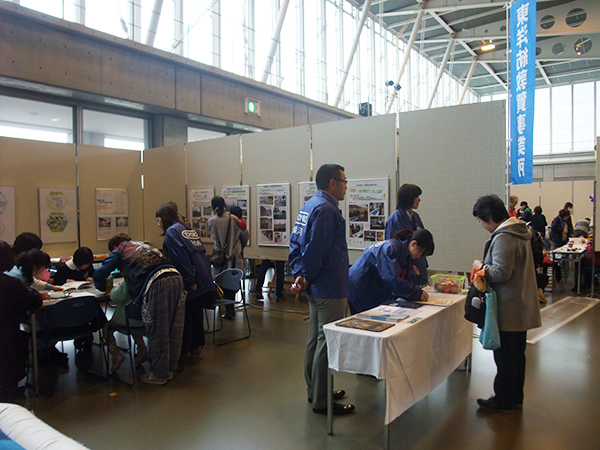 In FY2020, we exhibited a booth at the Tsuruga Environmental Fair organized by the Tsuruga Environment Future Network . The fair is an event that aims to provide opportunities for people in the community to consider their local nature and the environment through a variety of programs related to nature and environment.
At the Toyobo booth, we exhibited BIOPRANA®, a film of plant-derived raw materials, and BREATHAIR®, a recyclable three-dimensional cushion material that offers durability and strong antibacterial properties, making it widely used in hospitals and nursing care facilities. We also gave origami classes which showcased the properties of Olyester Origami®, a foldable polyester film that is both high performance and environmentally friendly. The fair was attended by 3,030 people and 630 of them visited our booth where they were introduced to our environmentally friendly products.
Holding site tours for former employees, employees' families, and members of the local community (Iwakuni Production Center)
Over two days, from August 2 to 3, 2019, the Iwakuni Production Center held site tours for former employees, employees' families, and members of the local community. Around 500 people participated, including employees from Toyobo, Group companies, and affiliated businesses, members of their families, and members of the local community.
Visitors were shown the Toyobo Iwakuni Production Center Archive and a display of products from the Iwakuni Polymer Plant, the Iwakuni Functional Textiles Plant, the Iwakuni Functional Membranes Plant, and TOYO CLOTH CO., LTD. 's Iwakuni Plant. Employees gave full explanations of the products that they helped produce, which the visitors listened to with interest.
Manipularer®, a concept car that incorporates more than 50 Toyobo materials and technologies, was also on display at the venue. Visitors enjoyed sitting in the driver's seat and having their photo taken with the car.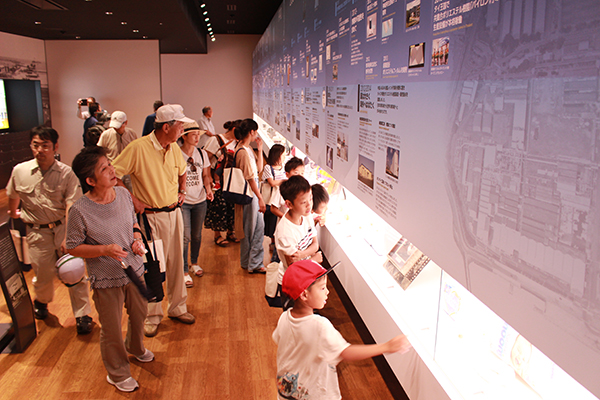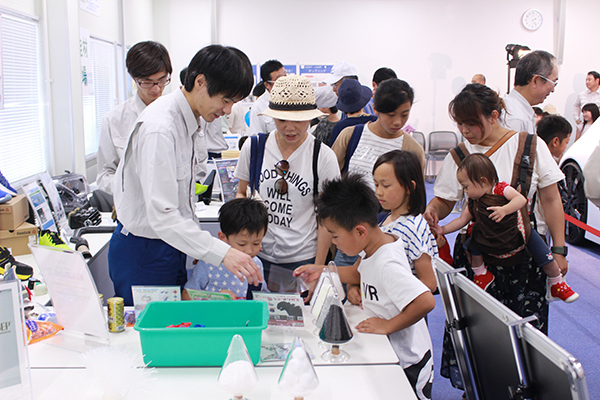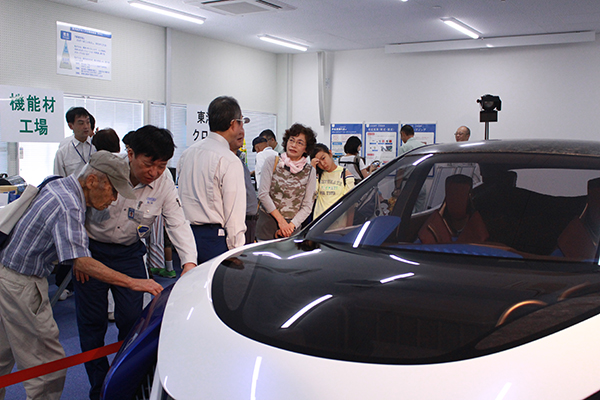 Welcoming local elementary school field trips
TOYO KNIT CO., LTD. welcomed 286 students and teachers from several elementary schools in the local area to tour its main plant. An explanation was given of each production process that takes place at the plant, from the operation of cutting machinery through to hand finishing using sewing machines, and students learned about the production of high-performance swimwear while touching actual products. They also enjoyed a display that included Olympic swimwear, the uniforms of the Japan women's national volleyball team, and leotards used by gymnasts.
Going forward, the company will continue to actively communicate with the community.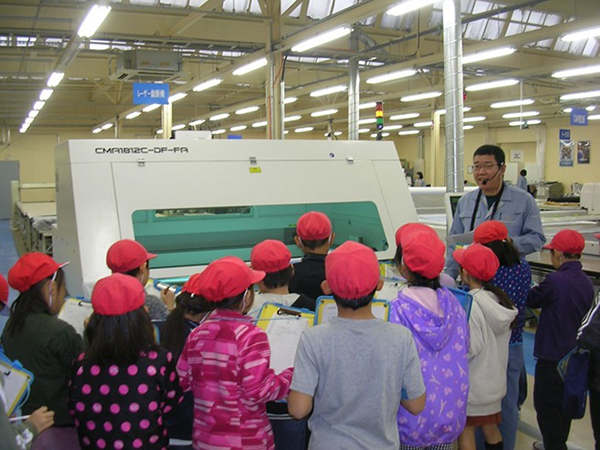 Countermeasures against COVID-19
Amid the spread of COVID-19, the Toyobo Group is contributing to society by supplying our products and services.
Toyobo Group Products Supplied to Local Communities
Item
Volume
Recipient
Date
SARS-CoV-2 Detection Kit*1
―
Fukui Prefecture
July 7, 2020
Protective clothing made using airbag fabrics*2
200 pieces
Medical facilities including Nagoya University Hospital
May 2020 (donated through Toyoda Gosei Co., Ltd.)
50 pieces
Inuyama City
June 23, 2020
50 pieces
Tsuruga City
July 27, 2020
Cool sensation masks made using Tsunooga®*3, a high strength polyethylene fiber
300 pieces
*1 A research reagent that has been assessed by the Ministry of Health, Labour and Welfare and the National Institute of Infectious Diseases as having 100% positive and negative agreement rates
*2 A product of joint research with Toyoda Gosei Co., Ltd. and others aimed at solving the worsening shortages of medical supplies caused by the pandemic. Silicon coated airbag fabrics are airtight and washable, so they can be used to make reusable protective clothing
*3 An ultra-light and cut resistant super fiber. It has a high specific heat and heat conductivity which creates a cool sensation