Climate Change
Long-term vision and KPI
The Paris Agreement, an international framework on climate change, aims to limit global temperature rise to less than 2 degrees Celsius from pre-industrial levels, or less than 1.5 degrees if possible. In recent years, countries worldwide have been accelerating their initiatives to reduce greenhouse gas(GHG) emissions to virtually zero by 2050 in order to achieve the goal of the agreement.
Toyobo Group seriously considers this social environment, and recognizes the risks and opportunities posed by climate change on our business, which is why we have set the goal of achieving carbon neutrality or net-zero GHG emissions by fiscal 2051. We will promote the reduction of GHG emissions from our business activities by improving production efficiency, converting fuels in our production activities, and promoting the introduction of renewable energy such as solar power to achieve net-zero emissions by fiscal 2051.
Now, we participate in KEIDANREN's (Japan Business Federation) Commitment to a Low Carbon Society through Japan Chemical Fibers Association and are working to achieve the objectives. Also we are reporting greenhouse gas emmisions according to the Act on the Rational Use of Energy and the Act on Promotion of Global Warming Countermeasures.
In addition, we will make efforts to reduce GHG emissions in the entire value chain through actions such as reducing product weight, reviewing raw materials, and promoting green logistics. Also, we will expand contributed GHG reductions using solutions based on the Group's unique products and technologies. Specifically, we are developing a RO hollow fiber membrane that contributes to energy saving in seawater desalination plants, and reducing the weight of engineering plastics to contribute to improvement of fuel efficiency in automobiles, we are also providing films and FO membranes used in wind power generation and osmotic power generation, and developing organic film solar cells boasting the world's highest power generation efficiency under indoor lighting. Furthermore, we are developing carbon recycling technology that separates and captures CO2, in addition to other activities. We will calculate the contributed reductions as the amount of GHG emissions reduced through these efforts, and we aim to achieve carbon neutrality by making it higher than that of the entire value chain by fiscal 2051.
Targets for Scope 1 and Scope 2*

Targets for Entire Value Chain

Materiality
Related ESG:
Reducing greenhouse gas emissions
Structure to achieve carbon neutrality
In April 2021, Toyobo established the Carbon Neutral Strategies Council and the Carbon Neutral Strategies Cross-Functional Team to formulate and promote strategies to achieve carbon neutrality.
The Council consists of Corporate Executive Officers and Controlling Supervisors, and will formulate strategies to pursue and milestones to reach based on three objectives in order to diligently make efforts to achieve carbon neutrality company wide. The Cross-Functional Team consists of members from throughout the company and will study and implement substantive measures, such as encouraging innovation, promoting alliances, accelerating research and development, and creating solution businesses from a long-term perspective.
Three objectives to achieve by formulating carbon neutral strategies
①Minimize greenhouse gas emissions generated from Toyobo Group's production activities
②Contribute to reducing greenhouse gas emissions and ultimately achieving carbon neutrality through solutions provided by Toyobo Group
③Place emphasis on developing technologies for separating and capturing greenhouse gases

Support for the TCFD and participation in the TCFD Consortium
In January 2020, the Toyobo Group announced its support for the Task Force on Climate-related Financial Disclosures (TCFD) proposals, and joined the TCFD Consortium, which consists of companies and financial institutions that agree with the recommendations.
The TCFD was established by the Financial Stability Board (FSB), whose members include representatives of central banks, financial supervisory authorities, and others from 25 major countries and regions, and its recommendations urge companies, organizations, and others to disclose information about climate-related risks and opportunities. In Japan as well, preparations are underway to respond to TCFD proposals, including the publication of the "Guidance on Disclosure of Climate-related Financial Information (TCFD Guidance)" by the Ministry of Economy, Trade and Industry.
In the Toyobo Group, we have set being a "Group that continues to use materials and science to create solutions required by people and the planet" as our corporate vision. As a part of this, by providing products and services that help solve climate-related problems, we aim to both contribute to the realization of a sustainable society, and achieve long-term growth. In 2019, we decided upon "Long-term global warming countermeasures," and we have set a target to achieve net-zero (substantially zero) greenhouse gas emissions by fiscal 2051.
With the announcement of our endorsement of the TCFD proposals and our participation in the consortium, we will continue to meet requirements for accountability to our stakeholders by further analyzing and responding to the risks and opportunities to our business posed by climate change, and by expanding our disclosure of relevant information.
Reducing GHG emissions
With the establishment of these long-term global warming countermeasures, the medium-term target for the period up to fiscal 2031 has been increased from a 17% reduction (compared to fiscal 2014) to a 30% reduction (Scope 1 and Scope 2 combined, compared to fiscal 2014) and our short-term targets from an annual 1% reduction (compared with fiscal 2014) to an annual 1.8% reduction. We plan to revise the targets depending on our achievement.
Moreover, in fiscal 2020 we constructed the Group's fourth gas cogeneration facility* at the Tsuruga Research and Production Center. This has been in operation since fiscal 2020, and is expected to further reduce emissions of greenhouse gases.
We will also consider the introduction of renewable energy and switching to CO2-free fuels in the future.
* An energy recycling system, harnessing waste heat (from clean natural gas-fired electric generation) to produce steam and hot water used in manufacturing processes, supplying hot water, air conditioning, etc.
GHG emissions
In fiscal 2021, the CO2 emissions for Scope 1 and Scope 2 totaled approximately 902 thousand tonnes, 25.7% lower than the reference fiscal year (fiscal 2014). The increase from the previous fiscal year is due to additional emissions from the Utsunomiya Plant, which joined the Toyobo Group.
We have set greenhouse gas emissions as a KPI, and we will continue to work towards achieving this target through energy conservation, production efficiency improvements, the introduction of renewable energy, and fuel conversion.
Scope 1, 2 GHG Emissions (Japan, overseas)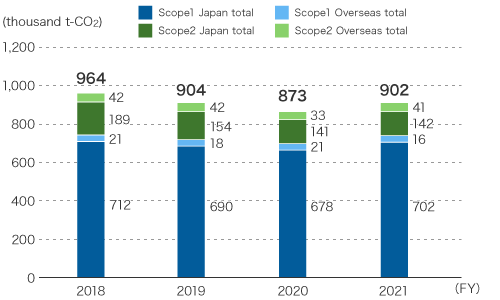 1 Japan total: Total for TOYOBO CO., LTD. and domestic consolidated subsidiaries
2 Overseas total: Total for overseas consolidated subsidiaries
Scope 3 emissions
Greenhouse Gas Reduction in the Supply Chain (FY2021)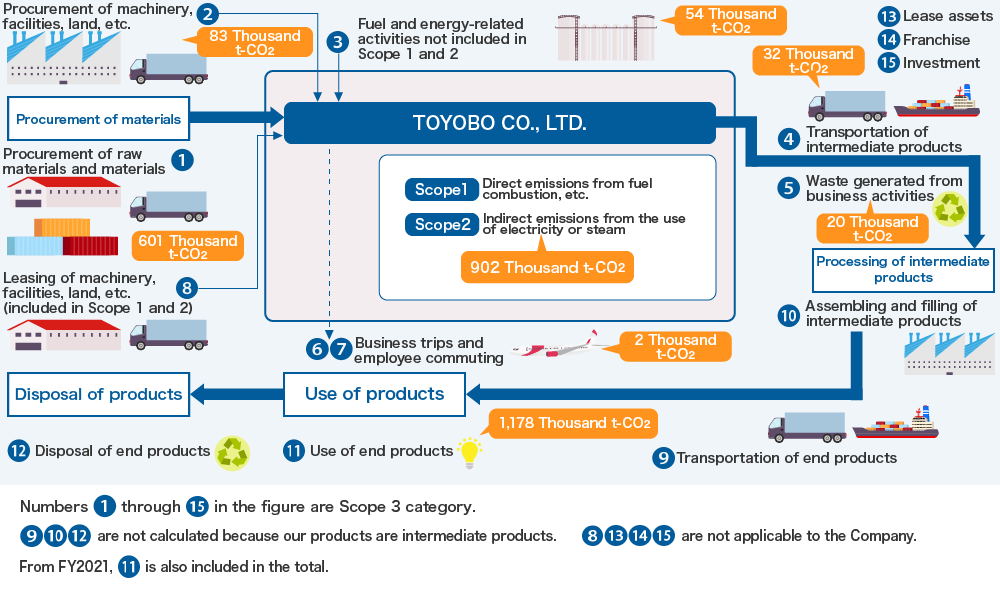 *Scope1+Scope2:Global、Scope3(③):Global、Scope3(Except for ③): TOYOBO CO.,LTD.
Given that the highest emissions in the supply chain are those related to the purchasing of raw materials, in the future we will continue to promote green procurement.
Energy usage
Energy usage in FY2021 was 13,166 TJ. Due to the increase in production, energy consumption increased by 10 % over the previous year.
Energy-saving initiatives in logistics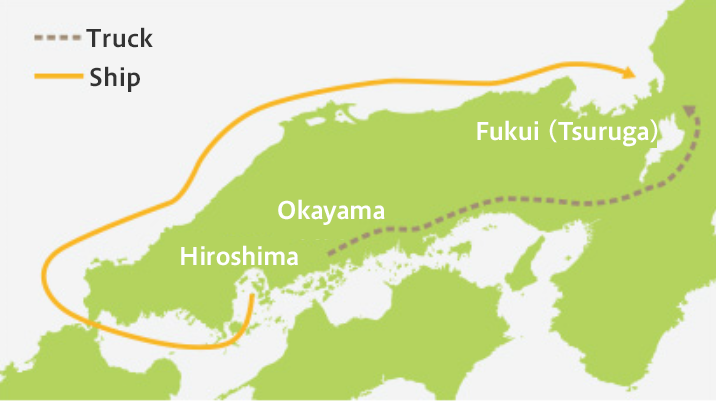 Our annual goal is a 0.5% year-on-year reduction in CO2 emissions in logistics.
In the Logistics Department, we launched the Green Logistics Promotion Project in 2006, and as well as working to improve quality and cost rationality, we are also continuously working on environmental conservation such as energy saving, resource saving, and prevention of global warming. Up until now, we have implemented a variety of measures in order to reduce the environmental impact of logistics. These measures include shortening transportation distances by using the nearest port to our offices, and using efficient stacking and bulk transport of cargo in order to reduce the number of vehicles used. We are also actively promoting the usage of ship and rail transportation which have lower specific energy consumption than truck transportation, together with lower CO2 emissions.
In recognition of these efforts, in 2014 we were awarded the "Green Logistics Partnership Conference Special Award" by the Green Logistics Partnership Council, a joint initiative between the Ministry of Land, Infrastructure, Transport and Tourism, the Ministry of Economy, Trade and Industry, the Japan Institute of Logistics Systems, and the Japan Federation of Freight Industries.
In fiscal 2016, some raw materials were transported by truck from Okayama to Fukui. However, when their origin was changed to Hiroshima, we switched to using sea transport from there to Fukui. This switch from road to sea transport provided an approximate 1,000 t-CO2 reduction (46%) in CO2 emissions, and a 3% drop in energy intensity.
In addition, in fiscal 2020, overseas exports of some products had previously required road transport from the Tsuruga Research and Production Center in Fukui to Kobe Port, but by switching to using the nearest port (Tsuruga Port), we achieved a 59 tonnes (0.2% reduction) in CO2, with a 0.3% drop in energy intensity.
In fiscal 2021, CO2 emissions decreased by 56 tonnes (0.2% reduction) by reducing the number of truck deliveries by utilizing the return vehicles to Tsuruga for shipments from the Ogaki warehouse to Hokuriku area. In addition, we shortened the land transportation distance by changing the transport route for overseas affiliates products from Tokyo Port to Hokuriku via Utsunomiya to from Yokkaichi port to Hokuriku via Ogaki, thereby reducing CO2 emissions by 78 tonnes (0.2% reduction).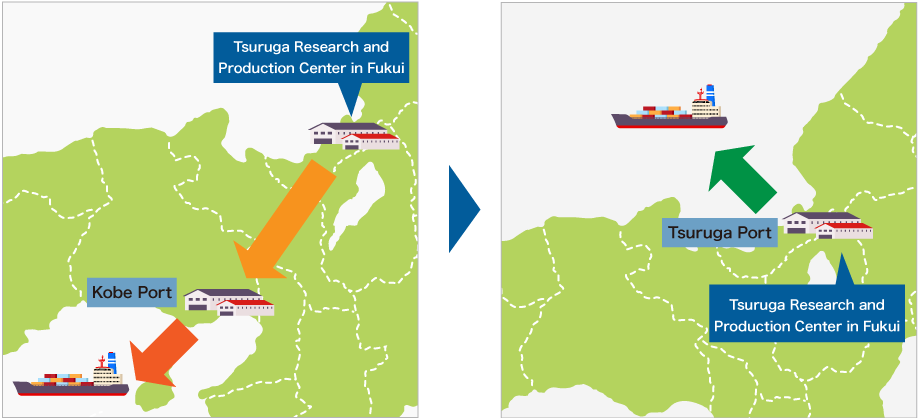 Energy-saving initiatives in offices
The Toyobo Group is promoting the conversion to LED lighting, reductions in the usage of copy paper, and the conversion to eco-cars throughout the Toyobo Group offices, including at the head office.
Introduction of renewable energy
Malaysia is currently promoting the introduction of clean energy, and TOYOBO TEXTILE (MALAYSIA) SDN. BHD. has decided to install solar power generation facilities in its new factory. Once all plans are completed, solar power is expected to provide approximately 7% of all energy used by the whole factory. This will result in a yearly CO2 reduction of 915 tonnes, which is equivalent to a Group-wide 0.1% reduction in energy consumption.
Contribution through products & solutions
Example of GHG emissions reduction contribution: FO membrane for osmotic power generation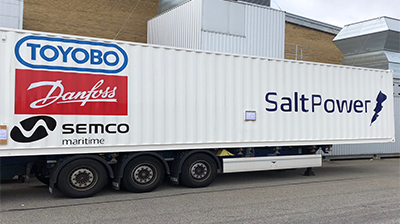 Osmotic power generation using high-salinity geothermal water, a source of renewable energy, has been receiving public attention. Toyobo has developed a forward osmosis (FO) membrane for the power plant core used in this method, and are running demonstration tests at a power plant in Europe.
Geothermal water osmosis power generation uses the high osmotic pressure of geothermal water with high salt concentrations pumped from underground. Compared with solar and wind power, the weather and time of day does not affect geothermal power generation, and a 1 MW geothermal osmotic power plant can reduce annual CO2 emissions by 7,200 tonnes compared with coal power generation. In addition, it does not emit harmful substances such as nitrogen oxides and sulfur oxides normally emitted during combustion.
We are currently performing demonstration tests on the FO membrane using highly concentrated salt water at a salt manufacturing plant in Europe, in the hope of putting it to practical use as soon as possible.