Technology Fields
Toyobo Technology and Technical Fields
Toyobo's core technologies are in polymerization, modification, and processing for polymers, and biotechnology. These core technologies are composed of various elemental technologies, which when combined and integrated creates new systematized techniques that lead to the development of products.
To accelerate the creation of new specialty businesses, Toyobo is reinforcing its unique core technologies, and pushing forward with combinations and integration of existing technologies including technology transfer.
Strategic Fields
Technological capability is the source of a manufacturer's competitiveness. Toyobo is working to advance the "technology stock" derived from the organizational and technological capabilities of a self-sustaining, active R&D program, in order to increase business profitability. We have identified five targeted market fields: Automotive; Electronics and Information Displays; Environmental; Lifestyle and Safety; and Healthcare.
By developing the high-function products required for each of these markets, Toyobo aims to be an integral part of the lifestyles and culture of the 21st century.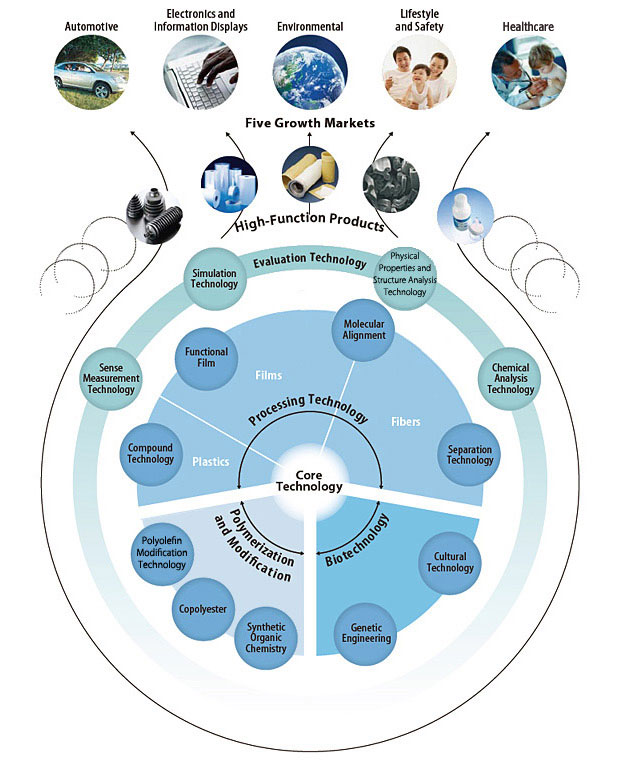 Key technologies
Molecular Alignment

Functional Film

Separation Technology

Warter treatment membranes(Hollow fiber membranes for artificial kidneys)
Air cleaning filters

Cultural Technology

Genetic Engineering

Compound Technology

Copolyester

Polyolefin Modification Technology

Sense Measurement Technology

Toyobo's science in comfort
Sense Measurement Technology

Simulation Technology

Physical Properties and Structure Analysis Technology

Physical Properties and Structure Analysis Technology

Chemical Analysis Technology

Chemical Analysis Technology

Synthetic Organic Chemistry