Intellectual Property
Intellecutual Property Management
Toyobo and its group companies possess an extensive range of technology and know-how acquired through many years of research and development in such fields as fibers, textiles, plastics and biochemical products. In accordance with the "core technology management" concept so as to be able to utilize them as a management resource, we work to maintain our intellectual property rights, and utilize them for the benefit of business development. Toyobo is particularly committed to securing the superiority of products in its specialty businesses, developed through unique products and technologies, and which are the source of our earnings, by building patent portfolios of mainly basic patents, but which also include peripheral technology patents. In addition to patents, we effectively utilize such intangible assets as trademarks and design rights to enhance our corporate brand value.
Patent Management Structure
Toyobo has established a structure to manage its patents in such a way as to not infringe on the intellectual property rights of other companies.
Toyobo's Intellectual Property Department shares information on intellectual property through liaisons appointed by each business division and research section. It also works to ensure consistency with business and R&D strategies through the Patent Review Conference and Intellectual Property Strategy Conference.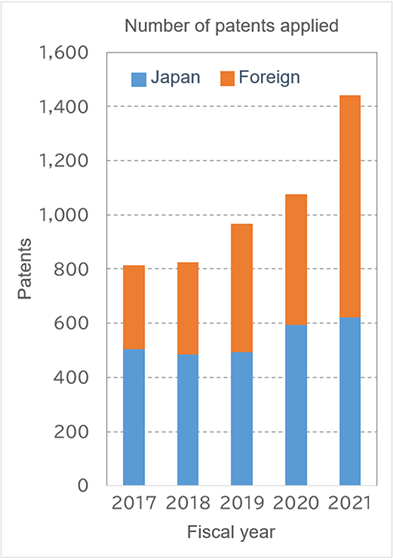 Patent Award System
Discoveries by corporate researchers have become a high-profile issue in Japan in recent years. Toyobo established a granted patent award system in fiscal 1993 aimed at fostering an inventor mindset. This system was revised in April 2005 based on guidelines from the Japan Patent Office. As a further incentive researchers, in fiscal 2001 we implemented a patent application award to recognize patents immediately following published.