News
Toyobo to set up joint venture with Nagase to produce and sell heat-resistant film with world-class dimensional stability for displays and sensors
Toyobo Co., Ltd. will next year start manufacturing and selling XENOMAX®, a heat-resistant polyimide film whose dimensional stability is among the world's best for this kind of film, by setting up a joint venture company with Nagase & Co., Ltd. and building a plant in Toyobo's Tsuruga Research and Production Center in Fukui Prefecture. The product's dimensional stability is equivalent to those of glass and silicon wafers.
XENOMAX® will be produced and marketed for use in organic electroluminescence (OLED) and other flexible displays and sensors, in addition to electronic paper displays, for which manufacturers have already adopted the product as an electronic circuit substrate material.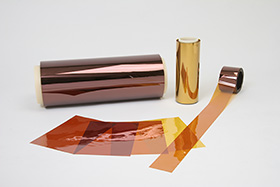 Polyimide film "XENOMAX®"
1. Polyimide films: Heat-resistant polymer films with insulation properties
Polyimide film is a kind of polymer film that has a robust molecular structure. Thanks to its highly heat-resistant and insulation properties, they have been used as insulation films, mainly for electronic circuit substrates.
Thin-film transistors (TFT) and other electronic circuits for use in displays and sensors have conventionally been built on glass materials, because the substrates must withstand the high temperatures involved in the manufacturing process. Displays and sensors have become lighter, thinner and more flexible in recent years, prompting a surge in demand for thin, easy-to-bend polymer films on which electronic circuits can be built. Such polymer films must be heat-resistant and dimensionally stable, which means they do not deform, shrink or stretch when subject to the same level of heat for making TFTs on glass substrates.
2. XENOMAX®: Heat-resistant polyimide film with world-class dimensional stability
With a coefficient of thermal expansion (CTE) of about 3 ppm/ºC in environments ranging from room temperature to as high as 500ºC, XENOMAX® has a dimensional stability that ranks among the best in the world for a polyimide film. To achieve this, Toyobo fused a technology developed by the Michigan Molecular Institute (a U.S. research facility), for which it holds the exclusive license, with Toyobo's own technologies to synthesize heat-resistant polymers and make films. The resultant new technology is capable of making a polyimide film that has the dimensional stability equivalent to that of glass substrates, a feat long considered to be impossible. Toyobo's research arms, mainly the Corporate Research Center, succeeded in commercializing the product, which is used as a substrate on which a TFT is built, while subject to temperatures ranging from 400ºC to 500ºC. The product has been manufactured at a pilot plant at the Corporate Research Center, and used as a TFT substrate for electronic paper displays.
3. XENOMAX® Strategies
Toyobo will establish a joint venture company with Nagase to manufacture and sell XENOMAX® in the first half of fiscal 2018, while setting up a plant to manufacture the product at Toyobo's Tsuruga Research and Production Center. The product will be marketed in response to growing demand for TFT substrates to be used in electronic paper displays. The thin, light, bendable and virtually unbreakable XENOMAX® films are excellent substrate materials that can replace those made of glass, silicon wafers and ceramics—including TFT substrates for flexible OLED and sensors. Toyobo aims to expand their sales in these areas.
In collaboration with Nagase, Toyobo aims to swiftly create a ¥10 billion business by responding to high demand for highly functional, heat-resistant films.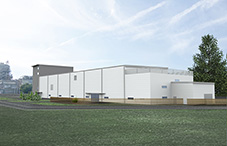 Rendering of New Plant of "Xenomax®"
Outline of joint venture
| | | |
| --- | --- | --- |
| Name of company | : | Yet to be decided |
| Location | : | 10-24 Toyocho, Tsuruga City, Fukui Prefecture, Japan (inside Tsuruga Research and Production Center, Toyobo Co., Ltd.) |
| President | : | Yet to be decided |
| Capital | : | ¥3.4 billion |
| Stakes | : | Toyobo 66.6%; Nagase 33.4% |
| Number of employees | : | About 40 (provisional) |
| Establishment | : | Scheduled for April 2018 |
| Business operations | : | Production and sales of polyimide film XENOMAX® |
Outline of plant to be built
| | | |
| --- | --- | --- |
| Location | : | Same as the joint venture above |
| Area | : | Total floor space of about 4,300 square meters |
| Structure | : | Steel frame |
| Number of stories | : | Two (Five-story in part) |
| Start of construction | : | Scheduled for December 2017 |
| Start of operation | : | Scheduled for October 2018 |
| Investment amount | : | About ¥3 billion |
Outline of Nagase
| | | |
| --- | --- | --- |
| Trade name | : | Nagase & Co., Ltd. |
| Original founding | : | June 18, 1832 |
| Establishment | : | December 9, 1917 |
| President & CEO | : | Kenji Asakura |
| Main business operations | : | Domestic sales, import and export of chemical products, synthetic resins, electronic materials, cosmetics and health food. |
*Glossary
| | | |
| --- | --- | --- |
| *1 | : | Dimensional stability: The degree to which a substance (material) maintains its original dimensions (length and width) even when subjected to rising temperatures. It is described mostly by the coefficient of temperature expansion. |
| *2 | : | Coefficient of temperature expansion: The index of dimensional stability. The lower the value, the higher the stability. |
For more information, contact
Public Relations Group, Corporate Communication Department, Toyobo Co., Ltd.
Cautionary Statement
This website contains forward-looking statements that reflect Toyobo's plans and expectations. These forward-looking statements are not guarantees of future performance and involve known and unknown risks, uncertainties and other factors that may cause Toyobo's actual results, performance, achievements or financial position to be materially different from any future results, performance, achievements or financial position expressed or implied by these forward-looking statements.