News
Toyobo to make its debut at India's Auto Expo 2020 – Components State-of-the-art functional resins and lightweight materials to go on show
The Toyobo Group is to exhibit at Auto Expo 2020 – Components, India's biggest automobile-related exhibition, on Feb. 6-9 in New Delhi. The event will showcase a diverse range of products and technologies, from auto parts, decorations and accessories to measuring instruments and manufacturing equipments. It is expected to attract about 120,000 visitors from 67 countries.
Toyobo, appearing at the expo for the first time, will present its functional resin products, non-woven fabrics made with long filaments, cushion materials and electret air filters – which are used in some car components – under the theme of "Environment, Comfort, Safety and Peace of Mind." 
Through the exhibition, Toyobo will demonstrate how its highly functional resin products and materials can help save space inside autos, make them lighter and improve their interior air quality.
1. Main products exhibited:
– Functional resins
Toyobo's functional resin products help make automobiles lighter and more functional. The lineup includes QuickFormTM high performance thermoplastic stampable sheets, PELPRENETM a thermoplastic polyester elastomer, and GLAMIDETM, a highly functional polyamide resin.
– MODENATM
An eco-friendly, breathable and leather-like polyester non-woven fabric developed as a substitute to leather imitation products made of vinyl chloride. Light and durable, ModenaTM is used in tonneau truck bed covers.
– BREATHAIRTM
Fibers made of PELPRANETM are arranged in a complex three-dimensional structure to create BREATHAIRTM. Light, highly resilient, durable and breathable, the product is used for railway car seats, including those for Shinkansen trains.
– ElitolonTM
An electret air filter used as a cabin filter for autos, ElitolonTM was developed by combining Toyobo's own advanced polymerization, manufacturing technology and its static electricity permanent electrification technology.
Outline of Auto Expo 2020 – Components
Dates:
Feb. 6-9, 2020
Venue:
Pragati Maidan (New Delhi)
Booth:
#5.13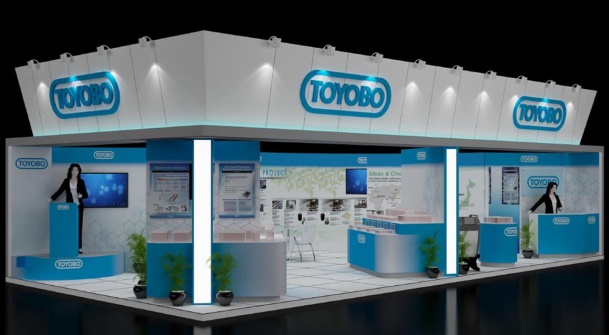 Conceptional drawing of Toyobo's booth
For more information, contact
Corporate Communication Department, Toyobo Co., Ltd.
Cautionary Statement
This website contains forward-looking statements that reflect Toyobo's plans and expectations. These forward-looking statements are not guarantees of future performance and involve known and unknown risks, uncertainties and other factors that may cause Toyobo's actual results, performance, achievements or financial position to be materially different from any future results, performance, achievements or financial position expressed or implied by these forward-looking statements.