News
Ceremony held to present 58th Leave a Nest grant TOYOBO POLYMER SCIENCE Award
 Toyobo Co., Ltd. held a ceremony to present the 58th Leave a Nest grant TOYOBO POLYMER SCIENCE Award on February 22, 2023, to three recipients.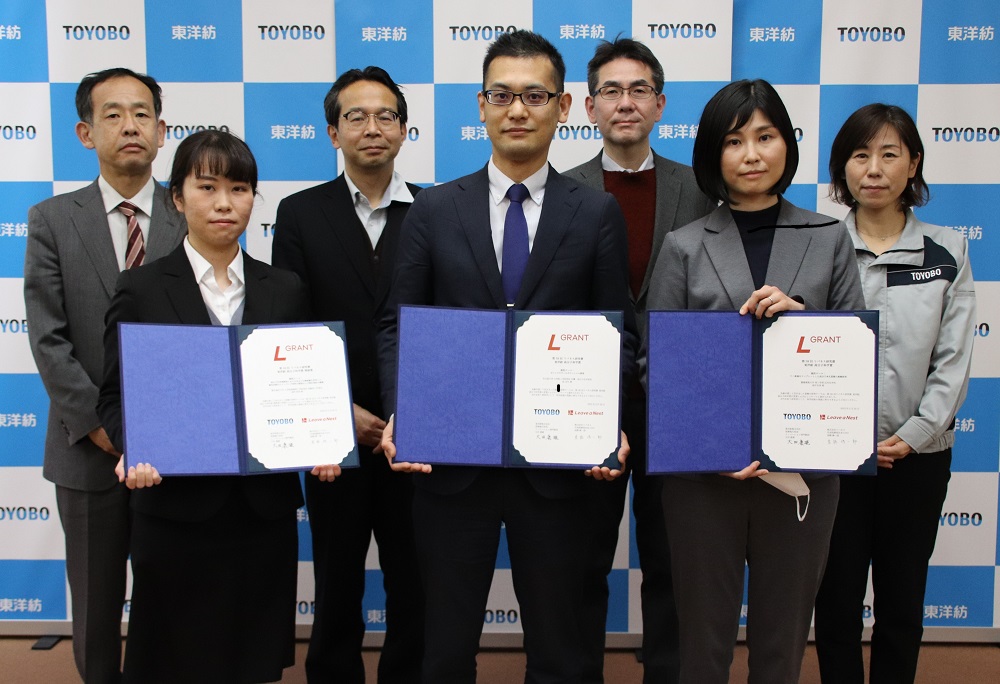 Award winners (from left, in the front row: Rina Takano, Mitsuo Hara and Yuuka Fukui)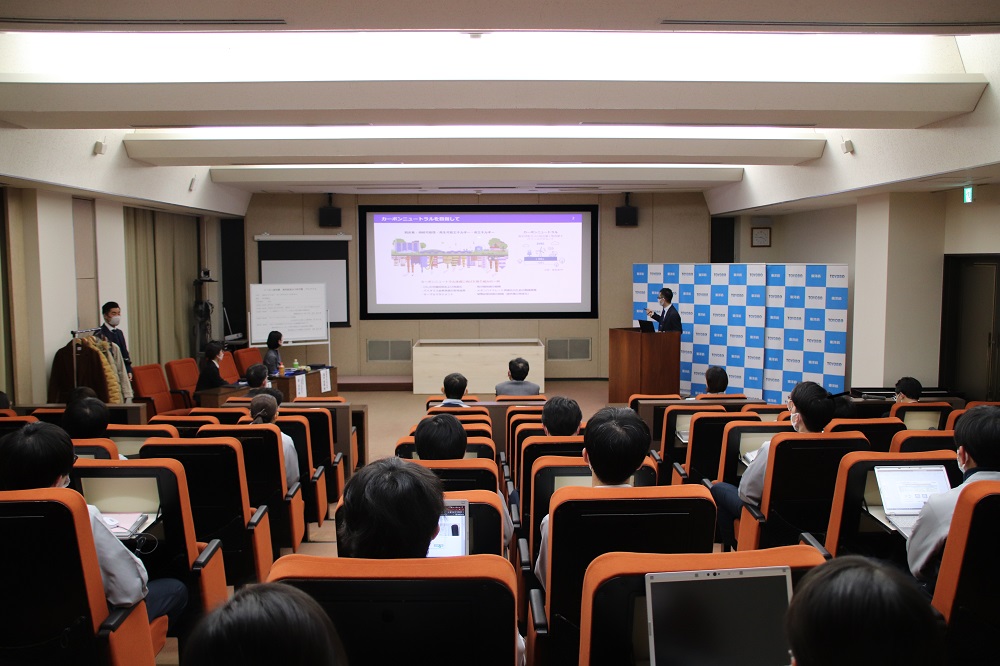 A session of research presentation
 The award is a scholarship program presented to successful applicants to support human resources in research fields in which the Toyobo Group is involved. It utilizes the framework of a research grant system operated by Leave a Nest Co., Ltd., for young researchers who are conducting innovative research. The company is based in Shinjuku-ku, Tokyo, and is headed by Yukihiro Maru.
 Toyobo has set "Fundamental and Widely Applicable Research on Polymer Materials" as a research theme for soliciting applications because of its desire to change the world together with people who are engaged in their research on materials steadily and passionately. This is in contrast to the recent trend in which competitive research grants are given to those engaged in application development.
 Toyobo officials attending the awards ceremony included Katsuya Ito, General Manager of the Films and Functional Materials Frontier Development department, and Osamu Morimoto, General Manager of the Research Center. The event also featured a question-and-answer session about the winners' research activities, as well as a lively exchange of opinions among the participants.
Toyobo will continue to work to develop the field of polymer science and technology by supporting young researchers and strengthening partnerships with the academic world.
■Comments from a Toyobo representative (Katsuya Ito)
 We offer heartfelt congratulations to the recipients of the TOYOBO POLYMER SCIENCE Award. Our company wants to build a good partnership with the academic world, while supporting young researchers like you who passionately conduct research every day. It would be our great pleasure if you continue to focus on fundamental research and produce major outcomes, such as the development of new methods to use materials and technological progress, in the next five or ten years.
■TOYOBO POLYMER SCIENCE Award (500,000 yen prize)
| Affiliation | Name | Research title |
| --- | --- | --- |
| Faculty of Science and Technology, Keio University | Yuuka Fukui | Creation of Porous Polymeric Membranes by Using Nanodroplets as Templates |
| Graduate School of Engineering, Nagoya University | Mitsuo Hara | Pursuing the Possibilities of Polysiloxanes |
■Encouragement award (100,000 yen prize)
| Affiliation | Name | Research title |
| --- | --- | --- |
| Graduate School of Informatics and Engineering, University of Electro-Communications | Rina Takano | Strategic Research on Magnetic Switches in Polymeric Coordination Materials by External Stimuli |
For more information, contact
Public Relations Group, Corporate Communication Department, Toyobo Co., Ltd.
Cautionary Statement
This website contains forward-looking statements that reflect Toyobo's plans and expectations. These forward-looking statements are not guarantees of future performance and involve known and unknown risks, uncertainties and other factors that may cause Toyobo's actual results, performance, achievements or financial position to be materially different from any future results, performance, achievements or financial position expressed or implied by these forward-looking statements.