Toyobo Group's integrated report "TOYOBO REPORT 2023" released
Toyobo Co., Ltd. has released its integrated report, "TOYOBO REPORT 2023 (English version)," and has posted it on its website. Under the theme of "Toyobo's strength to realize prosperity," the report mainly consists of Sustainable Vision 2030*1, the company's long-term vision for 2030, and 2025 Medium-Term Management Plan*2. The report also has a special feature about TOYOBO MC Corporation*3, which was launched in April 2023, and various contents regarding the business standings of each segment, as well as mainstay products and services by touching on their CSV (creating shared value) examples. The report attempts to cover wide areas of the company's endeavors both to help attain a prosperous society and ensure its sustainable growth.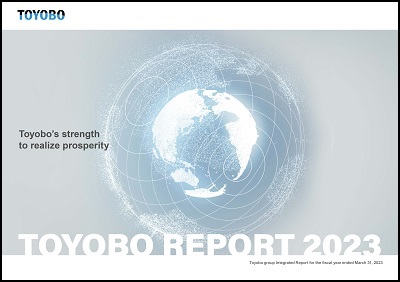 The cover of TOYOBO REPORT 2023
In its Sustainable Vision 2030, the Toyobo Group set the goal of becoming a sustainable company that contributes to sustainability in society. The Group plans to actively utilize this report, which features a series of efforts to realize this goal, when holding dialogue with various stakeholders, including shareholders and investors, to deepen their understanding of the Group's management policies and to sustainably enhance its corporate values.
This report's main contents
- Introduction
Corporate philosophy framework, "TOYOBO PVVs", Contents, Editorial policy
- Value creation story
CEO message, Value creation process, The history of Toyobo, At a glance, Financial highlights, Sustainability highlights, Sustainable Vision 2030, Materiality
- Value creation strategy
CFO message, 2025 Medium-Term Management Plan, Innovation, Toward digital transformation
- Value creation practice
Overview by business, Films, Life Science, Environmental and Functional Materials,
Feature: Launch of TOYOBO MC Corporation, Functional Textiles and Trading
- Foundation for value creation
Sustainability management, Disclosure based on TCFD recommendations, Environment, Society, Governance
- Reference material
Key financial data (FY2013–FY2023), Corporate data, External recognition and third-party assurance report
"TOYOBO REPORT 2023" (English version) can be downloaded from the link below.
https://www.toyobo-global.com/sustainability/report/
For more information, contact
Public Relations Group, Corporate Communication Department, Toyobo Co., Ltd.
Cautionary Statement
This website contains forward-looking statements that reflect Toyobo's plans and expectations. These forward-looking statements are not guarantees of future performance and involve known and unknown risks, uncertainties and other factors that may cause Toyobo's actual results, performance, achievements or financial position to be materially different from any future results, performance, achievements or financial position expressed or implied by these forward-looking statements.